A rare contemporary house in the World Heritage Site of Edinburgh New Town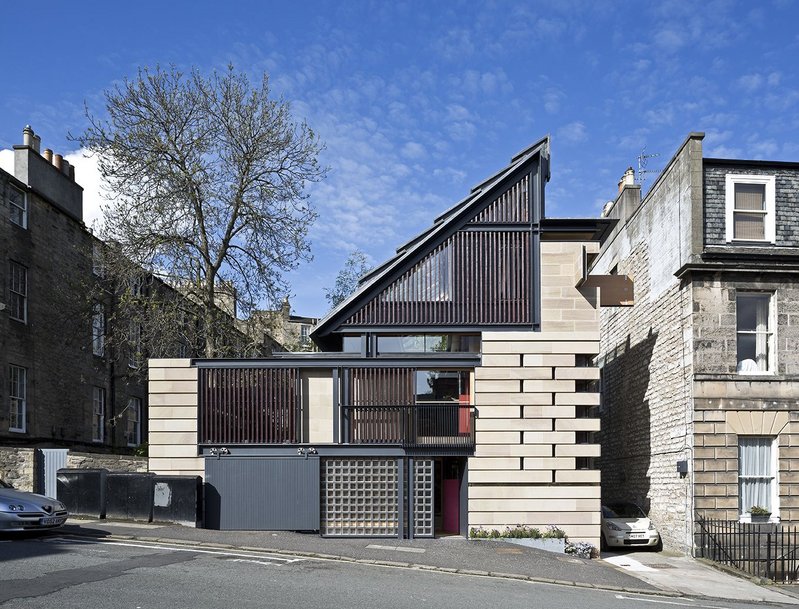 Richard Murphy Architects for Richard Murphy
Contract value: Undisclosed
GIA: 165m2
This is a rare example of a contemporary house within the World Heritage Site of Edinburgh New Town. Designed by the architect for his own use, it is consequently something of an architectural and environmental experiment. Despite its modest floor area on a footprint of only 11m x 6m, it nevertheless contains three bedrooms, a living/dining/kitchen area at varying levels, study, basement storage, garage, utility room and roof terrace.
There is a very strong energy agenda in the new house, including rooftop photovoltaic cells, substantial south-facing glazing, a computerised internal air circulation system, ground source borehole connecting to a heat exchanger which feeds under-floor heating and insulated shutters on all the major windows.
There are many architectural influences at work, not least Carlo Scarpa, on whom Richard Murphy is an authority. The roof terrace is a homage to the garden of the Querini Stampalia in Venice using the same exposed aggregate walls and sourcing tiles from Scarpa's original manufacturer in Venice. Internally, the Venetian 'stucco lucido' coloured plasterwork is used extensively. The Sir John Soane Museum and the Maison de Verre are also great influences in the use of illusion and moving elements. Reitveld's Schroder house makes an appearance in a 'disappearing corner stone panel opening, designed to be the same proportions as his famous window.
---