The Apollo flush-mounted alarm comes in two versions - one for discreet aesthetics in residential and commercial settings; the other a secure solution for the care and custodial sectors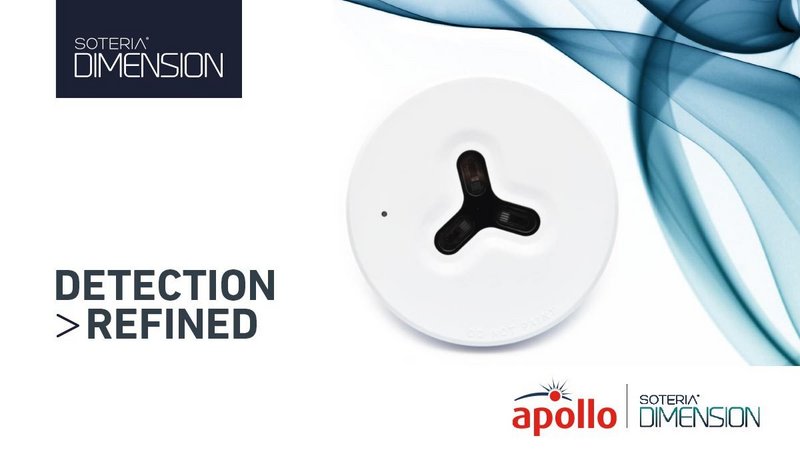 Performance and reliability are not the only factors to consider when specifying a fire system. Discretion and low-profile devices are essential to luxury projects.
UK fire detection and alarm devices manufacturer Apollo Fire Detectors' flush-mounted Soteria Dimension Optical Detector blends seamlessly into its environment, making it ideal for interiors requiring a premium aesthetic, from luxury hotels and restaurants to galleries and bars. It has also been installed in Stella McCartney designer stores, high-end offices and luxury private houses and apartments.
The Soteria Dimension Optical Detector is available in white with a hygienic wipe-clean finish for easy maintenance and additional features and benefits include:
Comprehensive testing that exceeds European Standards EN 54 Part 7 for optical detectors and EN 54 Part 17 for isolators.
Chamberless technology that eliminates dust and insect ingress, reducing false alarms.
All three levels of Apollo Protocol - XP95, Discovery and CoreProtocol - are supported, enabling the range to be easily added onto existing Apollo systems.
Soteria Dimension can simply be used in the areas required - standard Apollo detection can be used in less exposed areas.
The Soteria Dimension Specialist Optical detector is another version in the range specifically created to tackle problems within care and custodial environments. It is designed with an anti-vandal and anti-ligature metal faceplate to protect the most vulnerable from self-harm.
The shock-resistant metal faceplate is fitted with anti-tamper screws, ensuring that the detector is completely secure. Designed to minimise safety hazards, it can be used in hospitals, mental health contingency wards, quiet rooms, seclusion rooms, prisons and custodial suites. It has been designed and tested to meet the requirements of Ministry of Justice specification STD/E/SPEC/038 and has been independently certified to DHF TS001 for anti-ligature use in specialist areas.
Apollo products keep people safe from fire in over 100 countries and are trusted to protect The Shard, the Statue of Liberty and the Royal Albert Hall.
For more information and technical support, visit apollo-fire.co.uk/dimension
Contact:
023 9244 2706
---