No matter how everyday the chore, niche storage details and clever, adaptable accessories will keep clients happy at their sinks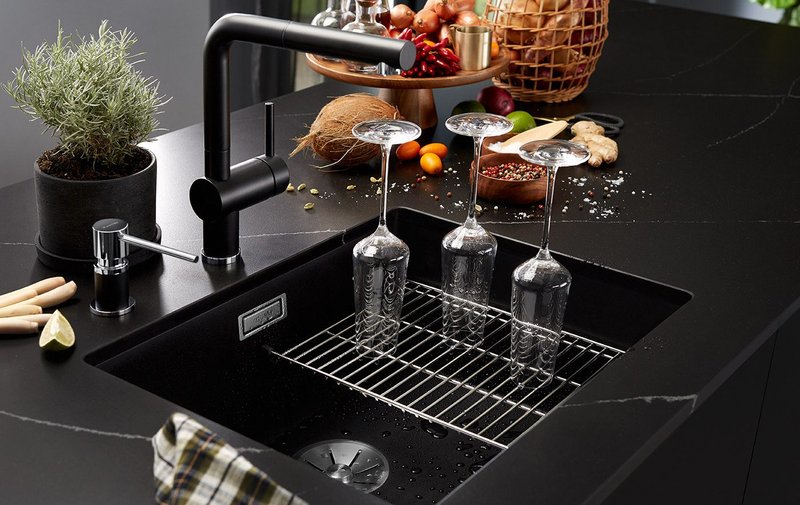 Kitchen designers know that smart storage solutions are the key to optimising space. Blanco's in-sink drying rack provides a drainer that doesn't take up worktop space.
German manufacturer Blanco has recently introduced the Orga shelf, a storage innovation designed to transform kitchen organisation.
Orga (pictured below) is a slim shelf and organisation drawer that fits inside the cabinet and provides ingenious extra space for sink utensils such as brushes, sponges and waste bags.
Designed to be added to the Blanco Unit, the shelf ensures utensils are out of sight, but always within arm's reach and easy to access.
A smooth gliding mechanism ensures effortless and quiet operation.
The Orga shelf is made from high-quality, durable materials that guarantee longevity and performance. Robust construction ensures it can withstand the demands of everyday use, providing homeowners with a reliable solution.
The shelf matches other cabinet elements from Blanco, including the Select II and Botton ranges of waste systems, making it easier to maintain a clean and clutter-free kitchen without compromising style or functionality.
Blanco's aim is to extend kitchen designers' product choices so they are better able to meet the diverse needs of homeowners. Its Blanco Unit can be specified from a broad range of components for ultimate planning flexibility.
Blanco: Beyond in-cabinet innovations
Blanco's innovative accessories allow homeowners to harness the full potential of their kitchen sinks. Products include:
Glass, wooden or high-quality plastic chopping boards that increase the worksurface area and can be moved flexibly over the sink.
Colanders and caddies for added functionality. Designed to nestle in the corner of the sink or stretch across its entire width, making food preparation a breeze.
In-sink foldable grids and moveable top-rails for draining vegetables or stacking hand-washed crockery and glassware.
Sink accessories that are all suited to even the smallest of kitchens.
Smart storage and accessories elevate design, making kitchens user-friendly and aesthetically pleasing. Blanco's solutions help architects achieve joyful, creative and functional designs at the heart of the home.
To find out more about Blanco's full portfolio of products and services visit thenbs.com/blanco
For more information and technical support, visit blanco/com

Contact:
Mark Craine, contracts manager
07909 682757
mark.craine@blanco.co.uk
---