The digital home automation specialist's upgrade of the traditional light switch allows end users to also control blinds, temperature and more from one customisable unit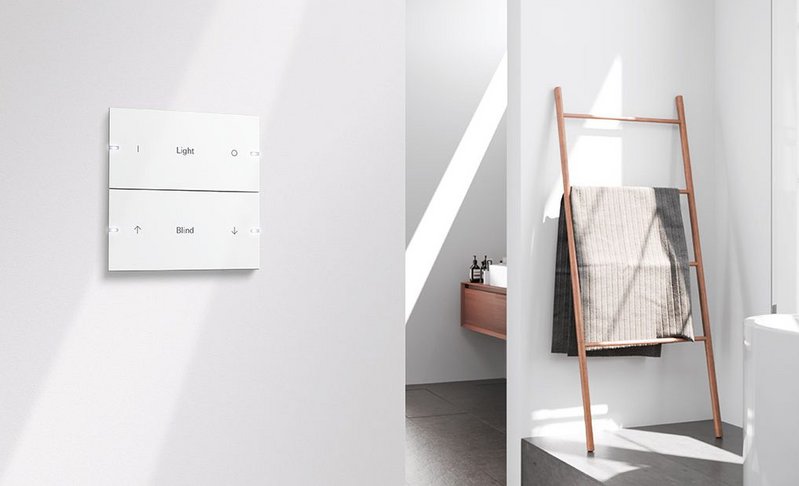 Gira, the German complete supplier of electronic networked digital building control systems, has launched a multifunctional button for the smart home.
The device allows up to eight functions in the KNX system - the International Standard for smart home automoation and building control - to be controlled from one switch. This includes lighting, blinds, temperature and humidity via sensor technology and underfloor heating through an external temperature sensor.
Gira Pushbutton Sensor 4 features include:
Tactile buttons At 95mm square, the switch is a comfortable size. A 3mm-thick tactile covering on each button makes it easy to feel the difference between an on and off setting.
Personalised to the home The device is available with two, four, six or eight separate buttons, which can be freely assigned, depending on what is required. Gira offers button labelling via its Inscription Service so switches can be clearly marked and indexed with the relevant functions. For more on the Inscription Service, visit gira.com/inscription-service
LEDs There is an option to add LED lights that indicate which functions are in operation. Eight colour settings display what is happening at a glance and, for increased efficiency, provide a low-level nightlight in the dark to illuminate the controls. The LEDs can be dimmed to suit a bedroom or nursery or wherever subdued lighting is preferred.
Designer style The minimalist switch blends with all decors and is available in Glass Black, Glass White, Aluminium, Stainless Steel and Aluminium Black. Additional finishes, including Pure White Glossy, Pure White Satin Matt, Black Matt, Grey Matt, Anthracite and PVD Coated Bronze, will be available from October 2020.
Compatability The Pushbutton Sensor 4 has the same external dimensions as the Gira Esprit metal switch range and complements the Gira E2 design line, providing colour and design continuity for specifiers.
For more information and technical support, visit gira.com
Contact:
0203 936 8090
---