As part of a £120 million redevelopment scheme at Peterborough's Fletton Quays, Granada Glazing was selected to design, manufacture and install a bespoke arched secondary glazing system, reducing energy consumption and shrinking the building's carbon footprint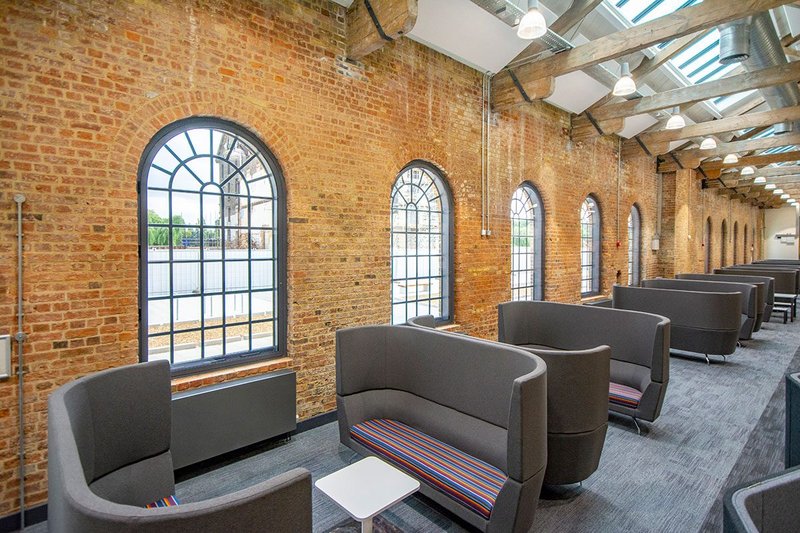 Large hinged units designed, manufactured and installed by Granada Glazing to increase thermal performance.
Constructed in 1845, the grade II listed building housed Peterborough's first railway station and had been derelict for over 40 years. Renovation of the Victorian railway sheds was a major part of the riverside site's development, creating the city council's new office, Sand Martin House.
Secondary glazing is an ideal solution to reduce heat loss while preserving a facade's essential character. Granada's aluminium arched heritage hinged frames with double glazed units were specified with the dual purpose of improving thermal and acoustic performance to suit the building's modern commercial use.
The enhanced Uw-value of 0.8W/m2K provides a considerable reduction in heat lost through the building's original single glazed steel windows (a single glazed metal window will generally achieve a Uw-value of around 5.7W/m2K). Decreasing U-values lowers energy consumption and leads to reduced energy bills.
Due to the building's grade II listed status the secondary glazing installation had to be discreet and unobtrusive. Granada Glazing's arched hinged units achieved the most sympathetic solution in harmony with the style and aesthetics of the existing steel windows.
For commercial properties that only require access to the external windows for maintenance or cleaning, Granada Glazing offers a removable handle which prevents unauthorised use of the window. This option is part of the Granada Glazing Anti-Ligature range, often specified for installation in schools, hospitals, nursing homes and custodial facilities.
Granada Glazing offers a bespoke curving service at its state-of-the-art manufacturing facility, where aluminium frames can be shaped to follow the most challenging arched or curved windows.
Secondary glazing is frequently installed within listed properties, conservation areas and sites with high noise pollution because of the enhanced thermal and acoustic benefits.
When correctly specified and installed, secondary glazing maintains a building's charm and character while bringing the glazing system firmly into the 21st century.
To find out more on this project and how secondary glazing can reduce noise, retain heat and improve security visit: www.gsecg.com/fletton-quay