Specified by ESA Architecture in 'Dusk' with acid etching, Lazenby's glass fibre concrete sinks come in 14 pre-cast shades and are manufactured with utmost precision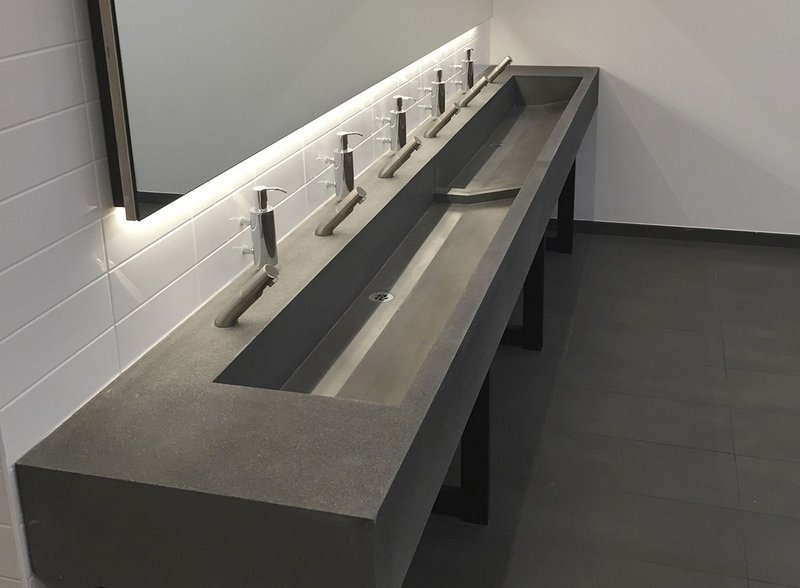 Although the super sink appears as one continuous piece of concrete, Lazenby manufactures it in two parts in its Yeovil factory.
Lazenby's Dusk glass fibre concrete (GFC) has been specified by ESA Architecture for three super sinks, each of which is 3772mm long and cast in two halves. The sinks were chosen by the architecture practice for Croxley Green Business Park in Rickmansworth.
The GFC sinks were cast in two adjoining halves each 1886 x 580 x 200mm with 30mm thick walls. Each half weighs 131.32kg. The six halves were cast at Lazenby's Yeovil factory, delivered to site and installed by the main contractor. The fitting was completed by specialists to the exacting standards required by Lazenby, ESA Architecture and the client. Fitting instructions were supplied to ensure that the joint was fully supported by a carefully designed steel frame. The architect specified a heavily acid etched surface for the sink top and outward facing surfaces, to add a light exposed aggregate industrial aesthetic. The inside of the sinks were left smooth to contrast the speckled effect of the adjacent concrete finish. An impregnating matt sealer with a wax top coat was applied for a practical and durable finish.
Lazenby has an iconic range of 14 pre-cast concrete colours, with a complementary range of polished concrete colours to match. Any RAL colour can also be achieved to match to the interior design colour palette. Samples can be made in the bespoke colour specified so that design decisions can be agreed before manufacture. The pre-cast GFC concrete is poured into accurately cut and constructed formwork. The curing process takes approximately four weeks. Unique finishes, like acid etching, are carried out once the cured concrete is revealed. All master craftsmanship is carried out in Lazenby's Yeovil factory, each item is carefully packaged and delivered by specialists. The GFC sinks are both user and environmentally-friendly because only water or light use of a PH neutral cleaning product is required to keep the sinks clean and fresh.