The office is one of the fastest-changing types of building. The fourth RIBAJ/AluK debate on liveable cities considered how different work practices are affecting design, and how the industry can make appropriate structures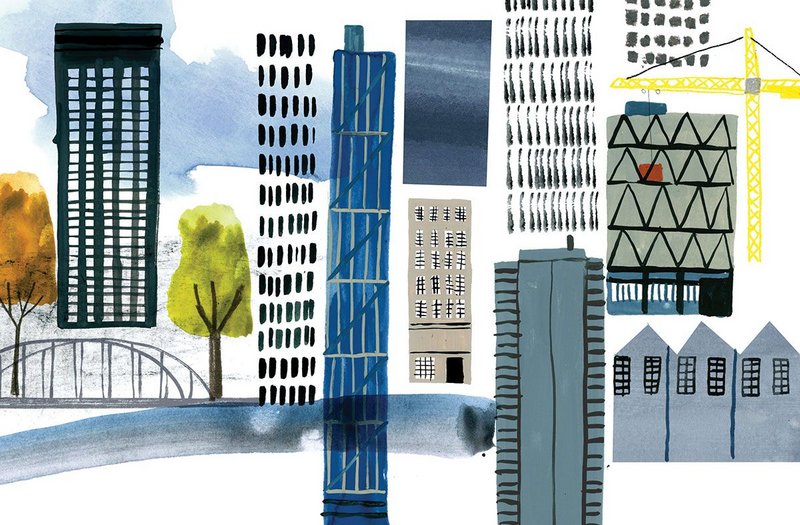 'It seems that we may have been building the wrong thing for the past 30 years.' Now there's a statement. Have we really got it so wrong with an entire generation of office buildings across the UK? The point, made by debate chair Peter Head, is that office buildings are being refurbished and redeveloped long before their design life warrants it. 'If you look at the life of a commercial building, the desire for it doesn't last long,' he said. 'There is a mismatch between the specification and the need to change the building. That leads to the conclusion that offices should either be designed for a short life to match their use life, or for a very long life to provide a skeleton for adaptive reuse.'
Continual renewal of commercial buildings is one of the fundamentals of the property market and drives city growth. But the sustainability of this approach has been questioned, notably in several high profile cases involving postmodern architecture, such as the two Peter Foggo buildings in the City of London's Broadgate, which are being replaced with a far larger tower. This quest for ever bigger, taller, newer commercial buildings was one of themes of the final debate in the 2017 series, which focused on the commercial property sector.
Alex Jan of Arup outlined how policy and the market shape commercial buildings and cities: 'Success means cities have to be economically attractive in the opportunities they create, as well as physically attractive,' he said. 'The busier cities are, the more public services they need and that costs money.'
That in turn helps to drive taller buildings, he said: 'Cities such as London are experiencing growth in population and employment, and policy is designed to encourage the concentration of development. Local government is incentivised to allow tall buildings to be built to support the provision of public services. In the UK this is the only way local authorities can fund key services.'
Commercial development contributes to the city through its buildings and places, through the infrastructure payments its developers make, such as the community infrastructure levy (CIL), and through the rates paid by business occupiers. The business rate system was recently reviewed by the government but remains controversial for the burden it imposes on companies. 'Council tax on a flat on Hyde Park Corner will be around £1,800. Business rates for a retail unit on the ground floor, at roughly the same size, will be many times that,' said Savills' Oliver Fursdon.
Developers are balancing a complex mix of business risks and rewards, as Mark Swinburne of Argent highlighted when describing his company's approach at its King's Cross regeneration. 'The value generated by the offices of King's Cross allowed the infrastructure to exist, particularly in the public realm,' he said. 'There is a question of how much developers are expected to pay. We paid £450 million at King's Cross and the infrastructure doesn't generate value, but we do it because we are there for the long term. We derive capital growth from creating a great space that people enjoy.'
There is a sense that the pure commercial building doesn't really exist any more, and that now development is more about placemaking
– Peter Head, chair and CEO, The Ecological Sequestration Trust
That approach is far from universal, and policy and profit have given us a legacy of office buildings whose characteristics were summed up by Neil Howsam of Piercy & Company. 'Forty years ago they were about floorplates, toilets, and the endless drive for efficiency. But nobody ever walks into an office building and says, "Look, this is an efficient building".'
The office building is, however, changing, as numerous influences converge, including disruptive technologies. 'There seems to be a divergence from ownership to sharing and use,' said Arup's Jan.
Tech and creative businesses have also driven a new office market. Low cost 'defurbs' of ageing buildings in areas like London's Old Street have provided raw, flexible, character-packed spaces where these SMEs combine work and play. Now, a broader occupier base is being attracted by products like WeWork's global co-working developments, which offer such benefits as pet-friendly policies, and Derwent London's White Collar Factory with its deconstructed but highly flexible space. That is feeding into more mainstream offices.
Old Street has seen demand, property prices and developer interest soar since it became a hipster hotspot. Some tenants are now moving to new places offering better deals. That's not necessarily negative for the city, Savills' Fursdon points out. 'It invigorates other areas as they move to them.'
Many of today's tenants want not only location and the right price, but the kind of features that will help them attract and retain millennial workers. 'We don't sell office space,' says Argent's Swinburne. 'We sell amenity – first comes food, then cycle provision, and then terraces. '
That blurring radically alters the concept of office development, said Peter Head: 'There is a sense that the pure commercial building doesn't really exist any more, and that now development is more about placemaking.'
---
Commercial development panel
Oliver Fursdon, director for London commercial development, Savills
Neil Howsam, associate, Piercy & Company
Alex Jan, director city economics, Arup
Mark Swinburne, project director, Argent
Where we go from here
Over the centuries commerce and industry have taken us from the marketplace to the skyscraper. In seeking creative conversation and bustle in their offices, today's firms seem to be trying to recreate that marketplace environment, albeit in a steel, glass and concrete shell.
The office block, traditionally designed for efficiency and standing imposingly apart, is now being reimagined as a multifaceted and flexible workplace that integrates seamlessly with a city's leisure, arts and café culture to blur the boundaries between work and play. The shopping centre and high street are also shifting their focus from shops to cafés, bars and leisure destinations.
These changes all play to the skills of architects, the wider design community and placemaking as a whole, agreed the participants in the concluding AluK Cities workshop. 'There are greater opportunities to create balanced and sustainable places, helping to generate the liveable city,' said Neil Howsam of Piercy & Company.
While housing and social infrastructure have been slow to change, commercial development has very different drivers, explained Alex Jan of Arup. 'Commercial development has to be responsive, and has to compete not only nationally but internationally.' Architects can help clients not only to attract tenants, but also to manage and maximise space and resources and ultimately produce more sustainable development, applying total design.
Today's ultimate expression of flexible, contemporary working is the co-working space – short term, easily accessible and offering the chance to join a club with access to photocopiers and ping pong tables. Such models are influencing the design of workspace, with dense desk spaces complemented by spacious breakout areas, that could drive further change. 'The shared economy creates opportunities for intensification and increased productivity of the asset, enhancing sustainability in the city,' said Howsam.
As market demands for differentiation or excellence in a development continue to evolve, the panel sees architects designing two very different types of buildings: those meeting a relatively short term need, or more flexible, and ultimately sustainable, longer term solutions.
Within this debate it is easy to forget that the concept of working in an office is a relatively new one. In 1900 some 85% of the population worked in heavy industry and manufacturing; today about 80% of GDP is generated by the service sector. Look a century ahead, and it is probable that what constitutes 'commercial development' will have changed as much again.
---
Action plan
1 Tap into opportunities to intensify and increase productivity
2 Accept that change is constant
3 Design for the short term or, better still, for longer term flexibility.
---
See more here