Workplaces are changing fast. PiP webinar panellists discuss work/life balance, and how the treatment of buildings can make it a pleasure to get back to the office. Michèle Woodger reports
The provenance of the word office – according to PiP editor Jan Carlos Kucharek, chairing this webinar – has been cited as the Uffizi Gallery, originally the administrative offices of the Florentine magistrates. Regrettably, this sets the bar rather high for any subsequent architect of offices. In our post-pandemic, hybrid-working world, what does office life look like now – Kucharek asks – and how are architects responding to the enormity of today's challenges?
Opening the seminar is Claire Nash, expert in rural vernacular, whose practice has been working remotely for eight years. Her book Design your life: An architect's guide to achieving a work/life balance (RIBA Publishing 2022) outlines ways to create a healthy environment for staff and a happy team. It's a candid insight into how she runs her practice on a remote-working model to achieve almost zen-like balance. Evidence: she wrote her book from her allotment, while holding down a successful practice.
For Nash, work life balance comes from the business model – it is built into the practice's ethos and how it is run. From the outset Nash was determined to avoid slavish working hours and establish clear boundaries. Maintaining that balance makes her more productive and dedicated during working hours.
Nash is an advocate of Cal Newport's concept of 'deep work' and 'shallow work'. The former requires minimal interruptions, so she advises allocating time, turning off all distractions to focus, and, ideally, tackling 'hard stuff' early in the week to conquer procrastination. Specialising is also key. 'There is a real problem in the architectural industry in competing with people who aren't qualified and who charge less, so the key is to differentiate yourself,' she says. Finding a niche removes the need to research and problem solve on wildly different project types, and being an expert justifies higher fees, leading to bigger profits which can be invested into ever more efficient systems. The result is a higher income and – most importantly for Nash – more time off.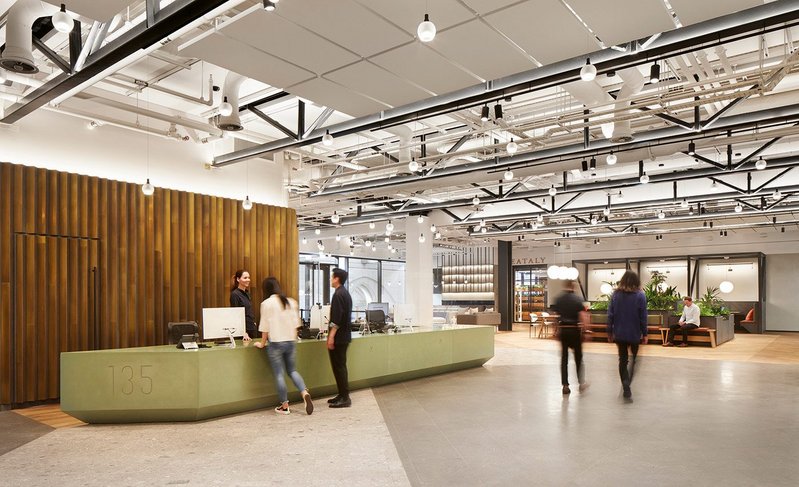 At 135-137 Bishopsgate, Fletcher Priest supplanted postmodern bombast with lighter and airier approaches that still celebrate the best of the original building.

Credit: Jack Hobhouse
While flexible working does well for her practice, Nash also believes strongly in regular socialising, to balance the introvert's tendency to stay home: 'It is really important to get out and about' she says, 'Keeping up team morale is crucial. It is also important to network and have social activities outside work'. Her team all do surveys, for instance – something they could outsource but choose to do for enjoyment and sociability.
Breaks are crucial too. 'I've come to realise that if I go for a walk, for instance, solutions will come to me and I will actually spend less time working as I have solved problems while relaxing,' says Nash 'I call these "creative breaks" as it is fundamental to my creative brain to go and do those things – it isn't just wasting time.' Nash paints an enviable picture: happily, with these implementable solutions, work-life Nirvana could be attainable for you too.
Jonathan Lowy of VM Zinc next discusses the use of zinc in several notable workplace designs. From the Promega Headquarters at the University of Southampton, to a Paris office entrance foyer, an architect's studio in Beijing and the Adobe headquarters in the USA, he illustrates how the versatile material can be applied both inside and outside of buildings. Of particular note was the Which? Headquarters on London's Marylebone Road, a large refurbishment by KPF architects, the grade II Georgian terrace, with a 1980s concrete bolt-on, is now rationalised under a coherent and complex zinc roof. The zinc is folded to create repetitive geometries which spill down artfully onto a striking facade.
From zinc roofs to interior brass cladding: Mareike Langkitsch and Chris MacPherson, associates at Fletcher Priest, deliver their case study on 135-175 Bishopsgate. SOM's post-modernist 'banking fortress', which owes something to the firm's 1930s Chicago origins, dominated the street with its overbearing volumes and dark retail spaces. Fletcher Priest worked with owner British Land to open up the imposing colonnade, welcoming pedestrians into pocket parks, stepped seating and an inviting entrance.
Inside, the replacement of dark cladding, introduction of mesh screens to filter light and create breakout zones, and the insertion of natural wood and stone into the sterile RBS security lobby revitalises the environment for employees. Moreover, the retention of quality features, such as the travertine marble flooring and sandstone arches, celebrates the theatrical quality of SOM's original designs but softens and lightens it.
For Nash, work life balance comes from the business model – it is built into the practice's ethos and how it is run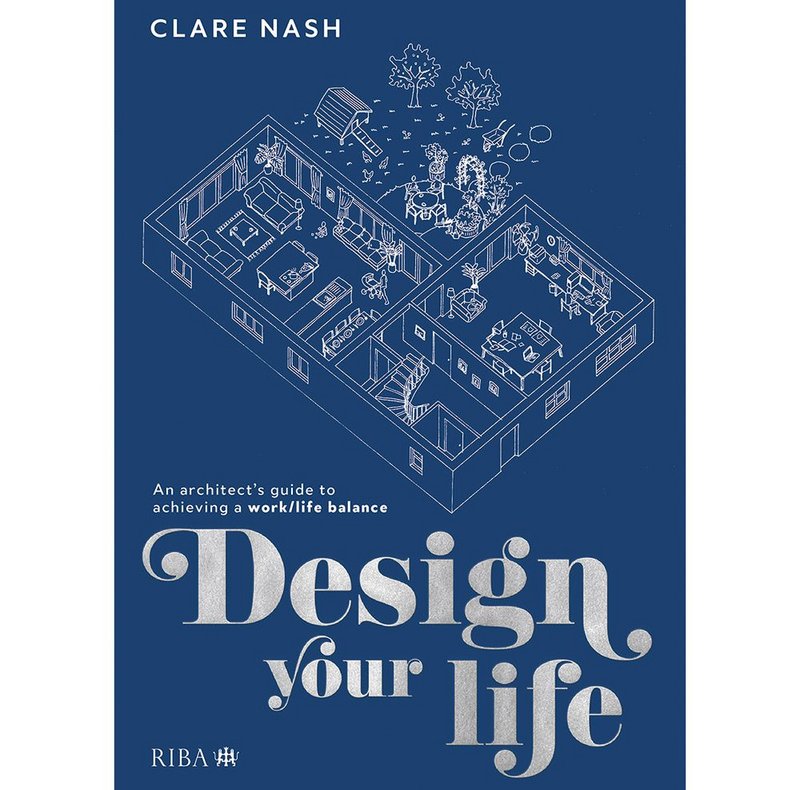 Credit: RIBA Publishing
One of the client's main aims was to bring people back to the workspace, so the designs had to answer: 'What can the workspace offer people that they don't find at home?' The resulting refurbished space is majestic, with improved retail and amenable staff areas, including a tree-planted terrace where 'you can hear the birds and the wind rustling,' says Langkitsch. A far cry from Fred the Shred's gloomy reign at the nadir of the recession.
Travelling east from Liverpool Street to Mile End Road, Amr Assad of Buckley Gray Yeoman Architects presented Dept W – a mixed use scheme of office and retail space for Queen Mary University – formerly a department store. It is a David and Goliath story; in the 1920s the Wickham family, intent on establishing the 'Harrods of the East End' began purchasing and developing the grandiose neoclassical terraces along the road. Unfortunately, a small-scale jewellers, Spiegelhalter's, refused to sell up, resulting in the store being created around them. It became known as the Spiegelhalter Gap; the jeweller held out until 1982. From then onwards, the whole edifice was divided into unlovely offices and retail spaces and continued to degrade. By the time BGY began on the scheme, plucky Spiegelhalter's was nothing more than a floating facade.
'We wanted to make David win!' exclaims Assad. With a simple and precise intervention – the insertion of a new vertical circulation into this void – 'everyone who wants to enter the building now has to do so via Spiegelhalter's'. The 'idea of walking through history became part of the daily routine', and the addition gives legibility to the scheme. BGY set about 'defurbishing' the interior, stripping back layers of objectionable alterations to reveal unexpected original features: beaux arts skylights, the old safe, a fireplace, an internal arched window. The floors are now flexible, open plan spaces, which enjoy the upgraded performance of current day standards alongside historical reminders. 'The new building reads, it allows light into the space and creates a sense of volume and moments of joy, taking cues from the past', says Assad.
The new building reads, it allows light into the space and creates a sense of volume and moments of joy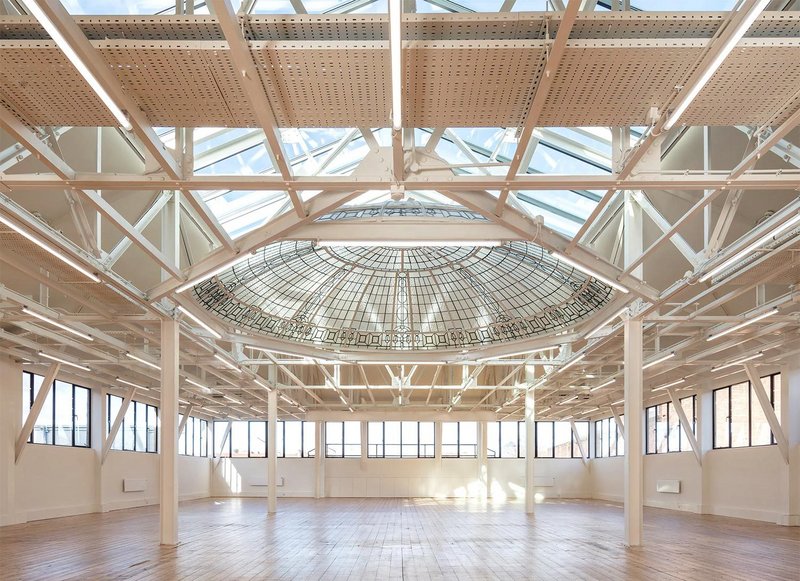 Dept W, a former 1920s department store, has been completely reinvented as new office and retail space for Queen Mary University, retaining many original features.

Credit: Matt Chisnall
And flexibility is clearly the way of the future, as, according to Joey Wilkinson of sponsor PlanRadar, there are 6000 flexible office spaces in the UK, and a new co-working space opens every five days in London alone. Piloting his presentation from floor 25 of the Shard, he flew through the functionality of PlanRadar, a software solution for AEC businesses that helps practices digitally transform. The need to achieve net zero targets, the post-pandemic increased recognition of wellbeing, flood resistant construction and vital safety improvements in the wake of Grenfell are all concerns at the forefront of architects' minds today when designing working spaces.
'There has been a lot of talk about the Building Safety Bill and the golden thread of information,' says Wilkinson, and PlanRadar can help with maintaining up-to-date record-keeping and accountability. The system centralises documentation, enables customised workflows and dramatically improves efficiency and communication between different teams. It also allows for smooth reporting, easy project tracking, integrations and secure data storage, ultimately saving time, money and wastage.
These insights, and those discussed by all the webinar participants, signal the direction of travel for the future of office design.

Jan-Carlos Kucharek
Deputy editor RIBAJ & editor of PIP
Jan-Carlos is an architectural journalist and registered architect. He studied his part 1 at Canterbury College of Art and his architecture diploma at The Bartlett (UCL) and worked for five years at Foster + Partners. He took a part time role at the RIBAJ in 2004 and continued working freelance at Marks Barfield, Hudson Featherstone, David Morley and Fourthspace architects. He became editor of Products in Practice (PiP) in 2013 and deputy editor of RIBAJ in 2021.

Clare Nash
Founding Director of Clare Nash Architecture
In 2011, Clare Nash founded Clare Nash Architecture Ltd (CNA) in Brackley in South Northamptonshire. Specialising in rural architectural design, particularly eco-refurbishment and new build, CNA's designs draw their inspiration from the vernacular. The practice is run by a small dedicated team, which is pioneering in its adoption of a flexible and efficient working model.
Clare has a masters from Oxford Brookes University for which she undertook research into the vernacular in Bolivia, Papua New Guinea and China. She has also lived and worked in architectural practice in Germany and Liechtenstein.
Clare is an associate lecturer, teaching architectural business and a RIBA studio examiner at Oxford Brookes University. She is author of Contemporary Vernacular Design: How British housing can Rediscover its Soul (RIBA Publishing, 2016) and has been recognised as an RIBA Role Model.

Mareike Langkitsch
Associate
Fletcher Priest Architects
Mareike joined Fletcher Priest in 2007. She has a diverse range of experience working on numerous projects in the workplace, mixed-use, residential and cultural sectors.
She has contributed to a broad range of projects, including two large workplace and retail schemes in the City of London, and led a number of prestigious projects including Hackney Picturehouse and Pinewood Studios.
Before joining Fletcher Priest she gained experience in design and construction at all scales while studying and working in Germany, Italy, Spain and Australia.
Mareike is currently leading the refurbishment of a mixed use scheme adjacent to Liverpool Street Station which seeks to revitalise a 30 year old building and create a new public realm.

Chris MacPherson
Associate
Fletcher Priest Architects
As an associate, Chris provides projects with positive leadership and clear direction whilst adopting an honest and collaborative approach with the team. He has considerable involvement with major redevelopments and refurbishments, with a notable focus on the transformation at Bradgate, where he is experienced in the design and delivery of projects along Bishopsgate.
Chris has over a decade of experience using market-leading BIM technologies to aid design, visualisation, and coordination process. He has led the coordination on a number of projects during his time at Fletcher Priest, including Angel Court, 135 and 155 Bishopsgate – involving significant levels of complexity.

Joey Wilkinson
Solutions Consultant
PlanRadar UK
Joey is a Solutions Consultant at PlanRadar UK, where he works within the construction sector to embrace digital transformation. With 10 years' experience in technology solutions and a primary focus within architecture and construction, Joey helps AEC businesses rise and thrive with collaboration through digitisation.

Jonathan Lowy
Operational marketing manager
VM Zinc
Jonathan has over 24 years' experience working with VMZINC. Having operated in both technical and sales positions in three different countries, he has an excellent understanding of not only the market needs but also the technical possibilities of zinc as a roofing and cladding material. Jonathan has also been involved in technical certifications whether that be, Environmental Profile Declarations or BBA certifications and fire testing. Much of this knowledge has been used to write technical literature aimed both at architects and installers. Before joining VMZINC, Jonathan worked as a land surveyor in Paris, ironically spending quite a lot of time on the zinc roof tops of Paris! Jonathan graduated from Nottingham Trent University in Construction Management in 1990.

Amr Assaad
Director
Buckley Gray Yeoman Architects
Amr is a director of Buckley Gray Yeoman.
Driven by a passion for design, he finds clear, elegant solutions to complex briefs. He has designed/delivered a range of retail, commercial, residential and masterplanning schemes and believes in a collaborative, hands-on approach, throughout each stage.
Amr's current projects include: The Goodsyard, a major regeneration scheme in Shoreditch comprising 750,000ft2 of commercial and retail space on a central plot for Hammerson & Ballymore, and the Old Truman Brewery, which includes the creation of a mixed-use scheme with a new public courtyard.
Furthermore, Amr has led BGY's entire collaboration with Fred Perry, which has seen the completion of two offices and 14 global boutique stores for over a decade. These include flagship stores such as Covent Garden, Coal Drops Yard, Munich, Paris, Seoul and New York City.
Amr completed his diploma at the Architectural Association in 2005 and joined Buckley Gray Yeoman the same year.