Lisbon's iconic new art museum might be the product of its siting but its construction was distinctly continental
Lisbon's MAAT gallery's riverside elevation, looking west, the 16th century Manuelian style Torre de Belém in the distance. Click image to view

Credit: Francisco Nogueira
There's something decidedly downbeat about the way Lisbon meets the water – but that's part of its charm. It's thanks to the first Marquis de Pombal, who rebuilt the city after its 1755 earthquake and tsunami, creating a classical order to the city's southern waterfront, albeit a muddled one. Why, for instance, did Eugénio dos Santos' new masterplan not carve a direct central axis between the city's old Rossio Square and his grand new waterfront plaza, the Praça de Comércio, built around the ruins of the Royal Palace and pinned to the city by the equine statue of King José I? And why terminate his glorious classical axis and triumphal arch with no more than barnacle-prone stone steps between two posts? I mean, see how other places gloried in such exposure at that time. If a city were a nude, Venice would be Ingres' Grand Odalisque; confident and challenging, resplendent in turquoise and gold. Lisbon is more Toulouse-Lautrec, the U-shaped Praça's legs languidly dangling at the river's edge, limbs framing unkempt, mossy nethers. No; dos Santos did this deliberately. This was the endpoint of a new city still grieving; those simple, final steps dissolving into the water were a memento mori of riches washed away, lives lost.
Interestingly, it's these steps that are picked up on by architectAmanda Levete, a couple of miles along the River Tagus at Belém, with its new Museum for Art, Architecture & Technology (MAAT). Here, near the area's 16th century tower, Jerónimos Monastery and famous custard tart shop, the axial component is admittedly somewhat eroded – and a divisive road and railway track separate city from waterfront – but AL_A's intention, it seems, echoes that of dos Santos. Principal Amanda Levete was keen to emphasise 'the interplay of the forces of nature with public space': white Moleanos limestone steps sink down to the river to complete the firm's lissom contemporary design on this complex, part historic, part industrial site.
Site plan - click image to view
The building is one half of a new 3.8ha public arts complex for the city, which is in turn part of a wider waterside regeneration. MAAT is separated from the other half of the complex, a converted former power plant 'the Central Tejo', by a still-working underground substation. The drivers for the whole scheme are less seismic than economic; philanthropic even, if António Mexia from client EDP Foundation is to be believed. As chief executive of EDP Group, the national power company that funds the foundation's social programme, Mexia is at pains to highlight Lisbon's burgeoning city-break numbers, its invigorated cultural life and the influence the foundation wants to wield in promoting indigenous new art as well as a fully-fledged international programme. Reflecting Lisbon's newfound optimism and standing, EDP Foundation headhunted MoMA architecture curator Pedro Gadanho to create what Mexia calls 'the hotspot of the hotspot'. As a result, Gadanho is taking artistic control not only of the Central Tejo, but also AL_A's sinusoidal, 7,400m2 ceramic-clad MAAT.
An area somewhat greater than that has been solely devoted to its roofscape. As part of its initial design concept, AL_A was set on using the roof to allow the city's residents and visitors to experience a new relationship with the water's edge as well as rising over the infrastructure behind to look past Paolo Mendes da Rocha's warehouse of a coach museum to the medieval Jerónimos Monastery and city beyond. MAAT peels away from the ground plane next to the Central Tejo gallery, to span over the body of the museum before sinking 190m further down to the east. Arriving by train from central Lisbon, MAAT appears as no more than a strange, white, stepped hillock rising from a grassy base. But from the riverside it's quite another matter; a huge, curving form of 15,000 three dimensional ceramic tiles projects over the esplanade towards the stone steps. Levete was struck from the first by the 'extraordinary characteristics' of this south-facing waterside site. 'The river seemed golden and on fire and we wanted to design a building that would reflect and amplify this,' she recalls. Hung as rainscreen cladding from a metal frame off the sunken concrete form of the building, the tiles are a crucial aspect of the final design, lending its facade a shimmering quality that changes constantly in incidental and reflected light. It soon becomes clear that this building is really more about its outside than its inside.
In a sense, the instinctive reaction to the site had to be the main driver as it feels like there was no brief beyond the desire to augment the power plant gallery with a dramatic new statement building and public space; a physical embodiment of the client's wish for a 'positive sign' that Portugal had emerged from 'harsh austerity'. With what seems like half of Lisbon's waterfront now a building site, perhaps the EDP Foundation and the mayor of Lisbon were looking for a kind of knot to quickly help tie the various strands – because they sure got one. Approaching from the river, or from AL_A's yet to be built bridge that will land on the north side of MAAT's roof, once you've scaled then entered the building, round and down you spiral on the edge of its massive elliptical main space before wrapping back round on yourself again in its subterranean galleries. At this lower level, spaces might have different appelations but all flow one into the other; a strange, white but dark amorphous thing, offering a host of art and multimedia possibilities or limitations; Levete's 'discursive spaces for interaction and performance'.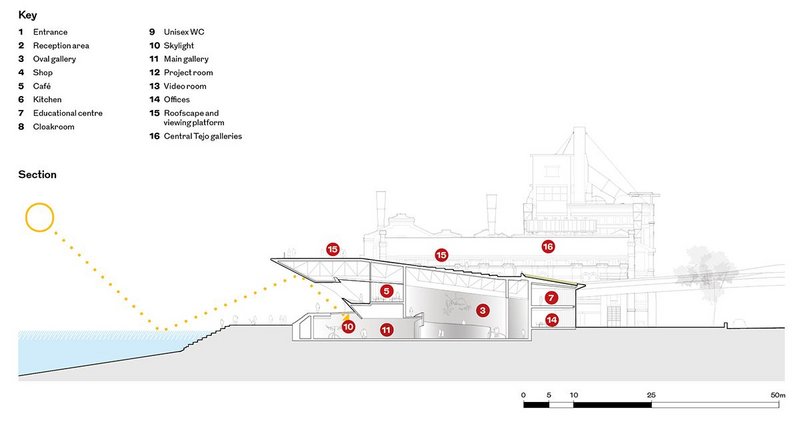 Click image to view
Asked whether the design (like Hadid's MAXXI museum in Rome) was developed without a real brief for what it would contain, Levete says it was more a case of putting a proposition forward and the client giving feedback; a 'fluid brief' made concrete in an iterative process. But it suggests MAAT's form was more important than its spatial brief; curator Gadanho only came on board last year and in that time managed to dispense with the main gallery's ceiling and a whole auditorium, confirming the presence of a lot of unset programmatic custard in its upturned stone case. More observation than criticism, the fluidity of the internal spaces and their success seem predicated not on any architectural quality but on the curator ensuring the right artistic programme for the space he's been given. This prospect excites Gadanho, if his inaugural 'Utopia/ Dystopia' commission, awarded to Dominique Gonzalez-Foerster, is anything to go by. Quite what they would have ended up with had he been brought on earlier in the process is anyone's guess, but for now he's content with its 'counter-intuitive fluidity… in antithesis to the traditional white cube space' and seems challenged by a volume that will force artists to react to it with site specific work. And while it is an international venue, he intends nearly two thirds of it to showcase new Portuguese art – quite an aspiration.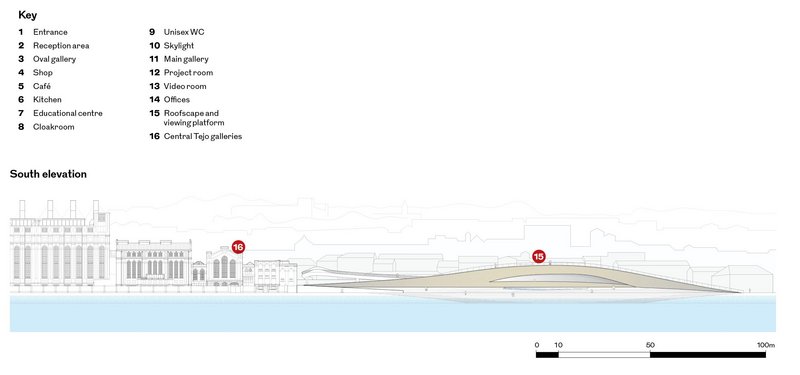 Click image to view
Dramatic as MAAT's facade is, a commensurate desire to support local artistry wasn't reflected in the cladding, even though, with its high gloss finish, just about everything else is. The complex light-scattering ceramic facade might look like it's hailed from the traditional home-grown azulejo skills of Portuguese artisans but it transpires these three-dimensional tiles were all shipped from Barcelona. I'm told this is because local skills are tailored more to an adhered approach than the hung style used here, and that the technical skills to deliver 3D ceramics weren't locally evident. That may be true, but at the press viewing – watching Spanish subcontractors hurriedly fixing Spanish tiles onto Portugal's premier institute for contemporary art – I was left wondering whether, as Gadanho intends for the works inside, the building design could not have been modified to account for local skills. Could the module size have been reduced to increase form simplicity; or better still, local companies incentivised to develop their ceramic technology. Four years have passed from the design to the final hang; you'd think a step change in the skills base could have been achieved in that time. Sure, CEO Mexia explains that EDP is an international company (it's a third owned by Chinese and American interests) and that in a global context why shouldn't they specify Portuguese limestone, Spanish tiles or indeed a UK architect; but given MAAT's high profile, surely local procurement would have signalled belief in and support for a recession-hit industry- be about the means rather than the end.
That said, towards sunset , the very light that Levete had evinced earlier in the day radiated off its ceramic facade, trying to bounce down past its free-form floor-set glazing to a lower gallery. I enjoyed the slow descent into the cavernous Oval – the city's largest exhibition space – even if I couldn't quite fathom the meaning of the rest of it; low-lit arbitrary volumes waiting to be imbued with meaning by as yet absent art. Above my head meanwhile, the stone roofscape was full in the sun, looking out over the Tagus; modern landscape, couples' selfie spot, skateboarder paradise, urban cinema. In its first weekend of opening they had to close the access bridge from the train station for the crowds; 22,000 people made it into MAAT to check it out and 60,000 walked over its roof and waterside – that's almost as many as died in the 1775 earthquake. Maybe I should stop yearning for what could have been and be happy with what's there: lose that senseless longing for what's done and dusted. Then again, a museum is a monument to dead things and saudade – what's more Portuguese than that?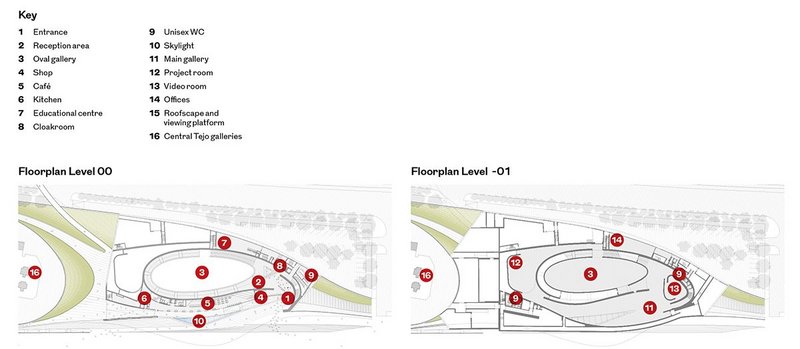 Click image to view
IN NUMBERS
4 galleries
190m long
12.4m high
9,430m2 public spa
---
Credits
Client Fundação EDP
Architect AL_A
Local architect Aires Mateus e Associados
Civil structural and M&E engineer Afaconsult
Main contractor Alves Ribeiro
Landscape Vladimir Djurovic Landscape Architecture
Project management Technoplana
LEED consultant Edifícios Saudáveis
Restaurant and shop lighting SEAM Design
Tile supply Ceràmica Cumella
Tile subcontractor Disset