David Chipperfield Architects' Carmen Würth Forum is a bit of a curate's egg, at once extravagant and prudent, indulgent and banal. But don't blame the architect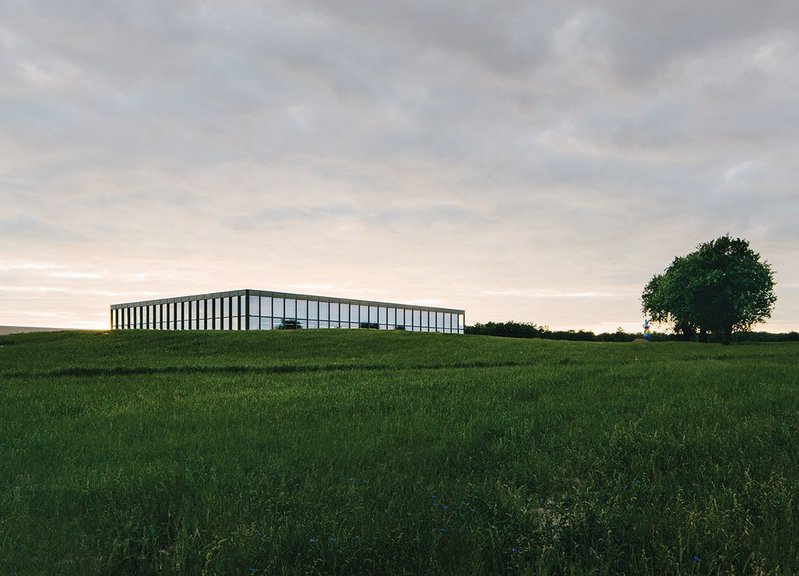 The Carmen Würth Forum looking south west: a temple to music set in an Arcadian landscape?

Credit: Simon Menges
There's a reason why David Chipperfield Architect's Carmen Würth Forum outside the little town Künzelsau in Baden-Württemberg looks like a very classy parts distribution centre – but you won't get it from any of the photographs here. Certainly not from the north, south or west, showing the events and chamber music hall rising from its concrete base in splendid isolation against the backdrop of an Arcadian landscape. But look east and it's a different story, as the Forum is subsumed into the huge industrial complex of the Würth family's construction products' distribution business. So if, as DCA's Berlin office partner Martin Reichert remarks, the Forum's primary design driver was the nuanced sublimity of Mies; the secondary, its financing, is intrinsically bound up with the contents of the industrial warehouses in the middle distance.
The Würth company started as a one-man band in 1945 selling construction screws. It went on to become an €11 billion turnover business with over 400 subsidiaries, employing over 70,000 people. Its rural factory complex is testimony to both chronological and cultural expansion. The original 1968 HQ shed building is now dwarfed by a huge campus development of office and industrial blocks designed by noted Bauhaus architect Sep Ruf and a couple of local firms, punctuating the heart of the complex with the ­commissioned angular metal musings of Danish sculptor Robert Jacobsen. Würth embodies this area's economic wellbeing, palpably so; my taxi driver's son works there along with 2,000 other locals – and he excitedly points out Würth's private airport as we drive alongside. But, in building this similarly bucolic palace of culture, it also aims to endow it with cultural wealth.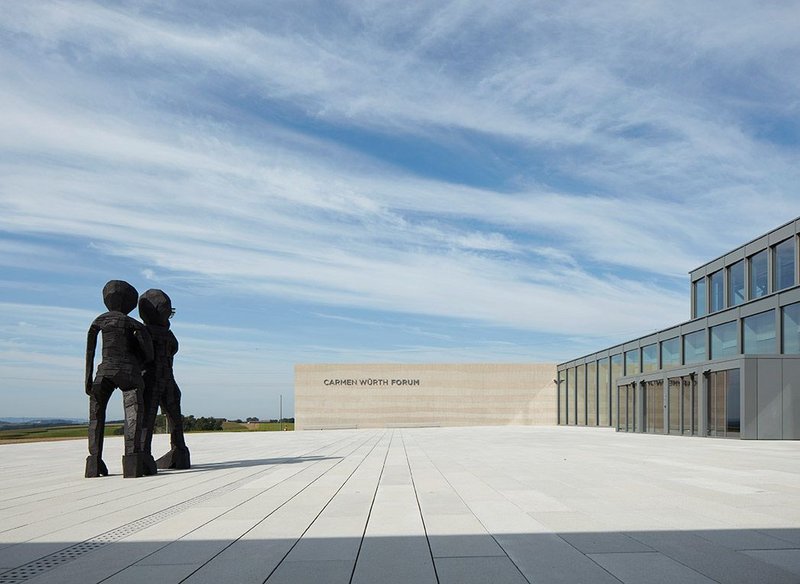 The stripped back, reconstituted stone plaza leading to the entrance foyer contrasts with the landscape around.

Credit: Dennis Gilbert
But it's not all work, work, work. It turns out that 82-year old former boss Reinhold Würth has for decades been an avid art patron and his on-site public gallery, housing some of his 17,000-strong collection, is by no means an anomaly. The family has 12 – the one in nearby Schwäbisch-Hall was designed by Henning Larsen, who was shortlisted for the 2006 competition to build the Forum in honour of the 80th birthday of Reinhold's disability campaigning, philanthropic wife Carmen. Cutting through a gamut of madcap proposals, the winner was David Chipperfield, with his minimalist chamber music and event hall; the former hidden beneath a grassy knoll, the latter a steel and glass temple rising up alongside it.
In fact, the resulting building is more minimal than originally intended. The idea was to build Würth's 13th gallery slightly east of the new reception plaza area, but the 2008 global recession put paid to that. As well as affecting the design's scale, the final version yielded 11,000m² from a €60 million budget, with a programme that, sans gallery and library, was much simpler than the one Reinhold sketched on his restaurant napkin back in 2005 when the idea first occurred to him.
But while the realised Forum might be an orthogonal palimpsest, it's markedly more clean and crisp – at least from the outside. To hunker the building into the landscape, 60,000m³ of earth was moved – most of it to make space for the 2,500-capacity events hall that leads directly off the slender, projecting, lobby space that greets the visitor at the end of the forum's stark, stone entrance plaza. A move into this main volume reveals a 2800m³, 13.5m high space that, says DCA's Reichert, seems influenced as much by the Berlin Neue Nationalgalerie by Mies (that the firm are stripping out and refurbishing) as it is by Würth's utilitarian warehouses.
Tall, regimental steel columns run at 2.7m centres all the way around the perimeter, connected by deep steel trusses spanning the full width. All the services run in this truss zone too, everything painted black as if to concoct an abstracted topsy-turvy industrial landscape of its own. And running between this and the upper 'Tribune' level are the enormous panels of glass, each one subtly slanting the depth of the columns' reveal, creating a 'killing me softly' saw-tooth effect all around this glazed elevation. This is to avoid reflection – not visually as you might assume, but to manage internal acoustics. Outside the glass, a shutter system in apparently eye-­wateringly expensive fine stainless steel offers a tatami-like, oriental shading, silently sliding up and down over throughout the day, tracking the sun's passage. The considered restraint of these details and their initial inexplicability adds a high level of external sophistication to a temple that, internally, seems best characterised by its purposelessness.
This was manifested on my visit with a rather lost-looking show on Mars exploration scattered about the main hall floor, marking involvement of some son of Künzelsau in a future NASA space mission. I am told that the kitchens hidden below the upper hall level on the east side recently catered for up to 2,500 people; but that doesn't explain why the formed ash bleacher seating set on the west side's concrete steps sweeps dramatically down to hall level, only to face their blank timber walls. This intimation of specific activity without follow-through leaves the space feeling curiously unresolved and – well, I'll say it, unheimlich.
It turns out, speaking to DCA's Martin Reichert, that Reinhold the businessman wanted his value for money. It was to be not only a homage to his wife, but an additional facility for the complex for company meetings, a pop concert or an entertainment venue for hire. This wish for undesignated, effectively unprogrammed space was only realised during design development, Reichert conceding that 'the Forum was commissioned without the client having decided what it would be exactly', leading to decisions far stranger than the Mars event programme. DCA argued in vain for dedicated bar/social spaces that could have created common space between the halls and avoided the lacklustre pop-up café currently on the east side upper level. Further thought might also have seen this lead onto the grassy south terrace and its stunning views over the valley to medieval Waldenburg. As it stands, the only way it's enjoyed is via an underwhelming exit on the east and west sides and a walk round to the front. It's an epic reveal in the end – but an unsatisfying, confusing one.
Fortunately, the smaller, more intimate Reinhold Würth Hall is less unsettling. Specially designed for chamber music events, it is accessed by turning right in the lobby and following the lurid corporate red polyurethane floor to its door. The subterranean hall, holding nearly 600 people in sumptuous, Chipperfield-designed seats of plush red leather, has a honed specificity that offsets the ambivalence one might have about the main space. Here, steely, daylit interiors make way for a darker marquetry box lined in huge veneered panels of rich dark French maple, their almost identical Rorschach patterns running its 40m length and 20m width. German acoustician Müller-BBM was responsible for the subtle slant of the timber walls, a delicate effect that rewards a closer look during a concert.
Apparently only four French maple trees were felled to line Chipperfield's musical box. That includes the ceiling, each joist of which is inset with a simple, continuous strip of LED lighting that sheds a low, flat, Japanese light on all that material richness. The contrast between the two is intriguing. With low velocity air feeds, you can hear a pin drop and, seats running all the way round on the upper level, there's an accompanying democratising air to the spatial layout. Generating a visual landscape of itself, it must be a lovely, focusing space in which to listen to music.
Collectively then, this acoustic acropolis seems in equal measure both profligate and parsimonious. It's a decadent vanity project but is also expected to pay its way; it is a temple to high art but also a practical assembly point for the workforce; it cossets visitors in the rich materiality of its spaces but provides nothing by way of dedicated social spaces in which to indulge them with hospitality. This, of course, is the fault not of the architecture, but the programme DCA had to work with; what's interesting here is that these polarities cannot help but manifest themselves spatially. For lack of a social space connecting the two halls, and the abject refusal to open out to the south, this as much the home of the Stoics as it is a Temple to Apollo; but I imagine that's as Reinhold wants it. Here, as in other aspects of his business life, he's a canny ­decision-maker. DCA's rich, restrained architectural language is perhaps the perfect way for him to mark his desire in monumentality; one cloaked in asceticism, the work ethic and post-recession fiscal prudence. As an extension of the company that he built goes, it's spot on; his Carmen Würth Forum seems in every way like a chip off the old block.
---
IN NUMBERS
€60m total cost
11,000m2 total area
10,000m2 external space
2,500 hall capacity
Credits
Client Adolf Würth GmbH & Co
Architect David Chipperfield Architects Berlin
Project management Drees & Sommer AG
Site supervision Kraft + Kraft Architekten
Structural engineer RPB Rückert
Services engineer ZB Zimmermann und Becker ibb Burrer & Deuring Ingenieurbüro
Building physics Müller-BBM
Façade consultant Reba Fassadentechnik AG
Landscape architect realgrün Landschaftsarchitekten