In refurbishing the BBC's former home, Bush House, and its neighbours, John Robertson Architects' much-needed internal rationalisation still stays true to its Art Deco roots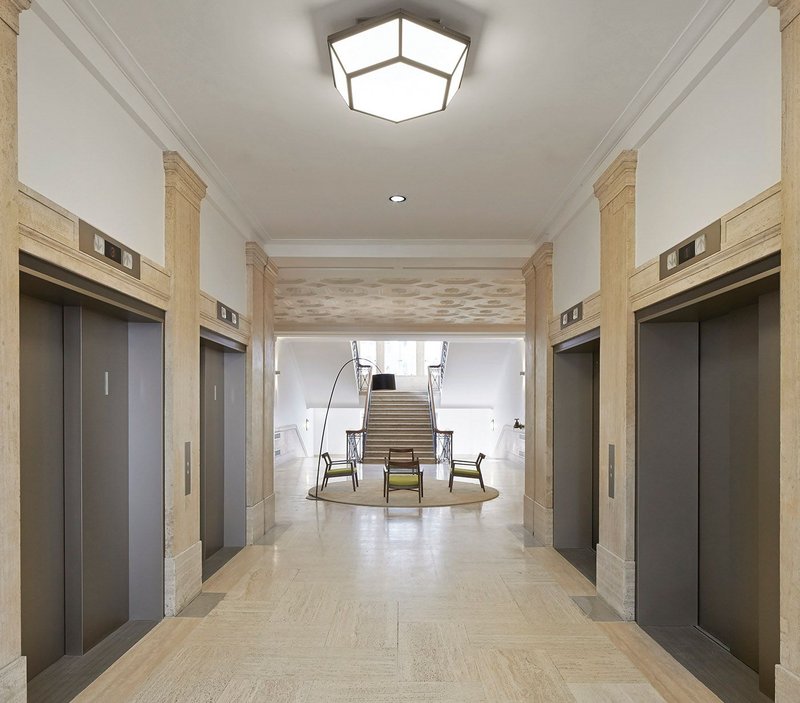 When Bush House in London opened in 1930, its brash 'big business classicism' of stripped Portland ashlar covering a steel frame would have been considered state of the art. Designed for American warehousing magnate Irving T Bush, coming in at over £2m it was hailed as 'the most expensive building in the world' on completion. Its architect was US firm Helmle Corbett, which had made a name for itself in New York, building a neo-gothic tower for the same client, and whose Harvey Corbett would go on to design the Radio City Hall at the Rockefeller Centre. Bush's desire was for a statement building that would make the American's mark on the city, terminate Kingsway and make Aldwych a new commercial district for the capital.
But it is for its tenant that Bush House is best known. Its huge recessed portico, topped by a sculpture symbolising Anglo-American links, became synonymous with the BBC's World Service, which moved there in 1941 after its Portland Place HQ was bombed. Expanding to fill the three neighbouring blocks, which completed in 1935, the BBC occupied the island complex for 70 years, before moving out when the lease was up in 2012. This gave Japanese owner Kato Kagaku the chance to effect a £60m, 27,600m2 refurbishment to bring it in line with modern office demands – a job entrusted to John Robertson Architects.
The building JRA inherited from the BBC was quite a different beast internally. Bush House is grade II listed, and the three other buildings forming the island complex – Melbourne House and the north east and south east wings – sit within the Westminster Strand Conservation Area. Visually, they connect to the neighbouring Edwardian Australia House and India High Commission well enough to make them 'Buildings of Merit', so both Westminster Council and English Heritage were keen to see how JRA would deal with it. The firm was sensitive to the buildings' weight of history; Charles de Gaulle gave his wartime Free French radio broadcasts here and BBC employee George Orwell disaffectedly occupied 'Room 101'.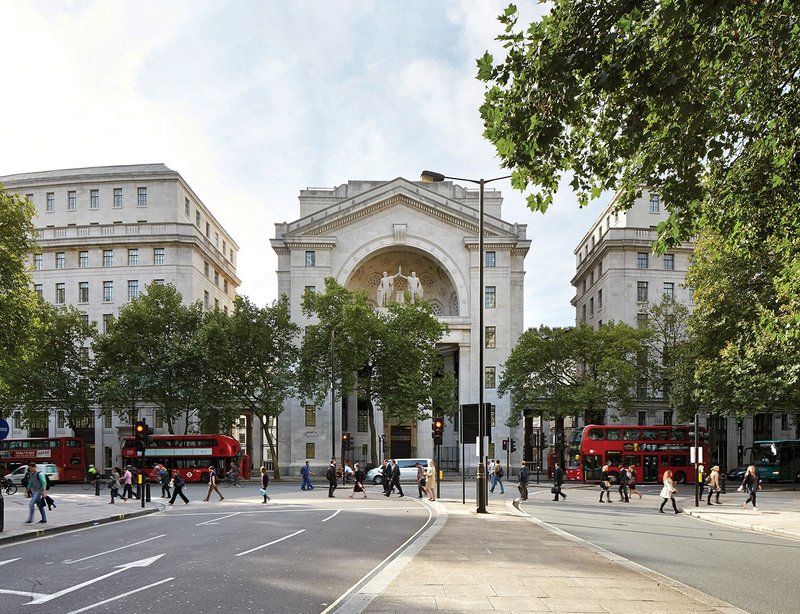 Not that JRA could find that room when it took possession of the building, it having long since been lost in countless reconfigurations of the spaces. It seems even the firm wasn't quite prepared for what it found. 'Over the 70 years they could never stop broadcasting so all internal changes were carried out on an ad hoc basis', explains JRA project director Andy Hill. 'It was a labyrinth of internal partitions, with soundproof studios sitting in the middle of floor plates and warrens of rooms around them-there was no sense of any open plan space whatsoever.' But while removing these accretions and bringing the buildings back to their raw structure, the firm wanted to keep what it could. 'The firm's mantra is contextual modernism – we wanted to take the best of the original fabric and work with it. Each building had its own character and identity and we thought to use that to create bespoke entrance, circulation and washroom areas,' adds Hill. That meant letting the building speak where it could and augmenting that with a limited palette of new materials that would repeat throughout the complex.
JRA carried out a full abseil survey externally, and apart from the need to clean it, only identified a few coping stones and Melbourne House's external stair as problematic. Internally it was another story however, requiring an initial £7m programme of works to remove asbestos from the basements and to strip the office spaces back to the shell. With few archival drawings, Hill explains that before the BBC left 'it was a matter of sticking tape measures through holes and making deductions from old photographs to get a measure of the building'. When finally exposed, steel beam and concrete pot floors were found to be in good condition structurally if not visually (precluding exposed soffits in the final refurb), except on the south east building, where new infill steel beams and decking were stitched in to about a third of the floor where it had failed. With slab to slab heights determined and window head heights dictating the new suspended ceiling level, it was decided that a 120mm raised floor zone would be adopted everywhere. Suspended ceilings run at set heights above this, pulled back from the internal wall face where it conflicts with window head heights.
To raise energy performance ratings the building fabric needed addressing. To avoid planning issues, the few defective Crittall windows were replaced like-for-like and thin-section secondary glazing installed throughout. Internal walls had to be lined with PIR insulation; losses to GIA mitigated by the fact that the strip out revealed a concrete radiant panels heating system set in the walls between the windows, and replaced by rigid insulation panels finished in Gypliner. Core areas in Bush House were expanded and rationalised, with the floor slab broken out to connect down to the basement and up to the roof. Building MHVR plant is now in the basement with tenant plant areas set on the flat roof hidden behind a newly constructed false mansard.
Bush House, though designed with six lift shafts, only used four, giving JRA the opportunity to improve provision with a fifth lift as well installing a good-sized accessible toilet on each floor. Handsome original Art Deco-esque lobbies on each floor have been brought back to their original state; the only upgrade being the installation of fire rated glass panels into its hardwood timber doors. JRA's intervention here is seen only in the fine shadow gap detail of the gunmetal grey steel lift doors separating the new steel from the veined travertine cladding of the walls. Internal lift cabs are of copper mesh backed glass, alluding to the BBC's charming old copper post boxes in the lobbies on each floor.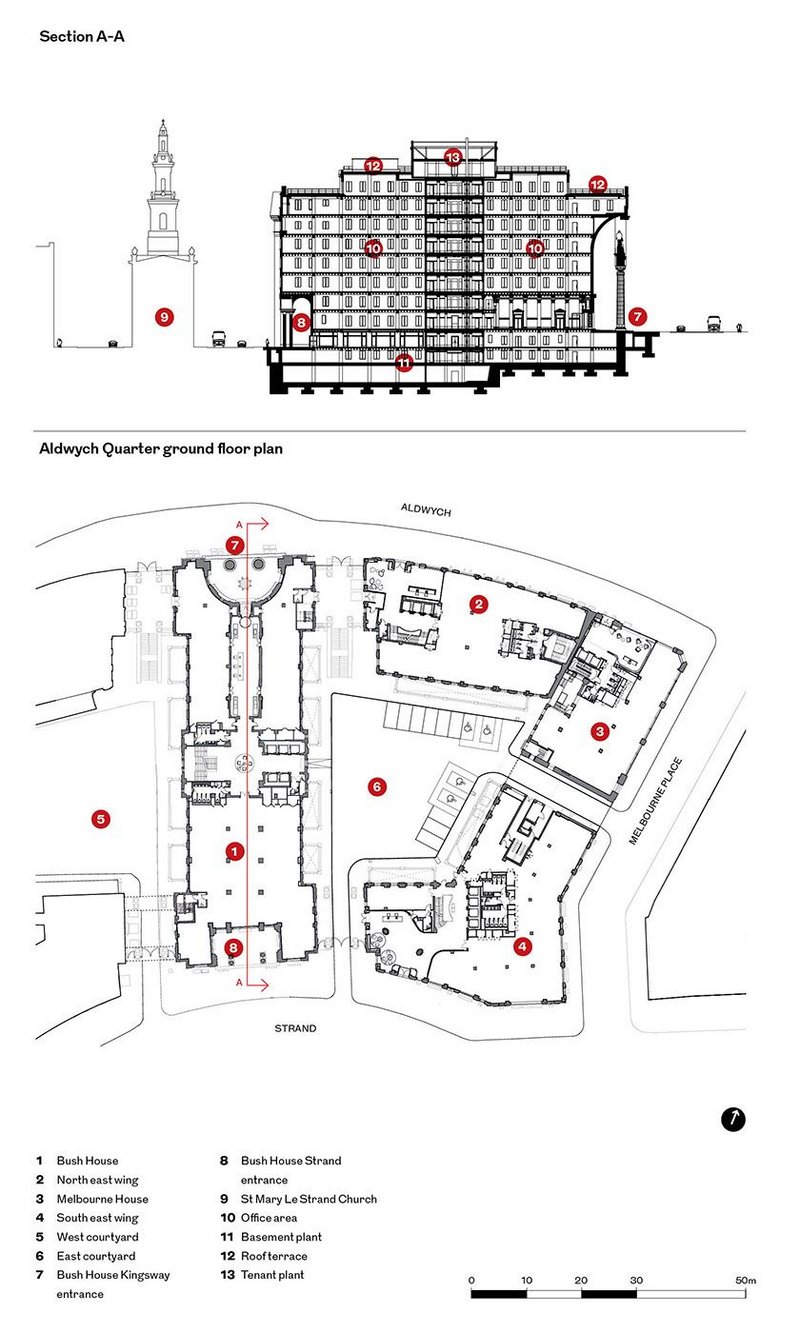 JRA's Hill says the other blocks in the complex had far fewer original fixtures and fittings, so the design of reception areas and washrooms was driven by a more conscious aesthetic agenda. Hill explains: 'A recognition of the character of each block drove the design direction but they needed to sit within a family'. So while the palette of materials might have been different in each, there was a real attempt to create a commonality of approach. Hence the Aalto-esque vertical timber slats in Melbourne House are in a sense echoed in the north east wing, only expressed as marble slats of Deco-esque hues. Likewise, its toilets, with vanity units of black Zodiac Corian, link tonally back to this reception wall. The stark white surface finishes of the south east wing washrooms reference the profiled white plaster wall in its reception, drawing you to the lift lobby round a corner. And the steel look of the concrete reception desk in Melbourne House is echoed in the dinky sinks of its unisex toilets. Toto sanitary ware throughout further unifies the aesthetic.
Hill notes that the light fittings might be different, but even they have some commonality, with solid circular luminaires becoming strip halos of similar diameter in different lobbies while hidden perimeter lighting creates a similar visual 'spill' of light over the back walls. Curved circular recessed ceiling lights make a guest appearance too. JRA even used the BBC's famous Gill Sans font to drive the signage strategy for the four buildings. Huge tiles of pale Green Petra Serena stone appear throughout all the lobby areas. 'It became fashionable after it got used in the Apple stores,' explains Hill.
In some big decisions, the hand of the architect was guided, notably in Bush House, where Westminster Council wanted the firm to reinstate the stepped passageway at ground that leads down to the Strand entrance of the main building, where all the glass-fronted retail units had, over time, fallen into disuse. JRA envisages a possible future for coffee shops and cafés for office tenants (these with exposed soffits); which would also re-establish the internal north south connection from Kingsway to the Strand.
Indeed, of all the firm's interventions on the Aldwych quarter, the one of urban 'connectivity' is potentially of most importance. If JRA's big initial idea to turn the stepped route through the blocks' existing car park courtyard into a link from Kingsway to St Mary le Strand church were taken up, a difficult city island site will have been brought back into public use. And the work done by the firm on developing visual connections internally on the micro scale will have been reflected externally on the macro – and that's a fact worth airing.
---