A huge MoD training centre and a Yorkshire visitor centre leaven the latest permissions for London apartments
Apologies in advance to the provinces – this seems to be a regions-lite consents page, with four of our six all in the capital. Three of these are high profile refurbishments and additions to create high-end residential offerings in an overheating market. But, like Leicester's historic Premiership win, it's good to see evidence of the little guys doing well too. Architect Moxon has secured a station commission to extend the London Overground and Feilden Fowles, winner of this year's BD Young Architect of the Year, has consolidated a good year with its Yorkshire Sculpture Park permission. Meanwhile there's consolidation of a whole other scale with HLM's MoD commission for a huge 93,000m2 combined forces training facility outside Winchester.
YORKSHIRE SCULPTURE PARK VISITOR CENTRE
Client: Yorkshire Sculpture Park
Architect: Feilden Fowles
Area: 395m2
Planning authority: Wakefield Council
Planning ref: 15/02011/FUL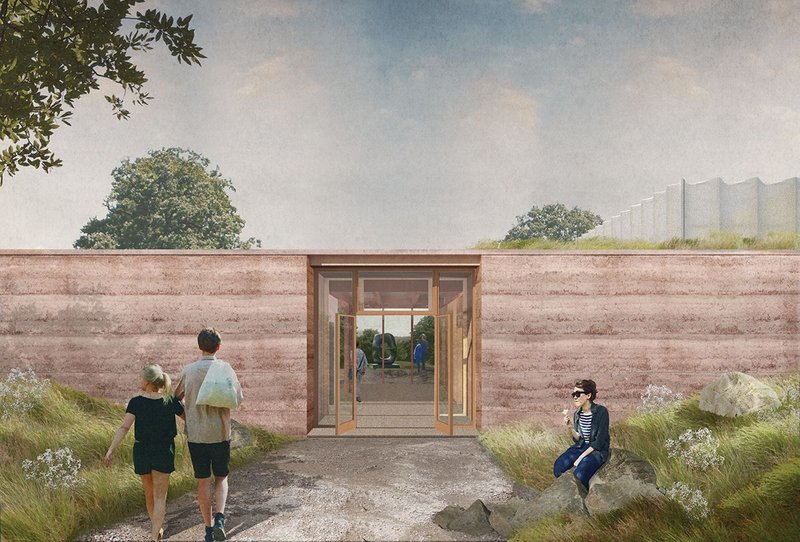 £1.7M worth of Arts Council funding is helping to realise the £3.8M additional visitor centre at YSP by this year's BD Young Architect of the Year Feilden Fowles. With over half a million visitors a year to the park's world famous sculptures set within the landscape, the extra centre will provide enhanced facilities for visitors celebrating its 40th anniversary next year. Intended to have minimal impact on the site, the new building will have a 140m2 restaurant, 125m2 of gallery space, a new public foyer area and 50m2 shop.
The new building will be well insulated and naturally ventilated, use air-source heat pumps and have an extensive green roof. A pioneering low energy environmental control system will use a passive humidity buffer to maintain optimum conditions in the gallery space. This marks the end of a development strategy that has seen three new buildings and two refurbishments on the 500 acre Bretton estate since 2001.
---
MILLBANK TOWER, LONDON
Client: Basio Holdings
Architect: John McAslan + Partners
Area: 61,805m2
Planning authority: London Borough of Westminster
Planning ref: 15/07756/FULL. Listed building consent: 15/09739/LBC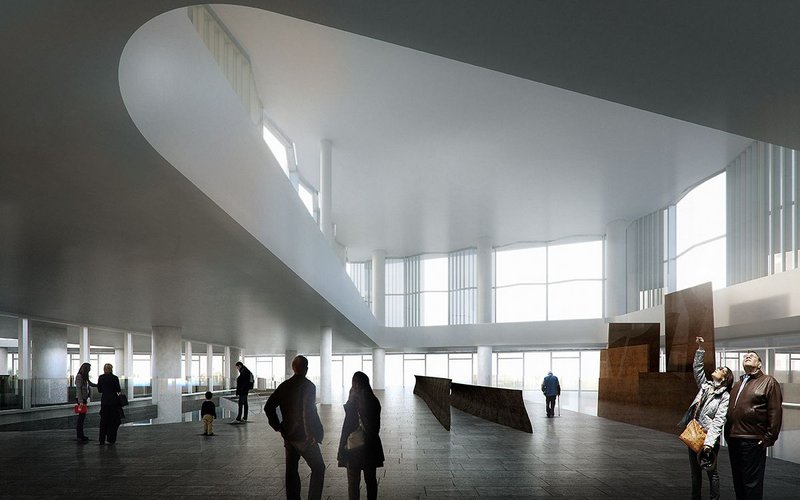 Less corridors of power and more cores of power, New Labour's former Death Star HQ, Millbank Tower near the Houses of Parliament, has received permission for conversion into a residential and hotel complex. The 32 storey tower is grade II listed and will be repurposed by John McAslan and Partners. The 118m high tower, designed by Ronald Ward and Partners in 1963, sits on a low, wide podium and will be fitted out with 207 apartments, predominantly one and two bedroom units, with a private landscaped garden for residents at the rear of the site. The other part of the permission is a 150 bedroom hotel which will have its own public realm and gardens on the 'public' face of the building. There will also be a new cultural facility at the southern end of the podium.
---
BARKING RIVERSIDE OVERGROUND STATION
Client: Transport for London
Architect: Moxon
Area: 1430m2 (4280m2 inc platform level)
Planning authority: London Borough of Barking & Dagenham
Planning ref: Via a Transport and Works Act Order (TWAO)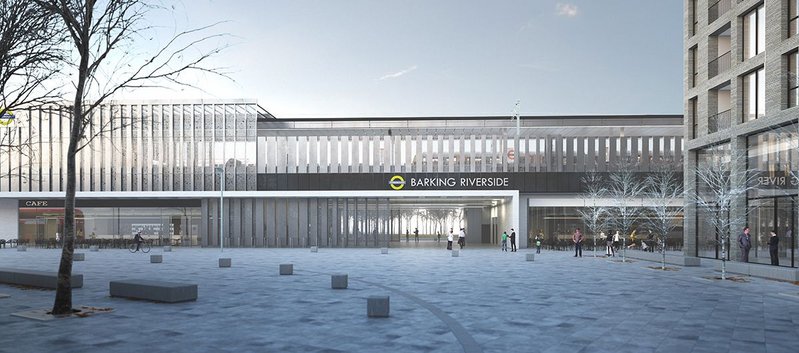 Due to complete in 2021, the new station at east London's new suburb Barking Riverside will extend the Gospel Oak to Barking Overground line and will sit at the end of a 1.6km long viaduct. At platform level Moxon envisages a series of stainless steel panels transitioning from solid to perforate to accentuate the deceleration of approaching trains. Operational facilities will be tucked into the viaduct at ground, featuring a prominent open entrance space, ticketing and information points. A central concourse will guide customers via large stairways and lifts to the raised platform level. The design includes bike storage areas and shops facing onto a newly created public realm.
---
DRURY LANE, LONDON
Client: Helical Bar
Architect: Piercy&Company
Area: 11,275m2
Planning authority: London Borough of Westminster
Planning ref: 15/07560/FULL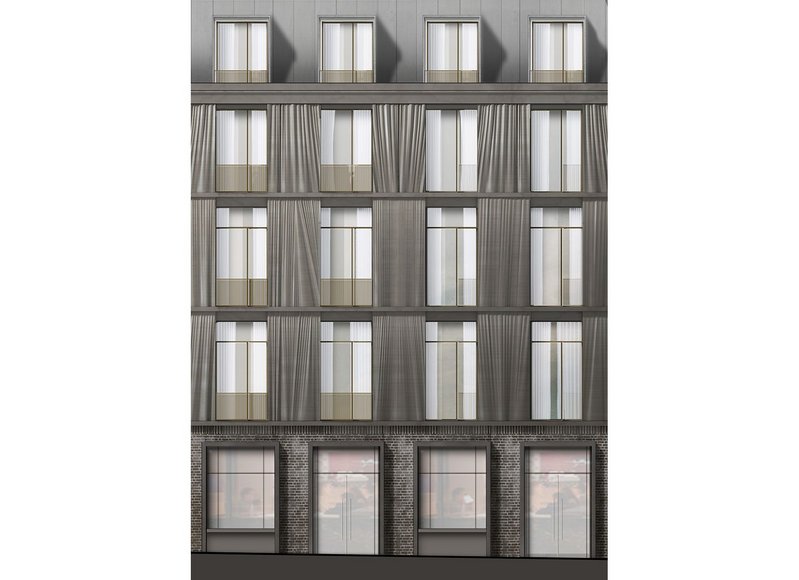 Extending over an entire block in the heart of central London, Piercy&Company's Jigsaw project will retain and refurbish a tired-looking post-war office building, repurposing it into 68 one, two and three bedroom apartments. While being interconnected internally, they will all appear as discrete forms from the street. That said, the firm was keen to avoid 'veneering a large object with a shallow skin'. Its solution was a facade facing Drury Lane that references the theatrical narrative of Covent Garden with dark grey 'draped fabric' reconstituted stone panels, counterpointing notions of softness and hardness. To the north, the new building echoes the robust brick of the area's warehouses, while to the conservation area in the south, historic facades will be maintained. New retail and restaurants will be inserted at ground in the Drury Lane facade, faced with glazed bricks that pay homage to the tiled pubs and shops common to this old market area.
---
BATTERSEA SQUARE, WANDSWORTH
Client: York Place Buildings
Architect: Assael Architecture
Area: 4282m2 (site 0.24ha)
Planning authority: London Borough of Wandsworth
Planning ref: 2015/7275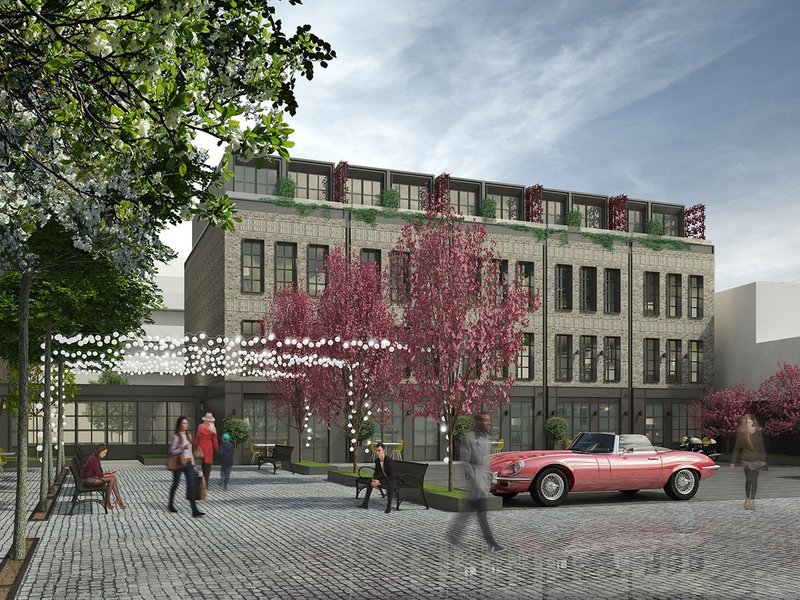 The Royal Academy of Dance's move to new bespoke accommodation in Battersea has freed its former site in the Battersea Square conservation area for a £55M development of 34 apartments and five townhouses, involving the refurbishment of the old Granary Building. The 1970s dance studios will be replaced with a new block of duplex apartments. Facing out over this, the townhouses will replace the old ancillary block creating a new central courtyard in a 'contemporary industrial inspired aesthetic', providing communal amenity space for residents. The scheme is the latest in the ongoing development of the previously remote Battersea Square area, first brought to prominence with RSHP's 67m high Montevetro development in 2000.
---
WELLESLEY TRAINING COLLEGE, WINCHESTER
Client: Ministry of Defence
Architect: HLM Architects
Area: 92,900m2
Planning authority: Winchester City Council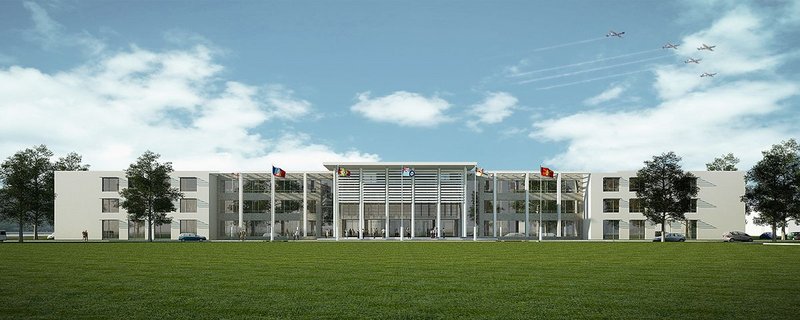 The £250M Defence College of Logistics, Policing and Administration (DCPLA) at Worthy Down in Hampshire is part of an MoD project to create a new training college as well as redeveloping its contentious Princess Royal Barracks at Deepcut. The college will relocate and combine the training facilities at the Defence Maritime Logistics School, currently at HMS Raleigh in Cornwall, and the RAF Supply and Movements Training Wing based at RAF Halton near Aylesbury. The new combined facility at Worthy Down will be home to the college, junior ranks mess, combined officers' mess and the regimental HQ of the Royal Logistics Corps and Adjutant Generals' Corps, with a new site entrance building to a museum for the Royal Logistics Corps. The Deepcut site will be redeveloped to provide 1200 homes, a school and other community facilities. Enhancing the work/life campus ethos, new homes will be designed around a series of villages for different ranks 'creating an environment that supports comradeship while providing the comfort attributed to modern, high quality accommodation in a thriving community'.
---