Museum's 20th Century Gallery is reborn as 1900–Now, but while Covid-19 has a powerful presence there's much more besides to track the changing face of modernity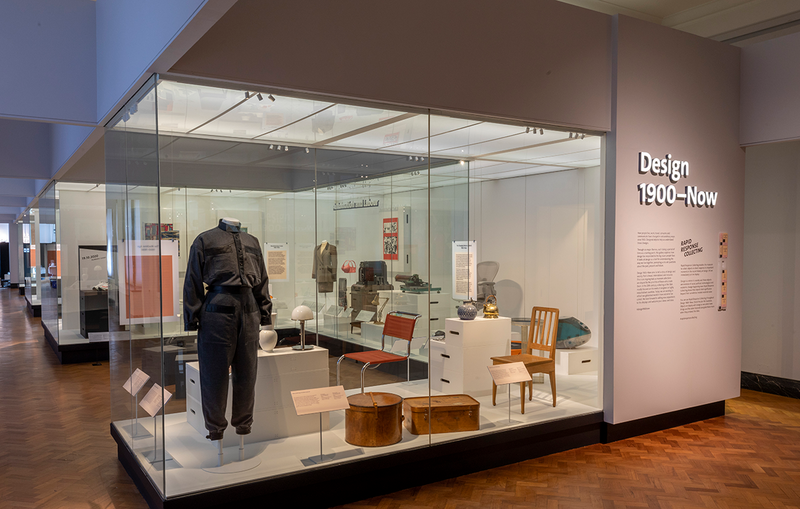 Installation shot of the Design 1900 – Now gallery at the V&A, a new permanent gallery that replaces the previous 20th century display.

Credit: victoria and Albert Museum, London
Ever heard of melt-blown fabric? Nor had I, but last year during the first flush of the pandemic crisis, demand for the electrostatically-charged, non-woven fabric saw its value soar higher than gold due to its application as coronavirus mask filter fleece. This unprepossessing looking material – it resembles a giant roll of flimsy toilet paper – was invented in the 1950s and is one of the many timely exhibits in the V&A's new permanent gallery Design: 1900–Now, along with a 3D printed gun and the imminent arrival of smashed hard drives of The Guardian's Edward Snowden files and much more besides.
Since we're now more than one fifth of the way into the 21st century, it's not before time that the V&A has replaced its 20th Century Gallery with a new permanent display including both the last century and the last 21 years – and counting – of this one. The result is an ambitiously wide-ranging display of 250 objects that tell the story of how people lived during these times through six themes, each bringing together the historic and the contemporary.
Given the breadth of this gallery – it's both global and pan-design discipline – such a display can't hope to be a comprehensive design history of the last 121 years. What it can do is identify key objects that shine a light on major social, economic and cultural experiences of that time, identifying design's role and drawing pertinent parallels, similarities and contrasts along the way.
'Design has an impact on society and society has an impact on design…that relationship is key,' said co-curator Corinna Gardner.
And given that the 20th Century Gallery was the second most visited in the entire museum – mainly due to its popularity with school groups – it's vital that the new display does so in a way that feels fresh and relevant. This is helped by integrating objects from the museum's Rapid Response Collecting initiative, which seeks to keep the displays as up-to-date as possible – always the key challenge in a contemporary gallery.
A great deal of research went into identifying the six themes – Housing and Living, Automation and Labour, Crisis and Conflict, Consumption and Identity, Sustainability and Subversion, and Data and Communication – and also how these could be explored to tell the story through design of the last century, from factory-line production through to the drive towards sustainability.
Each individual object, says co-curator Johanna Agerman Ross, allows you to dive into that period and helps to understand the context. While some will inspire through their design credentials, others, such as Sylvia Pankhurst's Women's Social and Political Union emblem cup and saucer, are more symbolic. Many are thought provoking – a photograph of three protestors taking the knee in a peaceful protest against racial segregation back in 1963 brings home how long campaigning to create a fairer society has been going on.
It's tragic that publications such as Y-Stop by SVI Design should need to exist, offering advice for young people on their rights in the face of police stop and search. Then there's the shame of anti-homelessness spikes installed in public places to deter anyone wishing to stretch out, or even perch, on a ledge for a breather. These are juxtaposed nicely in the Housing and Living section with textured paving that indicates the edge of pavements at pedestrian crossings, an innovation designed in 1965 by Seiichi Miyake.
There's a lot that's familiar including a Dyson vacuum, Kenneth Grange's Chefette, the Ericofon phone, the London tube map and Margaret Calvert and Jock Kinneir's road signage – but plenty more that isn't to keep it stimulating. The more difficult subjects are the most engaging. The Crisis and Conflict section weaves a contextual course using diverse content such as 1920s hyperinflation bank notes by Herbert Bayer and WW2 internee-made furniture, and more recent exhibits such as a burqini swim costume, Granby Workshop ceramic products and Chris Ofili's R.I.P. Stephen Lawrence 1974-1993. It's fascinating to learn that one of the hardest exhibits to secure was Nike's popular Naija kit for the Nigerian football team at the 2018 World Cup. Despite more than three million being pre-ordered, even Nike found it hard to lay their hands on one just three years later.
The pairing of sustainability with subversion is interesting, taking in anti-war protests, civil rights and environmental awareness. The Whole Earth Catalog, a sort of pre-internet counterculture resource of 1968-74, is shown alongside the Apple II of 1977. It's the ideas that are important here – the objects were selected not for their commercial success but for the value of the concepts they communicated, hence the inclusion of Jane Atfield's Made of Waste chair of 1992, and Heineken's 1963 experimental WOBO bottle, that can be used as a brick when empty – a great idea that was never commercially progressed.
Covid understandably figures prominently – literally in the case of the large, bus-shelter-scale images by New York artist Amanda Phingbodhipakkiya, which also appeared on the cover of TIME magazine. These powerful designs were a response to pandemic-prompted, anti-Asian hate crime, and were a way of highlighting this and reclaiming public space, with slogans such as 'I did not make you sick' and 'I still believe in our city'. From the UK, there are also three front covers of Vogue magazine featuring key workers in the pandemic.
It is interesting to see how perceptions of some materials can shift over time, such as the now outlawed ivory, once sought after for its decorative potential, and hexavalent chromium plating, whose production is now known to increase the risk of lung cancer. Then there's the more recently problematic plastic. The gallery includes examples from plastic's time as a lauded wonder material that reduced reliance on natural materials, to more recent designs such as trainers made from recycled ocean plastic (Adidas X Parley Ultraboost).
The galleries have been designed to relate to art and design curriculums, and students should find plenty here to engage and stimulate. With the prominent inclusion of the Covid and climate emergency content, certainly these galleries feel very much of the now. Time will tell how large these will loom as the gallery continues to evolve as the century proceeds.
Design: 1900–Now, second floor, V&A, Exhibition Road, London SW7