Quattrocento Florentine Frescoes exhibition Hayward Gallery, London, 1969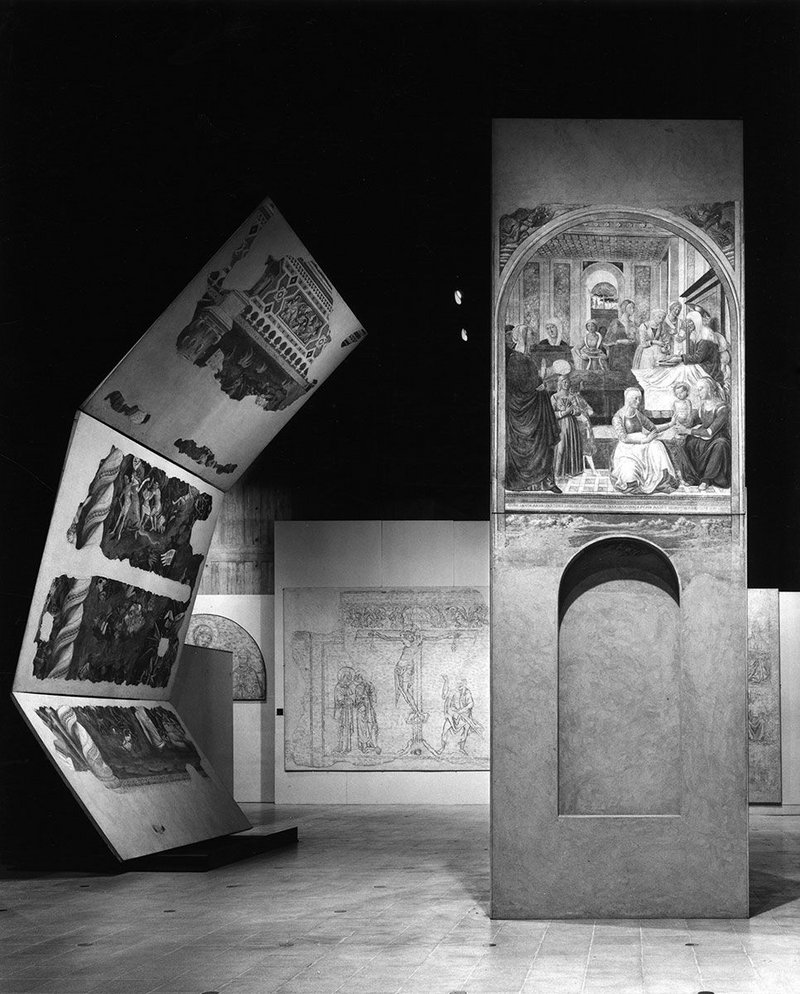 In 1969, Carlo Scarpa was given the opportunity to create his first work in London, a display of Quattrocento Florentine Frescoes at the recently opened Hayward Gallery. Olivetti were sponsoring the exhibition and insisted on an Italian designer.
Scarpa's early career had been dominated by commissions for exhibition design. His first was the Venetian Goldsmiths in the Sansovino Loggetta in Venice in 1937, followed by further Italian installations including Klee (Venice, 1948) and Mondrian (Rome, 1956) and later permanent displays at the Academia and the Correr Museum in Venice, the Possagno Plastercast Gallery and the Castelvecchio Museum in Verona during the 1950s.
Scarpa, not a fan of the Hayward's Brutalist architecture, imposed a radical transformation on its spaces and surfaces, intersecting its cavernous spaces and hiding the less favoured elements of its design such as the aluminium ceiling with black fabric.
Clever architectural solutions were devised for the display of fragments such as these from Orcagna's fresco in the Santa Croce which were angled to adhere to the height of the gallery but also to create a comfortable viewing experience for the visitors.