Take one Roman Wall, a Norman castle and a Victorian museum and you get some odd leaps in construction. Exeter's Royal Albert Memorial Museum was originally built with a slot in to get round building on the soft infill in the Norman ditch but by the time Allies and Morrison started work it was starting to slide into the depression.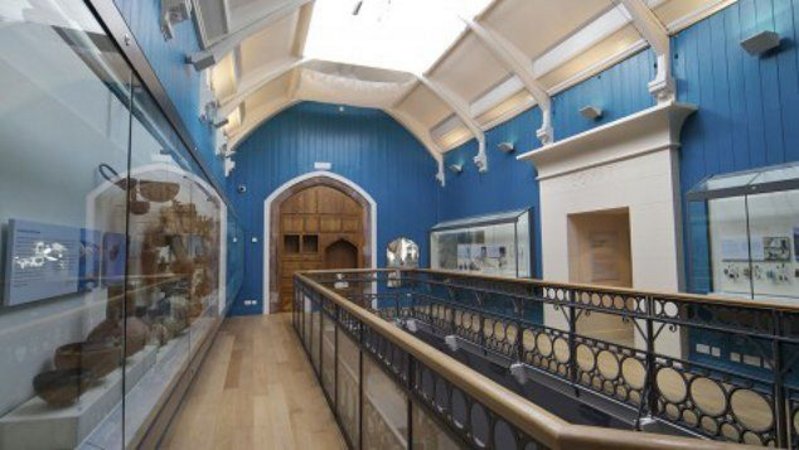 Allies and Morrison has made good use of the gap between buildings and the technology of modern pile foundations to design in a staircase joining the museum's ground floor, through the deep, toplit chasm, to its new entrance onto the Rougemont Gardens behind and the Roman Wall itself. These are the backlands of Exeter in a way, treasured but little visited, central to its plan but hidden by the buildings around them.
The museum's Victorian buildings were built over the decades and celebrate the geology of the South West and beyond with Exeter volcanic stone, Bath stone and granite from nearby Dartmoor as well as Aberdeen. Allies and Morrison have keep to a simpler modern palette with a Bath stone extension conceived as a folly in the garden whereas timber clads the elements that complete the Victorian plan.
From the grand arch of the city-side entrance the only visible change is a lift up the steep steps but circulation at all levels was important to this project and its HLF funders. Roofing over the central courtyard has made it possible for Allies and Morrison to drive a clear route from the front to the back of the museum (using bridges on the first floor). It also gives a space for visitors to stop and orientate themselves. This is a space for gathering and listening while marveling at the tens of objects behind the 8m high glass wall… 'This display contains 0.01% of RAMM's collection,' read the graphics.
The clear routes means less congestion as people get to look at what they are really interested in – and that could be quite a lot in these highly accessible displays. Starting with geology and using intense groupings of objects with exhibitions by Ralph Appelbaum Associates the Royal Albert Memorial Museum can no longer be dismissed as just an old fashioned local museum. It is a tribute to the vision of the museum that it has not only re-curated its own collection but also, in some small way, the experience of the city.