How do you draw in a wider audience to understand and appreciate architecture? Hugh Pearman reveals how he chose 55 buildings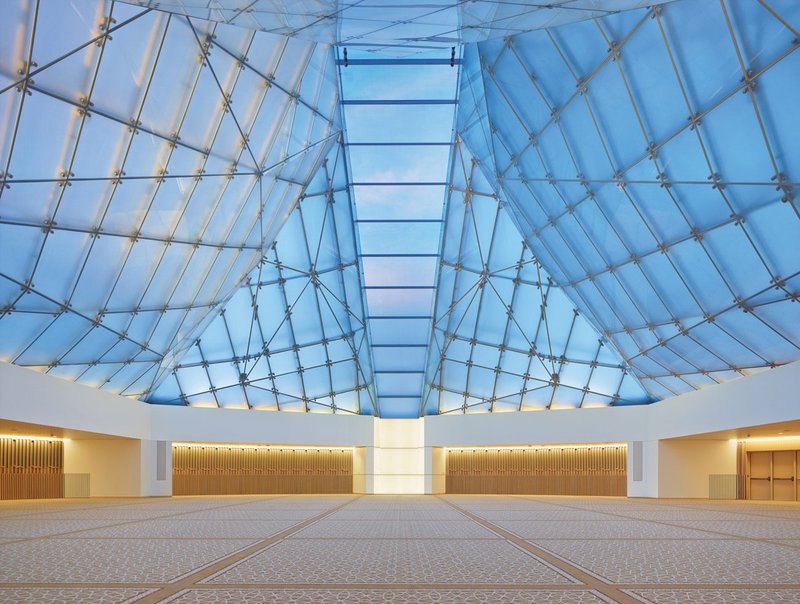 The Ismaili Centre, Toronto, Canada, 2001–14, Charles Correa.

Credit: Shai Gil
In November 2020, I got an email from Yale University Press. They wanted to expand their activities with a book to 'help broader audiences understand and engage with architecture'. They were very clear that it should be accessible, distinctive, free of technical jargon. Would I be interested?
Oh yes. This was shortly before I stepped down as editor of the RIBA Journal, so I could immerse myself in such a project. I suggested outlining architecture (in its broadest sense of designed places and spaces) from the point of view of the people who make it happen, describing the reasons they do it. This is the world of building use types. Why, to be ultra-basic about this, does a theatre look different from a house or a factory from a museum?
Everyone knows the answer to that: their functions are different. Very good, but why do different examples of each building type vary so much? That's tougher: there are almost infinite variables across history and across the world. Style, materials, technology, money, climate, politics all play their part. But the strand of function runs through them all. A giant Amazon distribution warehouse is in recognisable line of descent from a medieval tithe barn, an Oxford quad from a monastery. We greet with familiarity the house layouts of a Neolithic village: bed/living space here, kitchen and storage spaces there, drain in the corner, community centre across the way. Yet there is no end to the different ways to express house-ness, even by architects of the same period and style persuasion.
How to build the book? The task was helped immensely by Yale applying a physical structure at the outset. They'd done their sums. The book, they said, should be medium format (so not coffee-table huge), 256 pages long, 70,000 words. There was a budget for 150 images of whatever kind. The book would be priced at £30, or $40 in the USA, before the usual online-retailer discounts.
So here were my equivalent of site boundaries, context, planning constraints, costings. As a cat looking at kings, I also had precedents. Building use types are a neat way to get into what can sometimes seem to be a difficult subject and one of my early introductions into the world of architecture had been Nikolaus Pevsner's final book, 'A History of Building Types' (1976). Its origin was a series of lectures, and good lectures have to be concise, instructive and entertaining.
I'm an equal fan of John Summerson's beautifully conversational 'The Classical Language of Architecture' (1963, a BBC radio lecture series, so properly concise). As a more recent reference, could I plan my book as a series of little non-academic talks to an interested lay audience, rather as Neil MacGregor had done with his (originally radio again) 'History of the World in 100 Objects'?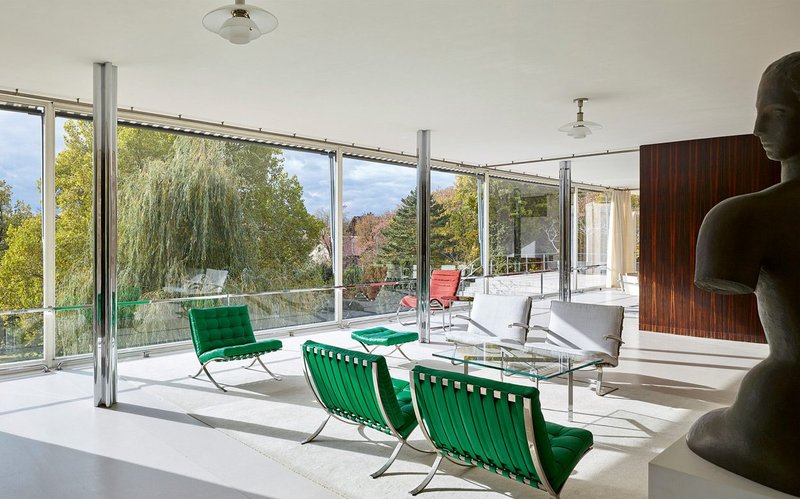 Villa Tugendhat, Brno, Czechia, 1928–30, Ludwig Mies van der Rohe with designer Lilly Reich.

Credit: © David Zidlicky
Up to a point. It turned out that my proposal worked nicely within the given parameters if I had 11 building types, each with its own explanatory introduction, followed by five case studies for each type, each one a self-contained story. The 11 sections are, in order, Civic, Houses, Education, Offices, Industry, Transport, Museums, Performance, Religion, Retail and Gardens. There could have been 30 or more types: there could have been many more, and different, case studies. You could produce a dozen versions of this book with entirely different examples in each. So began the difficult process of selection. What I leave out is, I suppose, as revealing about me as what I put in. What, Seaside in Florida but no Brasilia?
Ground rules emerged during this selection process, namely:
1. All the buildings/places described still exist in some form (the oldest is at least 5,000 years old, the newest completed this year);
2. 'Buildings' include districts, infrastructure, landscape. There's a 17th century canal.
3. No designer, ancient or modern, scores more than one place each;
4. The five case studies in each section are each from a different country, arranged broadly chronologically;
5. Both 'high' and 'low' architecture feature – e.g the Acropolis and a Hong Kong shopping mall;
6. Familiar and less familiar buildings, grand and small, get equal billing;
7. No style or approach is deemed superior to any other;
8. The sector introductions – 12 of them, a fifth of the book – bring in around 70 more examples;
9. Within the above rules, key architects are represented (e.g Palladio, Soane, Mies, Plecnik, Kahn, Gehry);
10. I do my best to avoid archibabble.
The overall introduction was the trickiest, since it attempts to explain concisely what architecture IS for my imagined interested layperson or student reader, and you just try doing that, especially when it comes to updating the Vitruvian definition (I give it a go).
And so it all came to pass and it's out there in the world, finding whatever its niche turns out to be. This means others start defining what they think you're doing and this can be helpful because when you're in the thick of it you don't necessarily know yourself. One reader (an engineer presently building his own house) says of it: "There is no pretence that architecture is at heart about anything other than satisfying the human, social needs and desires of the makers and the users." I'm happy enough with that to wish I'd thought of saying it.
About Architecture: An Essential Guide in 55 Buildings by Hugh Pearman is published by Yale University Press, 2023. Hardback 256 pp, 154 illustrations, £30