Enquiring, knowledgeable and humorous, Gavin Stamp's enticing world is revived by this small but entertaining exhibition at the Paul Mellon Centre
Model by Gavin Stamp (1977) of Cockerell's Cambridge University Library (c. 1836).

Credit: Architectural Press Archive / RIBA Collections.
The architectural historian, journalist, curator and broadcaster Gavin Stamp (1948-2017) had an intensity for architecture that was entirely seductive.Now, a small exhibition of objects from his archive waits to seduce us all over again. Watched over by his portrait, by Glynn Boyd Harte, in the drawing room of the Paul Mellon Centre, it charts his work as a scholar of 19th and 20th century architecture, expanding and challenging the canon, and as a conservation activist battling against uglification for half a century. Above all, Stamp modelled fiercely independent, often hyperbolic forms of criticism – from which current architectural discourse could learn much.
Among the star objects on display from the archive – which was donated by Stamp's wife Rosemary Hill – is his model of a Victorian train, made while a scholarship boarder at Dulwich College in the late 1960s. He had a passion for Victorian things, and understood the power of thinking in three dimensions. Another, more monumental, model was of the aborted east range of CR Cockerell's 1836 design for Cambridge University Library, made for an exhibition in 1977 at the Fitzwilliam Museum, The Triumph of the Classical: Cambridge Architecture, 1804-1834. Originally drawn to the Gothic Revival, Stamp developed a profound eye for neo-classicism during his studies at Cambridge, through the influence of its art history world – especially David Watkin. So he was well-placed to understand the achievements of Edwin Lutyens, and Alexander 'Greek' Thomson, whose popularity he revived. Indeed, retrieval – of rogues, misfits and those unfairly marginalised – is a key Stampian trope that the exhibition explores.
Another star object is Temples of Power (1979), a lively history of the architecture of electricity, with lithographs by Harte and accompanying letterpress by Stamp. The book launch took place at the National Liberal Club, with another model: an iced cake in the shape of Battersea Power Station, with pink icing approximating brickwork and solid marzipan chimneys (reinforced, as Alan Powers recalls, by knitting needles).
The display also contains material from Stamp's freelance life as a self-taught draughtsman, including three eclectic items from 1973 alone: an altar frontal for St Margaret's Church, Westminster for Watts & Co.; a poster advertising Sunday services at the extravagantly high church St Mary's, Bourne Street; and a speculative commercial venture, The Architect's Calendar: Twelve Architectural Phantasies, One for Each Month, drawn in an attenuated Art Nouveau style. Also included is Stamp's original drawing for the frontispiece of his and John Betjeman's 1974 campaign pamphlet to save the Arts & Crafts church of Holy Trinity, Sloane Street (now grade I listed), and the elegant catalogue accompanying Silent Cities, his 1977 exhibition of the memorial architecture of World War I.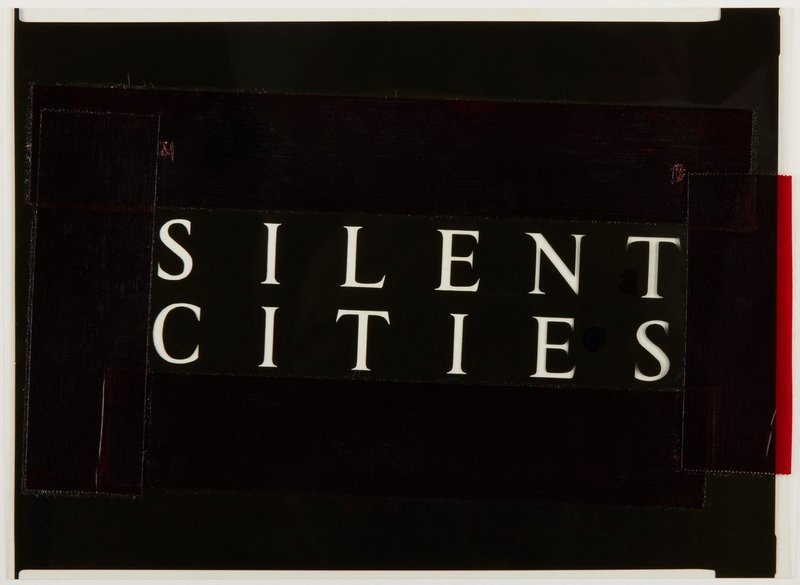 Stencil for Stamp's lettering for the Silent Cities exhibition he curated at the RIBA's Heinz Gallery, 1977.
One display case chronicles the campaign Stamp waged with the Thirties (now Twentieth Century) Society to save Giles Gilbert Scott's iconic telephone kiosks for the nation. Telecommunications ephemera abounds in the archive, most amusingly a letter from Stamp to John Nathan-Turner, the Doctor Who producer, enquiring about the history of the police box.
While his portrait's Young Fogey attire may signal lofty exclusion, Stamp's architectural history was ultimately one of inclusion, accountability and, above all, reach. The latter was enabled especially by his limpid, telegraphic and accessible prose, his terrific concentration and his feel for buildings.
When leaving the drawing room, visitors will find two posters in the lobby advertising lectures by the sculptor Sandy Stoddart at the Mackintosh School of Architecture (arranged by Stamp, where he taught between 1990 and 2003). Testament to Stamp's (and Stoddart's) humour, one was 'An illustrated RANT' while the other addressed the problem: 'Why do sculptures have small penises?'