President wants your help in defining what will progress architects' excellence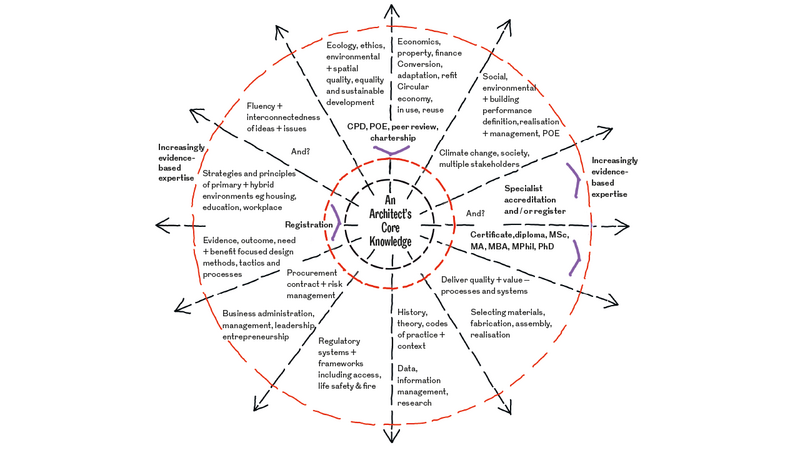 WHAT: Version 2020.1 Should anything be added or taken away? Click to enlarge.
In early October 2019, within an hour of chairing my first RIBA Council meeting, I asked for a vote on the preparedness of chartered and future architects as individuals and practices to take 'the high road' of greater evidencing of competency, managing potential higher levels of risk, accepting greater responsibility and increasing expertise en route to potentially greater value, higher fees and positive impact – knowing that to do so will have major implications for the education of future architects and the continuing professional development of chartered architects and how they practise. Everyone, including student and international representatives, voted to take 'the high road'. Our world and society have been irrevocably changed by the twin disasters of the climate emergency and the Grenfell fire and more environmental, social and financial disasters are looming, including housing need, increasing urban­isation, spatial and environmental inequality and declining wellbeing. The recent RIBA Ethics and Sustainable Development Com­mission recommendations began to define the architect prepared to take this road.
In the diagram above and the list below is my first attempt at a broader definition of what that architect has as their core knowledge and how they will operate using a core set of skills and attributes. Should anything be added or taken away? Is there a better diagram? Together we can define and progress architects' excellence.
Please let me know by 31 March via president@riba.org. president@riba.org @alanjones2008
---
HOW: Version 2020.1
Should anything be added or taken away?
Through an architect's core skills and attributes of: Analysis / Appraisal / Co-design / Collaboration Communication / Complex problem solving / Coordination / Closure & conclusion / Consultation / Creation & innovation / Cultural awareness / Decision-making / Deductive reasoning / Design / Diligence / Diversity / Engagement / Equality / Ethics / Facilitation / Fairness / Feedback / Group & team working / Inclusion / Impact outcome evidence & benefit focused / Judgement / Knowledge capture & sharing / Leadership / Lifelong learning / Monitoring / Oral Comprehension / Ordering & evaluation / Peer review & awards / Performance focused / Persuasion negotiation & argument / Problem identification / Professional behaviours & conduct / Quality assurance / Risk management / Reviewing & learning / Sensitivity / Standards / Social perceptiveness / Stewardship / Systems thinking / Synthesis / Technical expertise / Time management / Transparency / Trust / Value
---
PI UPDATE
Most practices will now have first-hand experience of the hardening insurance market when renewing their professional indemnity (PI) insurance policy. The RIBA has issued an update to Practice Note 1: Professional Indemnity Insurance to reflect the evolving situation in the insurance market, noting up to tenfold premium rises and increasingly broad exclusions in relation to cladding and fire safety claims. Additional best practice guidance recommends that members anticipate significant premium increases, choose the least limiting terms offered, and give careful consideration before changing insurer. Members are also reminded to check all agreements for contractual obligations to inform past and current clients of any significant changes to their PI insurance, noting that RIBA forms of agreement or Professional Services Contract include this requirement.