Preston bus station is living on borrowed time. But there is a chance that the axe hanging over it will finally be removed, says Hugh Pearman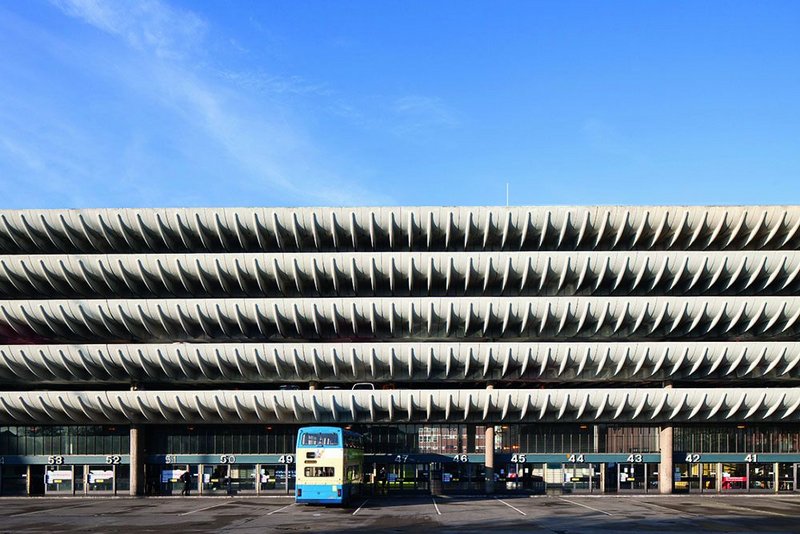 The curved edges to the car park levels are perched above the bus station concourse.

Credit: Andy Marshall
The city of preston has been much in the news for its highly controversial decision to demolish its increasingly famous bus station/car park, designed in the 1960s by Keith Ingham of Building Design Partnership and opened in 1969. This magnificent megastructure – the car park decks with their curving edges sit above the double-height bus station concourse below – is now being considered for listing yet again by English Heritage, at the urgent behest of the 20th Century Society. EH has twice recommended it for listing previously, only to have it turned down at ministerial level in 2001 and 2010.

However, circumstances have changed; the large 'Tithebarn' retail development which would previously have sealed its fate has been abandoned, so the bus station can no longer be seen as standing in the way of regeneration. Support for the building has grown rapidly over the years and is now international. Arguably the best hope of regeneration here is now through the bus station itself – something supported not only by RIBA Journal, but also by RIBA president Angela Brady and her appointed successor, Stephen Hodder.

Having been blighted for years by the now-ditched Tithebarn project, the building has been seriously neglected but is still fully operational. It is claimed to be too expensive to refurbish and maintain, while its access subways – something the architects never wanted – are offputting. To its credit, Preston City Council has now asked for a second opinion on refurbishment costs – earlier estimates, produced by Lancashire County Council which operates bus services in the area, were suspiciously high. A Lancashire entrepreneur, Simon Rigby, has placed a bid to take over the building in order to save it. 'I will personally put the money up to keep it,' he said. Council leader Peter Rankin has said the city would gift the building to a developer with a realistic business plan.

171m long – drawing from 'Gate 81'.
Aside from the latest move to list the building – which English Heritage describes as 'an exceptionally unusual case' for which much previous groundwork is being supplemented with new information – there is a double-pronged competitions initiative taking place in the city this year. First, RIBA North-West with the Preston-based University of Central Lancashire is running a 'Forgotten Spaces' competition, inviting ideas for several sites in the city. It is notable that there are already many cleared sites in the vicinity of the bus station: considered development of these could work to the advantage of the building's revenues by concentrating car parking there. As with previous Forgotten Spaces, entrants are free to nominate their own sites – though since RIBA NW is working with the blessing of the city council, it is tacitly assumed that the bus station should not be one of them.

But never fear – this gap has been filled by a new ideas forum for the bus station, Gate 81. It is conceived by the Manchester School of Architecture postgraduate studio Continuity in Architecture, led by Sally Stone with Dominic Roberts, and Preston-based urban ideas organisation Then The City. The name relates to the sheer size of the building, which has 80 gates. Gate 81, then, is the portal for fresh ideas for the building. The website for the competition has downloadable drawings and a 3D model that can be used in SketchUp. There will also be an open public workshop – or 'hacklab', on the building in Preston in April.

In February, architecture minister Ed Vaizey listed at grade II another fine BDP northern building from the practice's fruitful early years: the Halifax Building, originally the headquarters of the Halifax Building Society, designed and built from 1968 to 1974, and described by Elain Harwood in February's RIBAJ. Is this an omen? The Halifax building is BDP's first to be listed. At the time it was completed, celebrated architecture critic Ian Nairn bracketed Preston Bus Station with it, saying: 'For any one firm to have done two buildings of that scale and quality in 10 years, I would call a lifetime's achievement'. Logically, emotionally and on its own merits as a great civic building then, Preston Bus Station should now also be listed as the first step in its renaissance.
---
Forgotten Spaces 2013, Preston and London: architecture.com/forgottenspaces
Gate 81: http://gate81.tumblr.com/