Pattern and texture characterise FCB Studios' Tudor Grange Academy, its bricks symbolising individuality within a whole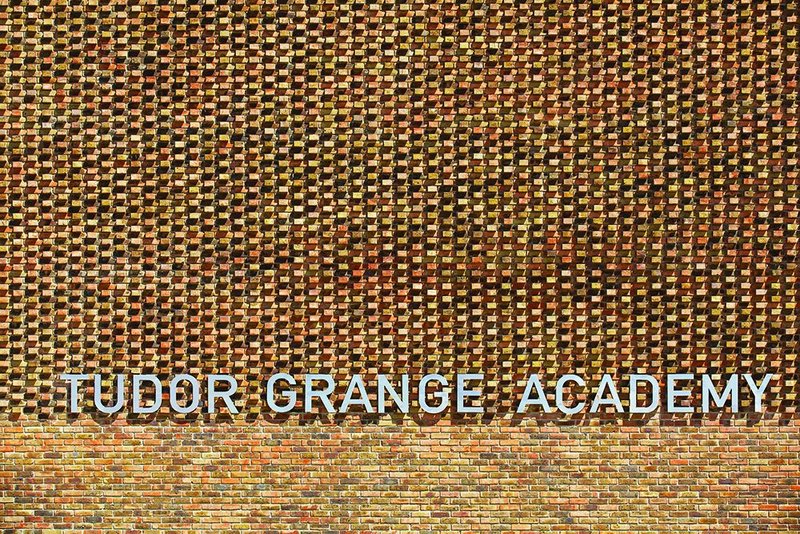 Projecting bricks add texture to the elevation of Tudor Grange Academy.
Some 300,000 bricks make up the imposing elevation of Tudor Grange Academy in the north of Worcester, designed by Feilden Clegg Bradley Studios.
FCB Studios was brought in to redevelop the former breezeblock and concrete Elgar Technology College, refurbishing 30% of the buildings and constructing a new 100m wide, two storey teaching block for the 1100 pupils. This was built using a stretcher bond of Ibstock's Coleridge Yellow Multi, with elevations patterned by punch hole windows.
'Worcester has a very strong tradition of brick buildings and the decorative use of brick, so we sought to add to that in the facing material,' says project architect Sam Goss.
The new main building runs north-to-south with classrooms arranged around the perimeter, and large open-plan areas in the centre. These can accommodate groups of up to 60 students in teaching/break-out space. A two-storey lecture theatre is positioned at the main entrance plaza. Generous glazing gives views across the 4.2ha school grounds and beyond to the Malvern Hills.
The building has a deliberately collegiate style with two stretches of brick colonnades on the western elevation: the larger seven-pier space encloses outdoor seating for the adjacent dining hall, while the other leads off from the science teaching spaces (one of the academy's specialisms).
Brick variation provides texture and patterning. A Flemish brick bond is combined with graded projections of headers growing to half a brick and rising to three storeys at the principle entrance on the south-eastern facade. Shadows of these projections provide further, changing animation of the facade throughout the day. Towards the entrance, they are cantilevered on a steel frame to create a covered space.
On the west, windows are recessed within a series of brick piers in the brick facade, which varies accordingly to a single or two brick-thick skin. This reinforces a verticality to offset the horizontal form of the building.
The projections add extra complexity to the build, with brickwork contractor Kier Moss carrying out several trials first.
Various types of bricks were considered including a dark engineering brick but FCB preferred a redder stock with more texture and variety. The practice also specified a recessed mortar joint to further articulate the shape and colour of the brick.
'We wanted it to be a locally sourced and supplied material to support local brickwork contractors and perpetuate the culture of craft. By getting bricklayers to do something atypical, the project extended their knowledge and skillsets,' says Goss.
The architect also enjoyed the metaphorical connotations of brick.
'Brick is a timeless material that is evocative and representative of other things. Individually, bricks represent pieces of society coming together to form a collective whole greater than the parts. And there's something quite poetic about that.'