Anupama Kundoo's philosophy starts by questioning the basic constraints of how we build. Jan-Carlos Kucharek tries to find out how she alchemises time and resources into new forms of architecture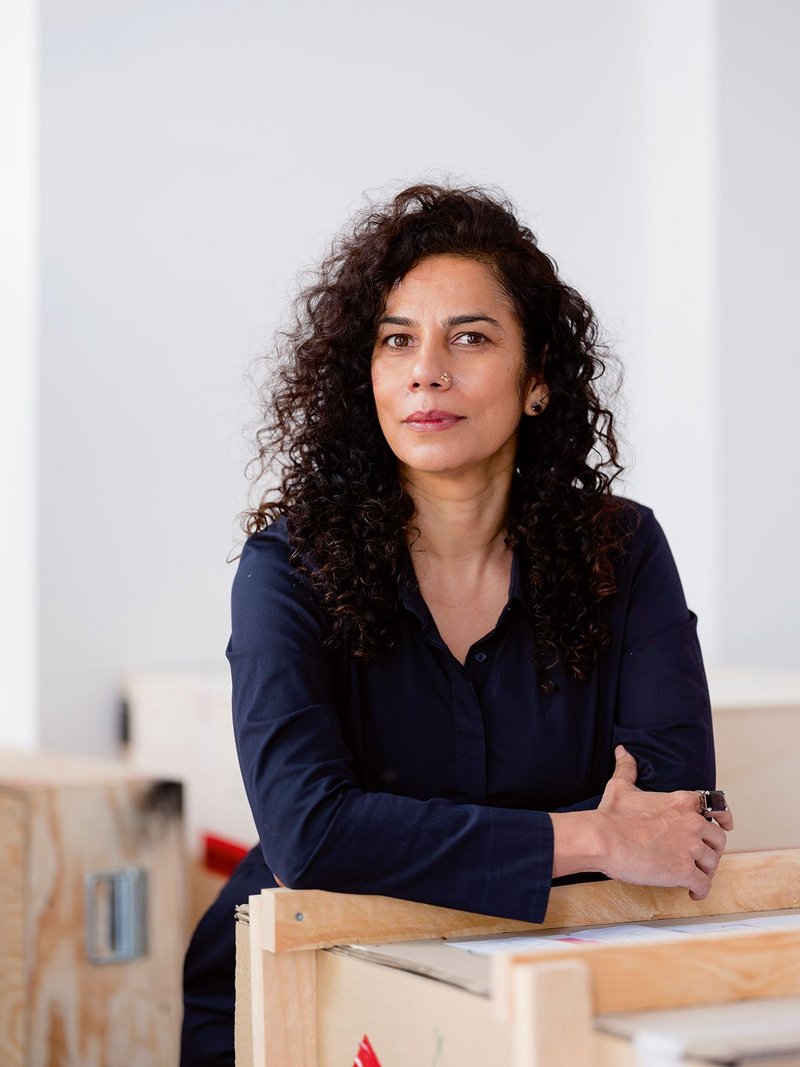 Anupama Kundoo at her new Berlin office with returned exhibits from her recent Louisiana Museum of Art show. The seven employees here double size of the practice to 14, split between Berlin and Auroville.

Credit: Thomas Meyer
'Architecture of consciousness? Yes, I think I you've got it there,' she reassures me. After an hour and a half speaking online to Anupama Kundoo at her home in Berlin, I'm getting my head around the fact that, for someone who is so clearly a woman in the world, underlying her work is a mind-boggling level of internal philosophising – even spirituality – about the discipline of architecture; a force that runs like currents beneath the waves of her output. It's been a challenging interview, because, in the way that small vibrations can conspiratorially build to catastrophic resonant frequencies, Kundoo flits conceptually from a handrail detail to a global issue without registering any change in magnitude. It's difficult to keep up.
Perhaps it's this multivalent, constantly sparking way of thinking that earned her this year's RIBA Charles Jencks Award, made 'to an individual or practice who has simultaneously made a major contribution to both the theory and practice of architecture.' Her built work and research practice has developed over 30 years as she travelled from India, where she was born, studied and built, notably in the Tamil Nadu community of Auroville – to academic research roles in Australia, Europe and the US; her body of work recognised in a recent retrospective, 'Anupama Kundoo: Taking Time' at Denmark's Louisiana Museum of Modern Art. Her life has been a long-term research project into sustainable building technologies, looking at novel ways to reuse, reprise and innovate with materials and techniques, to challenge how we build and the very way we exist in the world.
But to get an idea of where Kundoo wants us all to go, it's necessary to know where she came from and the drivers that led to her way of interrogating the big architectural issues of our time. The ease with which she slips from one continent to another seems to come from an almost-inherited itinerancy. Her Bengali parents were both casualties of the Indian partition, relocated from Dhaka to Bombay. Her mother, from an affluent family, had to start from scratch – 'can you use the term "nouveau poor"?' – while her father 'was allied with the political struggle to free themselves from British rule'. All this had formative effects on the young Kundoo. 'We lived, without roots, in Bombay. I was freed from a sense of nostalgia for the place. My family, being uprooted, was forced to be proactive...in a way it led to an inherent optimism in my being; to not be fearless, to feel okay about being vulnerable.'
They were progressive too; Kundoo studied and went to Mumbai's Sir JJ College of Architecture and rather than being subsumed in the 'isms' of the late eighties, found herself instead obsessed by the liberal arts experimentalists of North Carolina's Black Mountain College (1933-57) – Josef and Annie Albers, Gropius, Rauschenberg, Twombly, John Cage and Buckminster Fuller – a roll-call of persons 'so influential, radical and courageous that we are still feeling their influence today'. But there were other inspirations; the architecture and writings of Charles Correa of course, but the great modernist engineers too – Frei Otto, Pier Luigi Nervi and the Uruguayan Eladio Dieste. 'They were looking at a synthesis of architecture and structure; looking at materials holistically,' says Kundoo. 'I was always drawn to those who were experimenting and notably achieving in them.' But even at the age of 22, Kundoo had a real sense of living in a modern India that was part of a globalised, corporatised world, and was thinking of how, as an architect, she might respond to that. 'I was always aware of a spiritual dimension. I felt that if mind, body and spirit were brought together, then I could achieve the holism I was seeking.'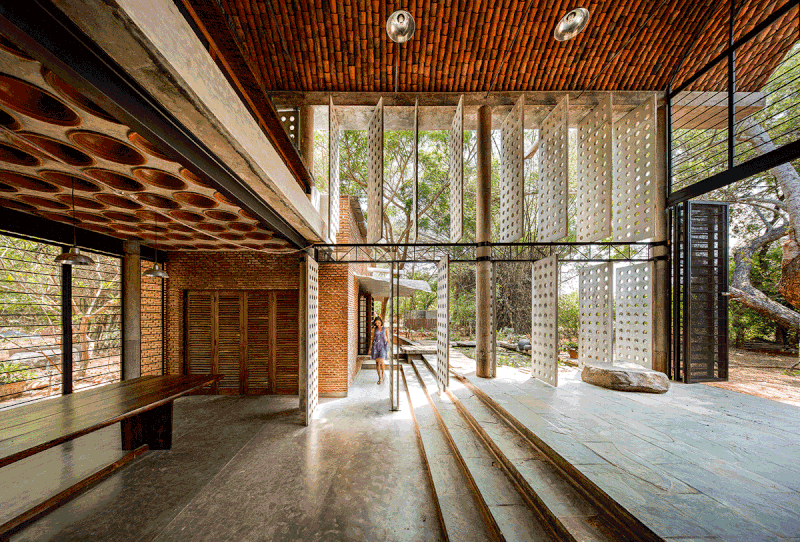 Kundoo's Wall House (2000) in Auroville challenged accepted techniques to create novel roof forms that generated a micro-economy for local potters.

Credit: Javier Callejas
Perhaps it was kismet then, that after her travels around India in 1989, Kundoo settled in Auroville, Tamil Nadu, the experimental community created in 1968 by founder of the Sri Aurobindo ashram, French national Mirra Alfassa – 'The Mother'. Founded on 20km² of barren land and comprising industrial, residential, cultural and international zones radiating from the golden globe of its central 'Matrimandir', and bordered by a green belt for food production, it was all designed by architect Roger Anger. She set up her own practice in the city, and while she never worked directly for him, they collaborated regularly on its buildings and masterplan. Kundoo would have a profound 'relationship of mutual collaboration and respect' with him, until his death in 2008 – not least as author of his biography, documenting the 150 buildings that he designed both at Auroville and his native France. During the interview Kundoo intones Anger's name with care, '… social housing of an amazing level of beauty…an incredible architect…ahead of his time.' He certainly seems it if his home, Château de Crestet in Vaucluse, is anything to go by.
It is Auroville that forms the petri dish of Kundoo's research work, most of her work being built here; what she terms the 'fertile ground' for her investigations into human habitation. But it was not the idea of a rarefied commune that fascinated her. 'Auroville's spiritual dimension is a given,' explains Kundoo but, she emphasises, she must contend with the same issues of human nature. 'I've read Animal Farm. What attracted me was that it had an aspiration of collective life that would create a prototype city. Not a commune but a working city…a physical site for spiritual and material holistic research to organise new forms for life.' This is aided mainly by the core fact that land is owned in common, so precludes speculation, and that it's car-free and pedestrian-centric. She adds: 'It's not about creating an ideal world but being a base for testing ideas – a biological wastewater treatment plant or attempts at common money ownership – all ideas that have a wider relevance for the world. Auroville was conceived as the city the earth needs.'
This earth-bound utopia became the site of a dozen projects, carried out over 15 years, that interrogated ideas of the domestic home, new forms of communal living and learning, civic life, material research and sustainability. And what are Kundoo's ideas on this last, burning, theme? It turns out that she has remarkably pluralistic views on the subject. For her it is more about a balance of human ingenuity and material suitability than hard and fast rules on what can or can't be employed in construction, a Venn diagram of geographical context, material use and engineering need. 'It's about resources and human resourcefulness, not mud versus concrete. I gave up worrying long ago about whether it was made of this or that material,' she says. It's a view born of hard reality. 'Population pressures in Bombay made me decide that to work in the commodified world of architecture today, we'd need to engage practically with material sciences, economics and broader questions.'
These begin as micro interventions but have the potential for bigger outcomes, as her recent award of the August Perret Prize for Technology proved. Take her Volontariat hostel for homeless children in nearby Pondicherry. The homes were built of unfired bricks using a mud paste mortar and then set fire internally to make the house itself act as its own kiln. In that way a whole level of carbon generation (heat absorbed by the walls of an industrial kiln) is removed from the equation. This simple questioning of basic mass production assumptions is what Kundoo sees as a technological innovation, 'and cheaper for humans and the environment'. In a sense, part of her sustainability drive is to shift the balance from economic givens of mass-production back to cottage industry scale. She has said: 'I've always thought it foolish to ignore the building occupant and craftsman and instead design for the component manufacturer and building inspector.' More to the point, in the Indian context in which she works, she feels both manufacturer and inspector would agree with her.
Likewise, with her 'Full Fill Homes', Kundoo has examined the idea of mass housing with a lower environmental impact using engineered, more sustainable pre-fabricated ferrocement components. The modular homes were assembled within a week, including foundations, with folded and box-shaped components doubling as storage, saving on furniture and freeing-up more living space. Windows, doors and other elements are also made in ferrocement. The homes turn out to be 50% cheaper than conventionally produced housing with similar amenities.
Her own Auroville Wall House is an exploration too, employing local craftspeople to pursue material innovations to generate the roof forms, 'because due to the need to span, a roof is where high embodied energy materials get concentrated'. Kundoo used three to find out which worked better; in one, local potters made bespoke interlocking terracotta pots to help her generate a low, barrel vault over the main space- which is achieved beautifully. And it helped develop new skills and a new market for them. 'I diverted the potters' capacities from pots they couldn't sell to architectural elements they could,' she says. 'It's an innovation on traditional crafts creating a local economy. It might look Roman but it's actually high tech. Anyway, does it really matter if the Romans used it or if we use it now? It's about what endures.'
Time, and its perception, is a key aspect of Kundoo's philosophy. Referencing past tragedy, even the future of Bombay – a name that, through the interview, has been owned by her as if unladen by its weight of colonial history – is bound into her esotericism. For Kundoo, time is a plastic thing that can be moulded. 'In the Bombay context, when big questions are asked, I feel people are saying there's no time to address the issues – that everything is reactive: 'Then there was a tsunami. Now there's pollution. Soon there will be climate change', she tells me. 'We live, illuded that time is passing, but it is we that are passing through time.' The distinction that time is a constant and not a variable in the classic 'time-cost-quality' triangle, frees her from all the strictures of conventional, modern construction theory, allowing her to change the way she thinks about architecture.
And the ideas continue. The 'Line of Goodwill' in Auroville is a current, high-rise mixed-use project for 8000 people, originally envisioned by Roger Anger. Rethinking the urban tower, the gently descending cluster of housing stretches over 800m, resembling a hill that starts at the entrance to the city, rising and falling again at the edge of the lake facing Anger's Matrimandir. The project will boast integrated water and wastewater systems, renewable energy, in-structure urban farming, and smart mobility.
'When I began, people kept asking why I was so obsessed with answering the big questions when they thought it was pointless dedicating the time to answering them,' Kundoo concludes. 'They'd say I'm being idealistic; but I don't think I am. I'm just being practical and trying to make my imagination real – and why not? We're all mortal and if today was the last day of your life, what would you be doing – and why aren't you doing it already?
---
Anupama Kundoo is giving the 2021 RIBA Charles Jencks Lecture at the RIBA on on 2nd November. For tickets see here.