Is architecture still a man's world? The first of Jane Duncan's debates, gender diversity, saw a wide ranging and spirited discussion
A lively informal feel to the first President's Debate.

Credit: Hugh Pearman
In her last months of office, Jane Duncan – as she announced in January's RIBAJ – has started a series of 'Jane's Debates', tackling burning issues for the profession. She kicked off with a good 'un at Portland Place on January 17 with 'Architecture – A Man's World', a motion that turned into a very wide-ranging discussion on diversity in the profession in general, and the impact of humankind on the planet.
This was an old-fashioned debate with two speakers for and two against, refereed at Jane's invitation by architecture's veteran mover and shaker (and one-time editor of this magazine) Peter Murray. So it was no hipsterish Turncoats-style event with phones ceremonially confiscated, shots of vodka provided, warm-up comedian and participants obliged to speak both for and against the motion, for those of us who have become used to that more baroque approach. Though there was free wine, and a very lively mixed audience which I counted as maybe two-thirds female. As well as Jane, past presidents were in attendance including the two previous women in that role – Ruth Reed and Angela Brady – and the ever-engaged George Ferguson.
A man refereeing a gender debate in architecture? It was not until the questions afterwards that one floor speaker – the indefatigable Harriet Harris of the RCA, one of the co-editors of the new book 'A Gendered Profession' – half-humorously queried that. Fair enough, but it didn't bother the crowd too much since Murray is excellent at controlling debates and was ruthless in keeping the speakers to time. As for me writing the event up here, well, I was the one available that evening and I have an essay in that very book, so there.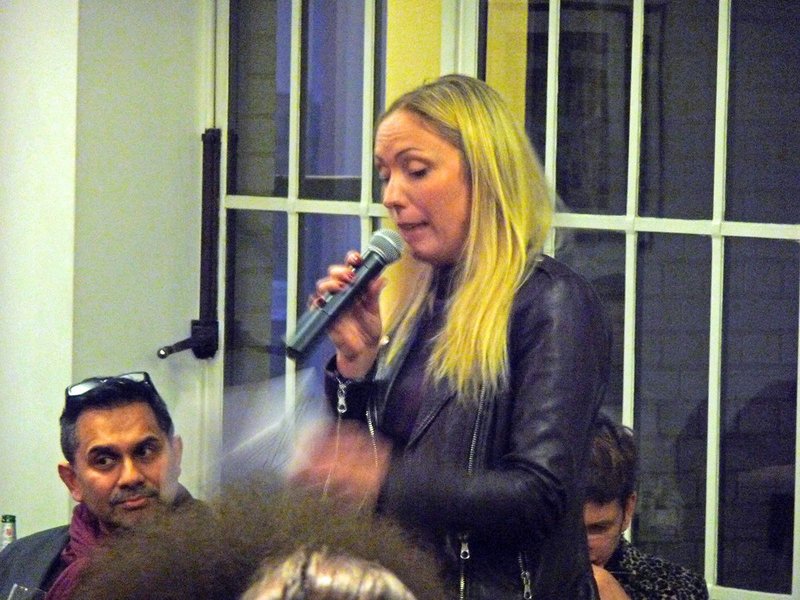 Holly Porter and Del Hossain took opposing sides, in theory.

Credit: Hugh Pearman
Holly Porter of Surface to Air Architects, speaking for the motion, made the clearest, in a way traditional, points – despite initiatives such as her own 'Chicks with Bricks', growth in the numbers of women in architecture had stalled over the past decade, she said, and a new effort was needed: 'Every single woman in the profession is a role model…you need to learn to have your own voice.'
Against the motion, Fionn Stevenson (head of the Sheffield school) challenged both the definition of 'architecture' – what about housing, that huge building project which architects don't have so much to do with, she demanded, even though 'women make housing all over the world' – and the idea that architecture should be any kind of human's world when we share the planet with so many other creatures. Her Phillip Pullman-style daemon with her, Stephenson informed us, was a leopard. The motion should read 'Architecture: every being's world'.
The men spoke second, in a kind of reverse Burns Night. Cue the Glaswegian tones of Rory Olcyato, chief executive of Open City (and previously editor of the Architects Journal). He supported the motion by saying that it's an obvious fact – of course the men are running architecture – and that architecture's more macho side is amply demonstrated by the competitive awards industry. 'Awards are designed for men's sense of self-worth. Even architectural criticism is a kind of violence.' And who was the most powerful figure in the world to emerge from the construction sector? Donald Trump. QED.
That left Del Hossain, group managing director at Adrem Design Recruitment, who is an architect and psychologist. Paraphrasing him, he said that western society generally was at a moment of enormous progress on gender balance, the importance of this in architecture was acknowledged, and that the situation – despite Porter's claims of stasis – was changing rapidly. Why else were there three present and past female RIBA presidents in the room, he asked?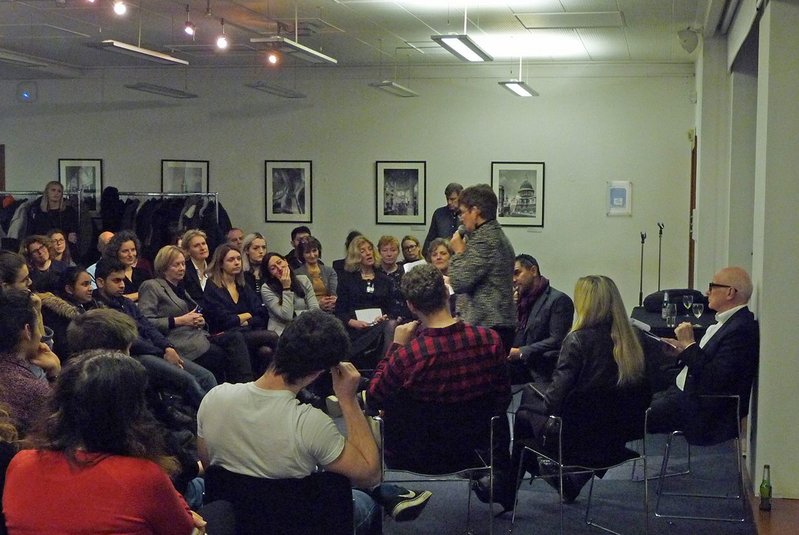 Fionn Stevenson summons her inner daemon and its gender is immaterial.

Credit: Hugh Pearman
Harriet Harris disagreed from the floor – it would take until 2086 to achieve true parity at the present rate, she said. Another floor speaker noted that she was one of only two black female architects in her 1,000- strong organisation, and that this still raised eyebrows. Were we debating the wrong subject, perhaps, others wondered – should it not be diversity in the profession in general? As for Angela Brady PPRIBA, noted for climbing the glass cliff-face herself, she was against the motion as worded. 'Women and men together make the best architecture.'
There was some confusion when it came to the vote – hang on, if you were voting for the motion, were you in some way endorsing the fact that architecture is a man's world, or signing up to change it? Should we adopt Stevenson's amendment of 'Every Being's World' which seemed to take gender out of the equation altogether?
We consulted our various daemons, and the result was a clear victory for the original motion. Yes, Architecture is a man's world, still. Which means there's plenty of work still to be done.
---
STAND UP AND BE COUNTED
RibaJ is putting together a list of women and others under-represented in the profession who would be willing to speak and/or participate in the events which we host with sectors from the industry. Help make sure our coverage is as diverse as possible – send us your details to add to our databank and make architecture every human's world.
---
Offer: there is £5 off A Gendered Profession until 31 January in the RIBA Bookshop at 66 Portland Place, or you can order here.