Post Soviet architectural inheritance is full of ghosts and lost ambition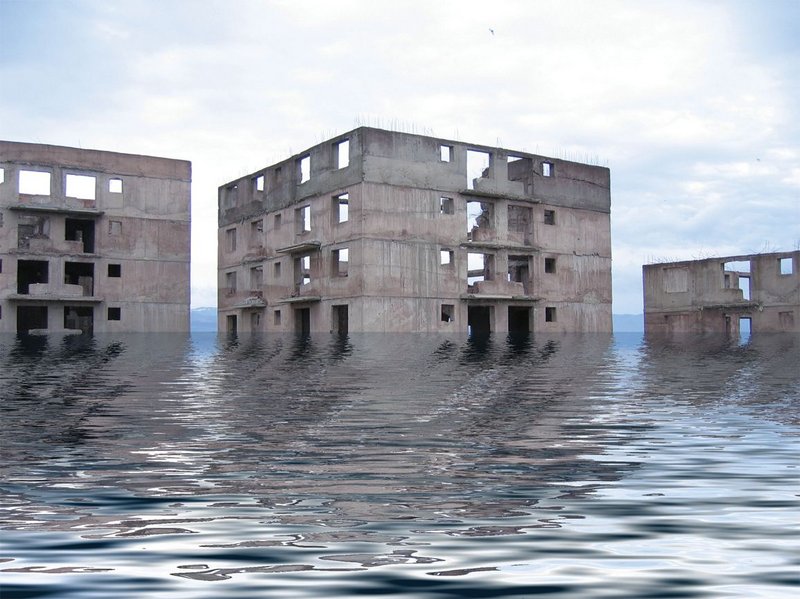 Vahram Agasian, from the Ghost City Series 7, 2005-2007, manipulated photo
At first, the cityscapes depicted in Vahram Aghasyan's arresting Ghost City images look like the aftermath of some terrible flood. Stark, semi-ruined buildings appear marooned in great swathes of water. The truth, however, is rather stranger.
These are digitally manipulated photos of Gyumri in Armenia, a city that was devastated by an earthquake in 1988 and expensively rebuilt nearby as a modernist new settlement by the Soviet regime. Yet the settlement was never finished or occupied, and has lain derelict and slowly deteriorating ever since. Aghasyan's addition of the water into the ghostly images underlines the futility of this utopian dream.
The images are part of Dead Space and Ruins, part of the Power & Architecture season at the Calvert 22 foundation in London's Shoreditch. This series of four exhibitions and associated events explores utopian public space in tandem with the quest for new national identities in the post-Soviet world.
This is not mere 'ruin porn', according to programme manager Will Strong.
'We're exploring the effect that architectural structures, designed by one regime and inherited by another, have on the people who live with their legacy,' he says, adding that the idea is to look at what this inheritance might mean in different circumstances.
Elsewhere in this exhibition, Anton Ginzburg's film Turo explores the mixed fate of key Constructivist buildings in Moscow such as Melnikov House and the Narkomfin Building, which are both nearly 90 years old and facing considerable conservation challenges. Meanwhile the site of the ZIL automobile factory – the first car plant in Russia – is about to be redeveloped as part of a major mixed-use regeneration of the former industrial site. Another segment of the film incorporates the design of the unrealised Tatlin's Tower into a virtual video game environment.
Other exhibits focus on abandoned symbols of the Soviet regime's military power. Danila Tkatchenko's drawings depict decomposing ruins of structures that were formerly at the centre of technical progress such as an unfinished space port, a deserted observatory, and the ruins of an experimental laser system. Eric Lusito's Traces of the Soviet Empire photographs give more immediacy to the predominantly Cold War ruins. Lusito has also created huge images from torn and damaged photos of once-powerful high-ranking Communist Party officials found discarded in various abandoned military bases. But perhaps most poignant of all is the print made of a young soldier developed from a roll of film found at one of the bases, reminding us of the individuals who served, far from home, at these outposts.
The season continues with the third part: Citizen Activated Space – Museum of Skateboarding, from August 11, which looks at the creative activation of public space.
Dead Space and Ruins (until 7 August), part of the Power & Architecture series (until 9 October), Calvert 22 Foundation, 22 Calvert Avenue, London E2 7JP
---