Local authorities used to see nightlife as a problem to be managed – now architects are helping them realise the social and economic benefits of the 24-hour city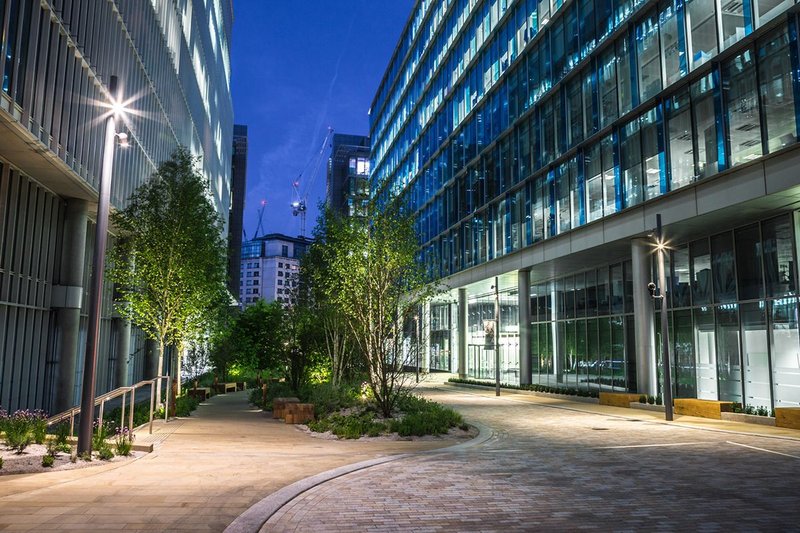 Arup's work to encourage a night economy at Paddington Central.
How do you turn London into a 24-hour city? When a team of designers at Farrells put their minds to the problem, they came up with an unusual solution: use the canals. 'Anyone who has walked along them at night will know they are not the most welcoming environments,' says Maysa Phares, a senior urban designer at the practice.
The Farrells team imagined the capital's waterways transformed into a network of night markets, with a mobile app alerting Londoners to their closest floating shop, yoga studio or microbrewery. The proposal was intended to make a daunting environment more accessible after dark, while making better overall use of an untapped urban resource. As Phares recalls, the team asked: 'How can we make canals perform at night but also around the clock?'
MyKanaal, as the Farrells team dubbed its proposal, was last year named the winner of an ideas competition held as part of the London Festival of Architecture. The Nighttime is the Right Time contest was organised by the Mayor of London and the Built Environment Trust and sought proposals that could help cities work better as 24-hour places to live.
The fact the contest was held at all pointed to an emerging way of thinking. Nightlife has often been seen by city authorities as a problem to be managed; a significant segment of the 24-hour cycle considered largely in terms of negative outcomes to be mitigated through licensing and policing. Increasingly, cities are seeing the night as a cultural and financial opportunity.
According to the Greater London Authority (GLA), nightlife contributes £26.3bn to the city's economy every year. In 2016, London followed in the footsteps of Berlin and Amsterdam by appointing a 'night czar' to serve as nightlife's representative within City Hall. Cities including New York, Manchester and Aberdeen have since created similar roles. Following his appointment as Manchester's night-time advisor in June this year, Sacha Lord referred to nightlife in terms of its societal contribution. 'The night-time economy is the fifth biggest industry in the country, employing more than eight per cent of the UK's workforce,' he said.
The built environment forms an integral part of any city's successful nightlife strategy. After all, nightlife needs spaces in which to thrive. In recent years, many of those spaces have been lost. According to research published by the GLA in 2015, more than a third of grassroots music venues closed in London over the preceding eight years; a trend attributed to factors including planning, licensing and rising property prices. London night czar Amy Lame introduced an annual audit in a bid to identify those most at risk.
In June this year, the GLA announced the number of grassroots music venues had stabilised for the first time in a decade: there are now 94 in the capital. Helping to buck the downward trend are projects such as St Giles Circus, a mixed-use development close to Tottenham Court Road which includes two music venues accommodating respective capacities of 2,000 and 280 people.
Designing these spaces required careful thinking about why so many other music venues have been lost in recent years. 'Both are underground, both have constructions that are called box-in-box,' says John McRae, director at Orms, the practice behind the St Giles Circus development. 'They are acoustically separated from their surroundings, which means there is no noise spill into or out of the venue. They are seen as good neighbours.'
But there was more to the proposals than avoiding complaints. The architects recognised that commercial pressures mean venues today must be multi-purpose and available for use day and night. Orms designed the St Giles Circus venues to be flexible enough to cater for exhibitions and conferences, with large LED screens to illuminate the spaces and cater to the demands of events such as product launches.
Likewise, when Ministry of Sound invited design ideas for a new nightclub and headquarters building in 2015, practices including OMA and Casper Mueller Kneer envisioned a building flexible enough to be put to use throughout the 24-hour cycle. OMA even proposed that the building should shift shape as day turns to night. 'It's not just a club but a radio station, production company, event company, so it was easy to understand this new venue as a very multifaceted facility,' says partner Ippolito Pestellini Laparelli.
OMA's proposals for the club space itself were designed for flexibility, extending its use beyond the core operating hours of Friday and Saturday nights. Laparelli explains that the space includes design features such as 'a number of moving stages, a number of moving lights, a number of mechanical partitions, even doors which had technology embedded which would allow, with a click, the configuration of the space to be changed rapidly. We designed it almost like an experimental theatre.'
Casper Mueller Kneer proposed a series of spaces that could be used in different configurations not only by day and night but at different stages of the week – allowing the building to be used for club nights but also for concerts, conferences and dance classes. Managing director Olaf Kneer says this approach makes sense from a commercial perspective but can also help make the case for development proposals with planning authorities. 'What if we can offer something to the community?' he says.
Last year, Casper Mueller Kneer took this line of thinking one step further when it proposed the creation of a series of 'night sites' across London, public spaces that would remain open 24 hours a day and encourage a range of after-dark activities, serving not just revellers but night-time workers and commuters.
Practice director Marianne Mueller points to Berlin, where parks remain open throughout the night and host activities including film screenings and hula-hooping classes – in contrast to London's parks which tend to be locked up at dusk. 'What if Russell Square didn't have any gates?' she says. 'I think that would work. The question is how to increase accessible spaces at night where people can meet, enjoy and congregate without it becoming a problem.'
One of the biggest challenges in making better use of public spaces after dark is effective lighting. Many cities have considered how to use light creatively to promote after-dark activity. An installation at the Plaça de les Glòries in Barcelona by artec3 Studio and David Torrents sees floor lights changing colour in response to sounds. Hull artist Debi Keable has proposed lighting up windows and shopfronts of empty buildings in colourful combinations to introduce nighttime activity to the city.
But light is also a crucial aspect of urban design if public spaces are to be used effectively throughout the 24-hour cycle. Florence Lam, global lighting design leader at Arup, says public spaces should be designed with after-dark uses in mind from the start, understanding both the way they will be used at night and the way in which lighting can influence that behaviour. 'Just designing for the day and hoping street lights light everything up at night is not the way,' she says. 'There's a better way to do it.'
In 2012, Arup was asked to rethink the lighting in London's Leicester Square. The practice analysed the way people moved through the space at night before installing features that illuminated pathways and encouraged users to occupy underused areas of the square. Last year, redesigned outside spaces at Paddington Central opened to the public. Arup devised a lighting strategy based on the philosophy that more light is not necessarily better. The practice used motion sensors to illuminate a 'woodland walk', with lighting bollards set to 50 per cent output, switching to full brightness when movement is detected.
There are, of course, aspects of the night-time experience that fall outside the architect's remit. 'You could have the nicest, well-designed, well-lit spaces, but if you don't have the right retailers or businesses operating along them, or the parks close at 6pm, you're not going to get the kind of activity that makes a successful, safe, vibrant city at night,' says Phares.
In that sense, encouraging a broader mix of after-dark uses will fall in part to local authority planners and licensing teams. But 24-hour cities will always require flexible spaces designed with a diverse mix of nighttime uses in mind. That could mean nightclubs and gig venues, but it might also mean office buildings that double as events spaces or canals that function as floating night markets. 'People tend to think of the nighttime as a time of revelry, pubs and bars,' says Phares. 'The big change is to make the nighttime work for everyone.'
---