How can low-tech and natural materials help avert the climate emergency? Paloma Gormley, Jonathan Tuckey, Heather Peak and Ivan Morison on using natural materials such as rammed earth, timber and hemp and where do Chinese 'sponge cities' fit in?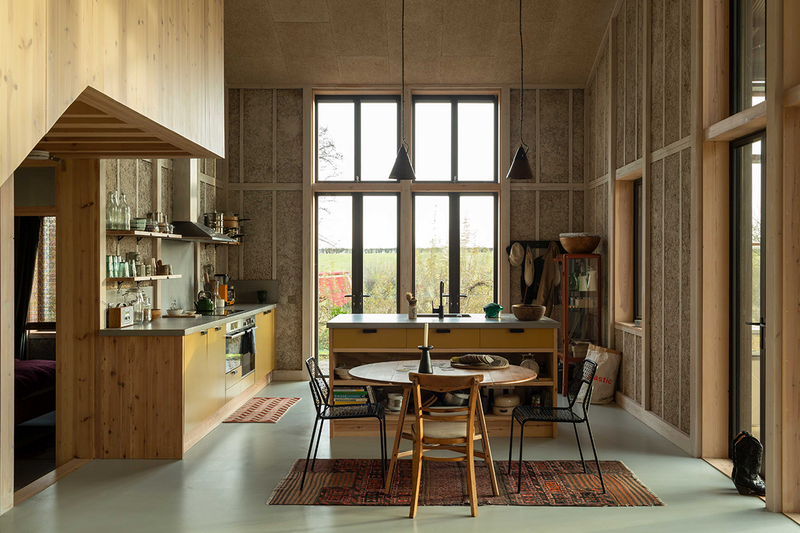 Flat House, a low embodied carbon house in Cambridgeshire designed by Practice Architecture. The project prototyped prefabricated hemp fibre cladding.

Credit: Oskar Proctor
It's surprising to learn that the Architecture Anew a RIBA + VitrA series is RIBA's first public talks programme dedicated to sustainability. The series frames sustainability in the widest possible sense, from architectural 'acupuncture' that makes good the ills of modernisation through to architect activists, guerrilla gardeners and rewilding pioneers.
The second talk, Low-Tech: Working Creatively With Nature, comes hot on the heels of the government's pledge to cut carbon emissions by 78 per cent before 2035 – 15 years ahead of the previous schedule. Hattie Hartman, who chaired the talk, commented that there's a 'tremendous amount of momentum right now' for change.
Three of the participants have been exploring low-tech natural materials and techniques such as rammed earth, hemp, cob and thatch. The fourth, Chinese landscape architect Kongjian Yu, has been creating urban landscapes that both reduce flooding and provide public amenity.
Paloma Gormley, co-founder of Practice Architecture and research organisation Material Cultures, kicked off the presentations and didn't pull her punches. She quietly raged against today's 'oil age of architecture', questioning whether a circular economy is possible with the materials we currently depend on, and whether high-carbon virgin materials should be justified because they are demountable when there are viable low-carbon alternatives, such as timber. Rather than recycling and reusing, her research focus is on using natural materials, with their inherent abilities to sequester carbon, and to embrace the simple detailing and new design languages that these generate, in tandem with digital construction processes.
She evocatively talked of making a building as 'a gathering up and curation of bits of the landscape'. This is well illustrated by Practice Architecture's low embodied carbon Flat House in Cambridgeshire, created with prefabricated panels infilled with hemp grown on the surrounding farm.
Jonathan Tuckey discussed the 'elemental material beauty' of rammed earth construction, and the benefits of being able to draw upon the ground around the site for construction materials, as is the case in his practice's ongoing rammed earth house in Wiltshire. He describes the many limitations of using rammed earth, such as the need for protection at the bottom and from rain at the top, but sees these as positives for the architectural outcome, which is typically thick-walled and monolithic. This contrasts with his second project, a school theatre created using CLT, which Tuckey says makes it 'easy to produce very dumb architecture' due to its lack of limitations. His design sought to introduce some legibility and complexity through its composition of external insulation panels and its CLT internal fit-out.
Artist duo Heather Peak and Ivan Morison of Studio Morison work in the area of 'social sculpture'. Their projects include several built structures created using natural materials, including the extraordinary How To Survive the Coming Bad Years, inspired by the form of Middle Eastern rookeries and built using soil, straw, timber and lime. In a Cambridgeshire nature reserve, they created Mother, a thatched conical shelter inspired by a hayrick and made with a frame from timber from their own forest in Wales. Both this and their ongoing commission for a place of silence at the Yorkshire Sculpture Park are concerned with nature connectedness and the mental health benefits of nature.
While all these are certainly fascinating in themselves, the work of Kongjian Yu is on a different level in terms of scale. His practice, Turenscape, has completed 500 'Sponge City' projects, which typically create landscapes of terraces, ponds, dykes and islands to address environmental issues such as flooding. These slow down and retain water through natural means, and in doing so, provide an attractive recreational area within the cityscape.
So what can be done to scale up the use of regenerative architectural approaches in the UK? Gormley says it will ultimately come down to new regulations and frameworks that will allow new natural materials to compete, and more demand to drive the supply chain. Encouragingly, her practice has created a hemp fibre cladding product – first used on the Flat House – and is hoping to use this on larger-scale housing projects, including a project for a developer in Lewes, East Sussex.
Tuckey says it is up to everyone to help spread the word.
'In our small way, we have to inspire clients, colleagues, whoever we're talking to, that there are some very exciting opportunities,' he said.
The Architecture Anew season continues on 11 May when architecture's role in promoting economic and social sustainability in rural China will be explored by Xu Tiantian of DnA_Design and Architecture. She will discuss her practice's use of 'architecture acupuncture' as a healing treatment for villages that are in decline, restoring their rural identity as well as stimulating local economic development.
This is best seen at Songyang County in eastern China, where the practice has been involved in a number of interventions as part of a revitalisation strategy. These include a brown-sugar factory built in light steel, a Hakka museum made from vernacular masonry, and a memorial hall that uses rammed earth and concrete.
Xu Tiantian says that more and more architects are now engaging with rural projects, and that the resulting improvements – along with the internet and modern infrastructure – can increase the appeal of rural living.
'Since our initial projects in Songyang, the area witnessed a significant increase in population growth, tourism and tourism-related business.' she says. 'The number of returnees from cities reached 6,000 in 2019.' She adds that she hopes this model could benefit other rural regions.
Architects Beyond Architecture (June 15) looks at those who use their skills outside architecture, including RIBA Journal Rising Star Chris Hildrey, who developed the ProxyAddress system for the homeless, and Mark E Breeze, a licensed architect, filmmaker and founding chair of the University of Cambridge Sustainable Shelter Group.
Breeze says that architectural training is 'incredibly useful' for many other lines of work.
'The method of integrated thinking that architectural training brings is key,' he says. 'This balances many conflicting inputs and tight constraints and touches on pretty much every aspect of what it means to be human - and non-human.'
His recent work includes the Shelter Without Shelter documentary film, which explores the complexities of providing shelter to refugees at six locations in Europe and the Middle East. He is advocating for architectural thinking to be a key part of the humanitarian sheltering process, through the strategic involvement of architects in the sheltering team.
'They have all the right skills to work between the tight constraints of time, budget and site,' he says. 'The profession isn't as good as it could be in promoting what architectural thinking can do, and there is often a misconception of what an architect can do.'
On 13 July, Architecture Anew will take a look at rewilding, in both harsh urban contexts and rural sites, with more events to be announced.
---
Learn more about designing low tech from Feilden Fowles.
Watch the Architecture Anew series
Architecture Anew is an RIBA + VitrA partnership