Film site MUBI launches a season of Heinz Emigholz's films of autobiographical buildings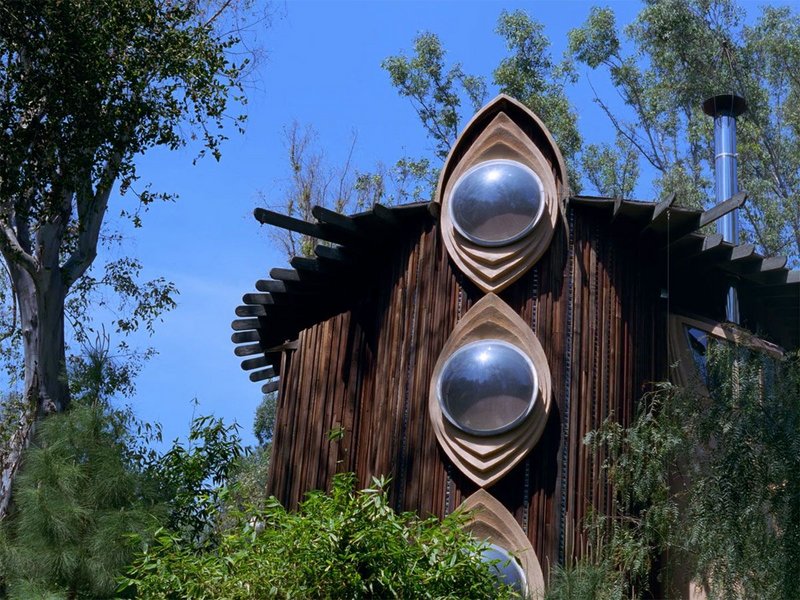 Al Struckus House in Woodland Hills, California, designed by Bruce Goff (1979). From Goff in the Desert, a film by Heinz Emigholz (2003).
For decades, German experimental filmmaker Heinz Emigholz has been exploring the representation of architecture in his films.
Film subscription site MUBI is this month showing four films from Emigholz's series Architecture as Autobiography, which takes a singular look at the work of an eclectic group of 20th century architects and engineers including Louis Sullivan and Bruce Goff. This is the first of a two-instalment retrospective, with four more films following in June.
These are not straightforward documentaries with easy-to-follow narratives and lingering 'money-shots' of iconic views. Instead, in the films about the work of Sullivan, Goff and Swiss engineer Robert Maillard, there is rarely any commentary. Emigholz is more interested in capturing the essence of their buildings at a particular moment in time, seen after many decades of use and abuse and set against the found soundtrack of the building's environment – whether that be traffic, birdsong or the fast flow of a river.
The camera often teases with oblique views and unorthodox angles, sometimes sweeping panoramically through a small town American townscape before settling on its focal point building. Films on Sullivan and Goff are contrasting in their pace and scope. Sullivan is best known for his pioneering high-rises, but Emigholz's 2000 film chooses to focus on the last eight buildings he designed – a series of low-rise banks in mid-west America. Shown in chronological order, these have a cumulative effect on the viewer as they are hit with shot upon shot of details and views, creating recurring themes of ornamentation and form. We see the repeated material palette of brick, stone and terracotta combined with rich mosaic and ceramic embellishments. Entrances are particularly imposing, including one extraordinary, rather kaleidoscopic window composition at Merchants National Bank in Grinnell, Iowa (1913-15).
There is an underlying theme of order, solidity, and gravitas combined with often delightful ornament and decoration. With high street banks rapidly becoming an endangered species, it is hard to imagine the construction of anything comparable today, nor the decision to emblazon THRIFT in large letters above the door, as was the case at the People's Savings & Loan Association Bank in Sidney, Ohio (1916-18). Emigholz also captures the inclusion of the architect's name prominently on the building. He filmed the banks at the end of the last century, and it is striking how intact most of the interiors, with their solid furniture, and lavish wall and ceiling decoration, remained.
The film Maillard's Bridges (1983) has a similar pace, capturing 14 of the Swiss engineer's bridges from between 1910 and 1935, their pared back forms softened by the accretions of moss and watermarks gathered over their lifetimes.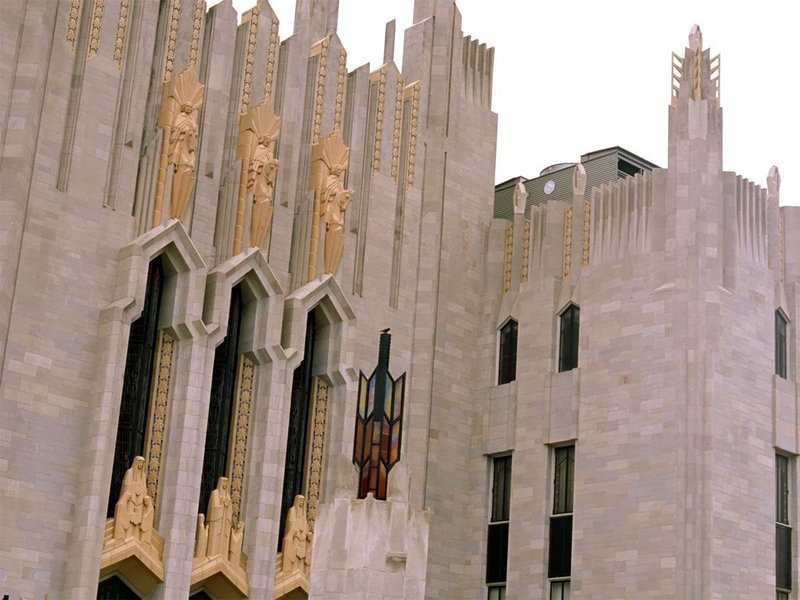 Boston Avenue Methodist Episcopal Church in Tulsa, Oklahoma, designed by Bruce Goff (1926). From Goff in the Desert, a film by Heinz Emigholz (2003).
Goff in the Desert (2003) has a very different tempo, cramming 62 buildings from throughout Goff's career into a feature-length documentary. Again chronological, these serve as a retrospective charting the American architect's often extraordinary designs for everything from petrol stations to museums. In some cases, the buildings have fallen out of use; Goff's last building is a burnt-out ruin. All are captured by Emigholz with the same attention to context, detail and atmosphere. It is a widely diverse series, but perhaps the individual houses of the 1950s-1970s are the most memorable. We see Goff's interest in organic form, sometimes combined with elaborate canopies and projections or with distinctive facade treatments involving unorthodox cladding arrangements – even encrustations of blue glass. There are several circular houses, some topped with an oculus or spire-like structure. The Al Struckus House (1979) in California is particularly memorable with its bulbous, eye-like windows.
Of the four Emigholz architecture films shown in February, the fourth, D'Annunzio's Cave (2005), is the odd one out. Its subject is the Lake Garda home of Gabriele d'Annunzio, the Italian poet and proto-fascist. From 1921-38, he and his architect Giancarlo Maroni designed and furnished a gloomily extraordinary Aladdin's Cave of rooms jam-packed with artefacts including the leper's room, which featured a bed designed as part-cradle, part-coffin. In contrast to the contemplative nature of the other films, the footage is accompanied by an overlay of extracts from d'Annunzio's writings and a museum-style guide to the rooms in a computerised-sounding voice. While the audio pile-up mirrors the visual overload, I much prefer the quieter character of the other films, especially the Sullivan piece, where the nuances of the architecture are slowly and cumulatively revealed.
---