Despite having considerable success in the 1920s and 30s, the Swiss artist, designer and architect has been largely forgotten. A new Tate Modern exhibition aims to change that, writes Pamela Buxton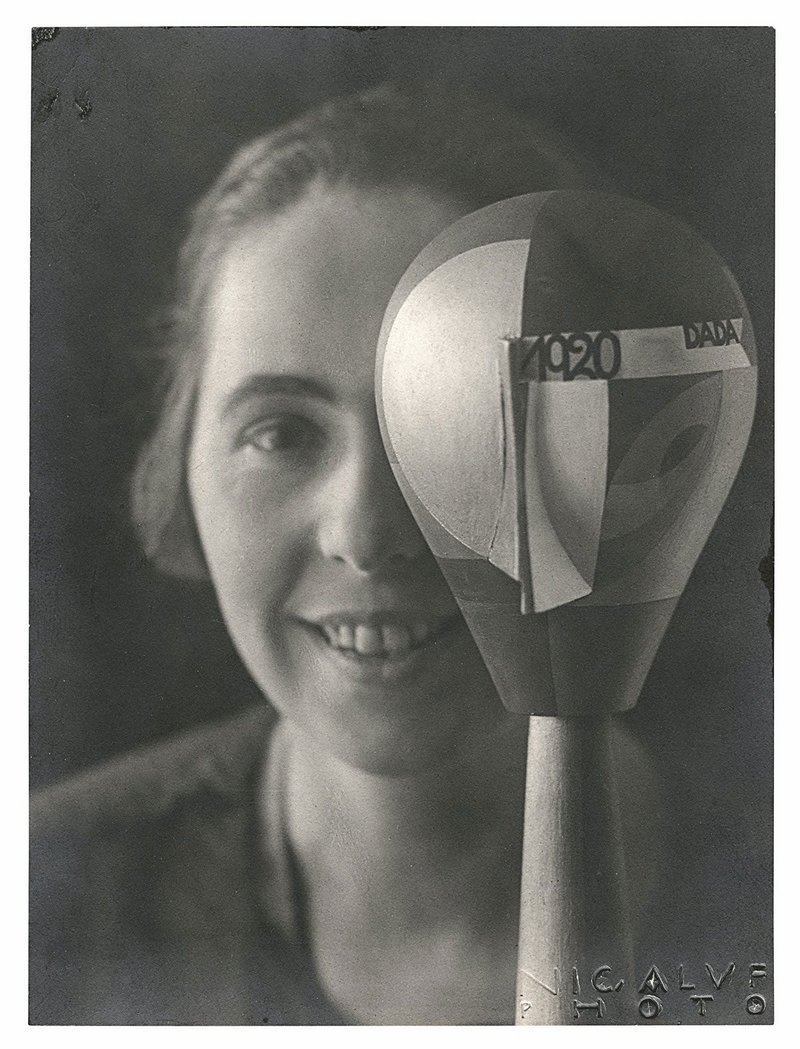 Sophie Taeuber-Arp with her Dada Head, 1920. Stiftung Arp e.V., Berlin
The story of the overlooked contribution of women to modern art and design is all too familiar. But the case of abstract artist Sophie Taeuber-Arp is even more perplexing. For here was someone who enjoyed considerable commercial and critical success in 1920s and 1930s France and Switzerland. Her work was collected by museums and she exhibited 24 pieces at the Deconstructivist show of 1937 in Basel. A creative polymath, she also won design commissions for everything from soft furnishings to private houses. Yet she barely features in art and design histories. And if an Arp is mentioned, it's more likely to be her husband, the artist and poet Hans (Jean) Arp.
Tate Modern's new exhibition, Sophie Taeuber-Arp, puts that right. Taeuber-Arp has recently featured with Arp as part of the Barbican's Into the Night and Modern Couples shows, but this extensive exhibition, the first in the UK to reflect the full breadth of her avant-garde oeuvre, gives her the sole spotlight.
'She was very well known in her lifetime,' says co-curator Natalia Sidlina of Tate Modern, adding that Taeuber-Arp was one of just a very small number of women recognised for her architectural and interior design work at the time. She hopes that visitors to the exhibition will gain a sense of the diversity and 'incredible joyfulness' of her work.
Her low profile in the modernist canon is partly to do with her untimely death aged 53, from accidental carbon monoxide poisoning caused by a faulty stove when staying at a friend's house in 1943.
Nevertheless, Taeuber-Arp had packed a lot into the time she had. Born in Davos, Switzerland, she studied fine and applied arts in Munich before moving to Zurich, where she developed her textile practice and taught at the technical school for 13 years. At the time, the city was the centre of the artistic avant-garde and the Dada movement, and she clearly embraced all this, studying dance with modern dance pioneer Rudolf von Laban and participating in dance performances as well as experimenting with non-figurative art. She comes across as very much a modern woman, earning her own money, enjoying a full creative life and, when she married, adding her husband's name to her own rather than simply taking his.
Taeuber-Arp used her wood-turning skills to create the iconic abstract Dada Heads sculptures, and when asked to submit a photograph to a publication, playfully chose one of her face partially obscured by one of the heads. But perhaps the highlight of the exhibition is another celebrated Dadaist work, a display of all 17 fantastical marionettes that she made in geometric turned wood shapes for a performance of the play King Stag, along with the set design, in 1918. These endearing creations retain a mischievous quality. Out of many contenders, my favourite string puppet is a five-headed, five-legged and six-armed silver and blue armed guard.
Meanwhile Taeuber-Arp was using grid structures and colour blocks to explore compositions in paper and textiles. She showed her art with the New Life association, which in true Dada spirit aimed to integrate abstract art into the everyday. To this end, her creative range expanded to take in bold and colourful beaded bags and jewellery, tapestries and soft furnishings, with the latter proving particularly successful.
By the mid-1920s, she was turning her mind to larger-scale work. From 1926-40 she enjoyed a flow of interior and architectural commissions, some solo, some in collaboration with others for both private and commercial clients. Always careful of controlling images of her work, she produced a presentation portfolio of her projects to show potential clients, which is included in the exhibition.
She worked on several of the spaces for the Aubette, a radical entertainment complex in Strasbourg, and collaborated on further elements with Arp. In her bold designs for the club, her familiar use of blocks of colour and geometric shapes are evident on the floors and walls. Other commissions included stained glass windows, interior design for homes and a hotel, and a gallery.
Her success, particularly on Aubette, enabled her to build a studio-house at Clamart on the edge of Paris in 1929. Built in local buhrstone, it was unconventional in arrangement, with the main entrance at the side, and normally back-of-house rooms to the front. The house became something of an artistic salon filled with regular visitors before the couple left for Switzerland with the arrival of war.
Her business card advertised her as an architect. In parallel, her art was ever evolving. In the 1930s, she frequently experimented with circular forms – she herself compared these to boules – and sometimes with crosses and blocks of colour. Then there was a series of painted reliefs, which returned to her earlier interest in wood-turning. These at first appear like an abstract painting until, when, viewed side-on, they fully reveal their 3D form. They could, according to Sidlina, be thought of as prototype Op Art. Freer, more organic forms were to follow. During her years on the move and in exile in the war, she was by necessity confined to drawing. Her later works in the show from 1942 were studies for three-dimensional forms.
Taeuber-Arp's restless creativity is well-documented in this wide-ranging show. If she had lived longer, it seems likely she would have continued to explore new directions, maybe picking up once more the interior and architectural practice that had become impossible during her nomadic war years.
'It does feel as if it's a journey interrupted,' says Sidlina.
Intriguingly, Taeuber-Arp was in Paris at the same time as Charlotte Perriand and Eileen Gray – all were members of the French Union of Modern Artists – and it would be pleasing to think that they may have known and respected each other. The other two have, albeit belatedly, been recognised for their contributions to design, Perriand most recently at the ongoing Design Museum show. With this exhibition, Taeuber-Arp gets her chance to shine as well.
Sophie Taeuber-Arp, until 17 October 2021, Tate Modern, Bankside, London