Design collective Assemble celebrates Robin Day's relationship with wood at the V&A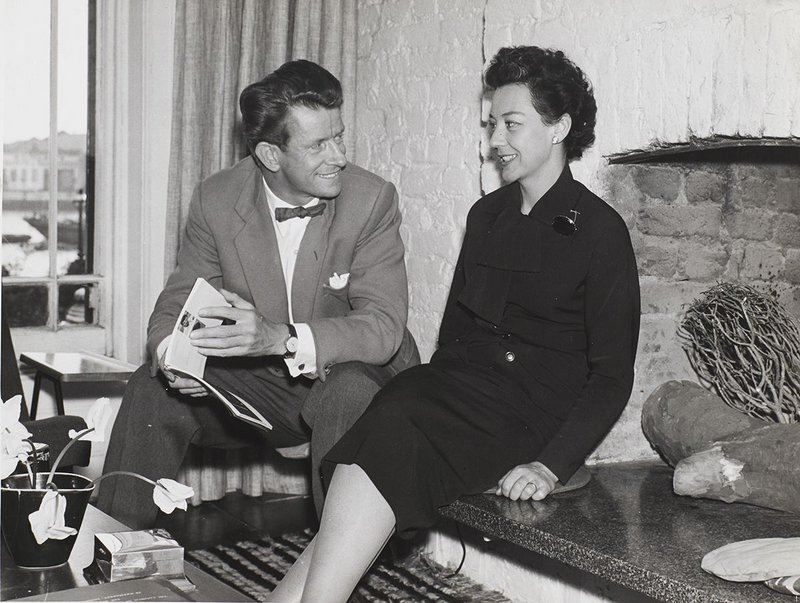 Robin and Lucienne Day in their home in Chelsea, 1956. Robin and Lucienne Day Foundation.
Who better to bring a new interpretation to the work of designer Robin Day than Assemble, the Turner Prize-nominated architecture, design and art collective which has been commissioned by the Victoria & Albert Museum to create an installation exploring Day's close connection with wood.
The result is Forest, a display of Day's work on timber blocks of varying heights in reference, according to Assemble, to the designer's creative exploration of woodlands in his High Wycombe childhood. Here he learnt through play, climbing trees, lighting bonfires, whittling bows and arrows, and attempting to turn greenwood into chair legs.
'From the greenwood bow of Day's childhood to his explorations in moulded plywood this installation will be a conduit for exploring the direct link between play and material innovation,' says Assemble. According to Forest curator Jane Withers, while wood is a comparatively little-explored aspect of Day's work, it was a constant source of inspiration to the renowned designer.
'In latter years he described wood as a material with "soul". From his childhood onward, woods were a place for experiment and adventure and I think it is this understanding of and feeling for wood that feeds into his furniture design,' she says, hoping that visitors will come away with a sense of his deep attachment to and understanding of wood.
The installation celebrates Day's centenary year and is part of the Day in London trail of events held at various venues in the capital during London Design Festival.
Robin Day Works in Wood, 19-27 September, outside the Britain 1500-1900 Galleries at the Victoria & Albert Museum, Cromwell Road, London.
---