A circular room in Woolwich Market is home to an immersive tactile adventure generated by light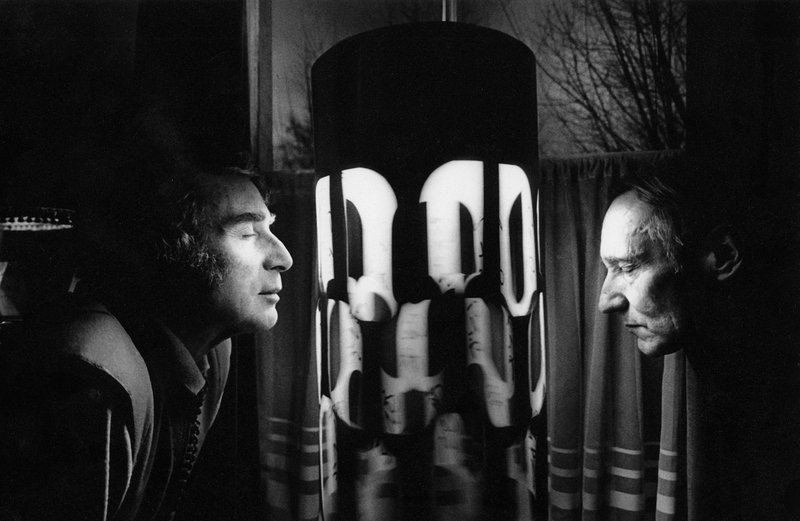 Brion Gysin and his Dream Machine with William Burroughs c 1970 London.
Somewhere at the end of London's Docklands Light Railway is a destination unlike any you will have been to. The result of a collaboration between Turner-Prize winning collective Assemble and Grammy and Mercury Prize-nominated musician Jon Hopkins along with a number of technologists, scientists and philosophers, the installation Dreamachine – nestled inside the Grade II-listed Woolwich Market – is an immersive art experience that is not only totally unique to you but very possibly transcendental.
Dreamachine, part of Unboxed (nee 'Festival of Brexit' and arguably the only good thing to come of it), allows you in a visceral way to remove yourself for a few utterly strange and wonderful minutes from the general grimness of our current reality. And that should be expected. Dreamachine is based on the 1959 work of British-Canadian artist-inventor Brion Gysin, who claimed to have had a meditative experience when he closed his eyes to feel the sunshine on his face while passing through a glade of trees in a car.
His attempt to emulate this neurological experience triggered by the light on his eyelids involved cutting holes in a cardboard tube and placing it on a revolving turntable while suspending a bulb in the centre. The flickering light created vivid fractal mages, kaleidoscopic patterns and explosions of colour in the mind of the viewer. Gysin called it 'the first artwork to be experienced with your eyes closed' and his vision was that it would eventually supplant TV and its passive consumption with an altogether more personal interaction. Assemble, with technologist Dev Joshi, professors of philosophy, neuroscience and consciousness Fiona Macpherson, Anil Seth and Dr David Schwartzman, have taken Gysin's homemade machine concept, pumping it here with anabolic steroids.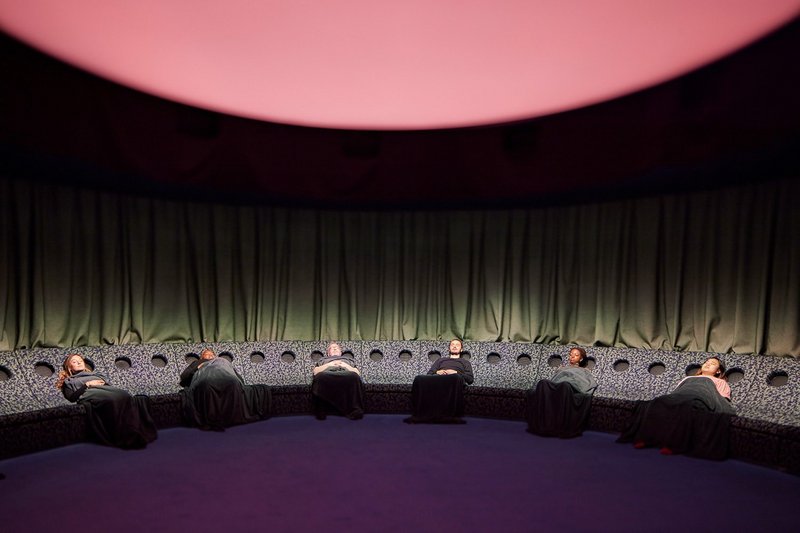 Dreamachine. Speakers set into the seats create the auditory experience. The oculus in the centre distracts from the tech rig in the ceiling

Credit: David Levene
And there is no cardboard to be seen. Assemble has created the receptacle that holds the tech that does the mind-bending. While researching the project, its team were aware that while the experience is unique, the act is collective. Essentially the cloak for a large specialist lighting rig, the blue-stained plywood structure that you see was inspired as much by Gottfried Semper as it was by Gysin. 'We talked a lot about ritual and procession at the beginning and the idea of the Saxon Moot Hall,' says Assemble's Anthony Engi Meacock, with colleague Jane Hall adding: 'The majority of people will be strangers engaging together in an experience that they don't quite know how it will be for them; so we wanted it to feel like sitting around a campfire.'
The London version (there is a smaller version currently in Cardiff) is a circular room just under 10m in diameter, seating 32 people within a 45mm-thick structure of CLT panels, 11m wide, 16.4m long and 4.4m tall. Given the high-tech nature of what's within, I was expecting a similar aesthetic. Not so, says Engi Meacock. 'We wanted something veering away from ideas of a high-tech spaceship for something that felt more abstract, earthy, tactile and soft. The experience can be stressful for some people so we wanted to make a space that felt other-worldly; but rich, warm, comfortable and safe.'
This extends to the interior where the initial expression on entering is of a warm, glowing, circular oculus. 'In effect, it's a lightbox,' says Hall. 'The challenge is there's a lot of tech in the lighting rig around and it can't be covered up. We wanted to distract people from that in a way, so part of the oculus's function is to do that.'
And the experience is tactile as well as visual; the firm designed bespoke seats with Woven Studio, creating patterns for the mohair mix Jacquard fabric on their capacious reclined 'scoop' seats – headrests sitting between cutting-edge inset speakers. 'Amongst the tech we wanted the tactility of craft,' explains Hall. Moving around the country, the whole lot had to be easy to erect, dismantle and transport.
So what of the experience itself? The sensory rooms Assemble created around give plenty of opportunities for the more than 50,000 people who will go through Dreamachine to record their experience in the largest neurological data-collect of its kind ever conducted. 'It is incredibly sensory,' says technical director Joshi. 'The original Gysin machine was meditative but we know you can drive the effect by increasing light intensity and sound levels. Where the balance sits here was one of the focuses of this project but the result of changing the level is what creates the experience's arc.'
He adds: 'Gysin wanted Dreamachine to replace television because, even then, so much of people's lives was spent consuming media through big rectangles, and the issue has only become more polarised now we have little ones.' I ask if he thinks Gysin would have agreed with its increased levels of stimulation. 'I think he would have been happy for it to be more immersive and superlative,' says Joshi. 'What I hope we've achieved is to show what your brain can do on its own if you shut your eyes and let it. Everything you see will have been generated by nothing more than white, flashing light.'
UNBOXED's Dreamachine runs at Woolwich Public market until 24 July 2022 and Cardiff Peace Hall until 18 June 2022. The show will later transfer to Belfast and Edinburgh. Tickets are free but must be booked in advance. https://dreamachine.world/