It seems there's no stopping the dynamic, imaginative duo that is Carmody Groarke, architect of the RIBA's new London Gallery.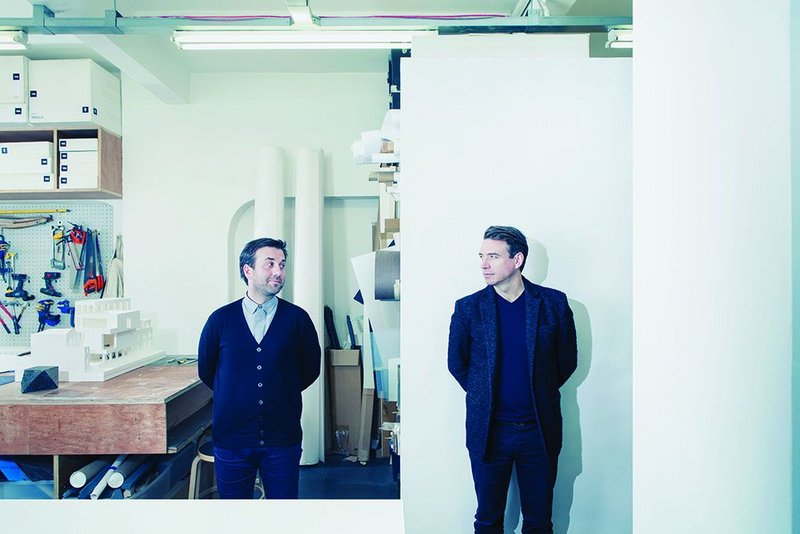 Andrew Groarke (left) and Kevin Carmody (right).

Credit: David Vintiner
The table is large and square. As Andy Groarke intently talks through projects and ideas, Kevin Carmody ranges around, bringing this model, that sample, things we are discussing and things we haven't yet got to. Both give the task their full attention, serious and engaged but often with a little, conspiratorial smile as they compose an answer.
I was a little apprehensive at meeting Carmody Groarke. In mind were the cold clean lines of the pair's work, and one rather severe personal portrait. But seeing them in their little Soho studio in Denmark Street is quite different. There was a time when ­Carmody Groarke was rarely out of the news, entering this, winning that, designing a flat for one artist, a bar with another, Olympic Park dining with Bistrotheque. When the RIBA engaged the firm to design a new gallery at 66 Portland Place it seemed hard to discern, from the outside, who was patron to who. After all, art was in Carmody Groarke's DNA, having met working on sculptor Antony Gormley's studio for David Chipperfield Architects. Now the practice is less in the news but its studio of 25 is working through a series of bigger jobs from Windemere's Steamboat Museum to a 45ha park in West London.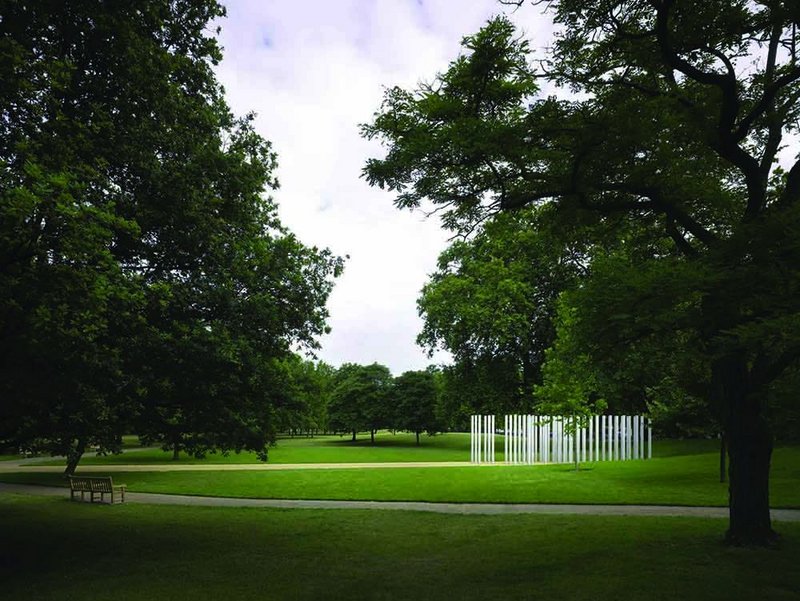 7th July Memorial in Hyde Park was a serious and potentially risky early project for the practice, being so high profile and fraught with meaning and emotion.

Credit: Christian Richters
The studio is within earshot of Crossrail piledriving at Tottenham Court Road. Part of Soho and the antiquarian bookshop district of Charing Cross Road, the practice's little street is populated with music shops, saxophones hanging glittering in small windows. 'Friday afternoon is when we hear the tunes drifting up,' says Carmody. There is no sense of anticipation in the office about the new transport hub next door, just a resignation that it will ultimately mean moving out of the much loved studios as they get turned into an arcade. 'I know as architects we should look forward to new buildings,' he says. 'But...'
Nevertheless change is part of the firm's stock in trade. Its many small scale interventions can be read as harbingers of the new – a way to make a place work before it has had a chance to become a place. This has been the case ever since Carmody Groarke won the Parachute Pavilion in Coney Island, New York (2005). Seen in that light, much of its work takes on a more serious hue. Studio East Dining and The Filling Station (winner of RIBA London small project award last year) both brought life to places that were still being created, each as a short term project initially.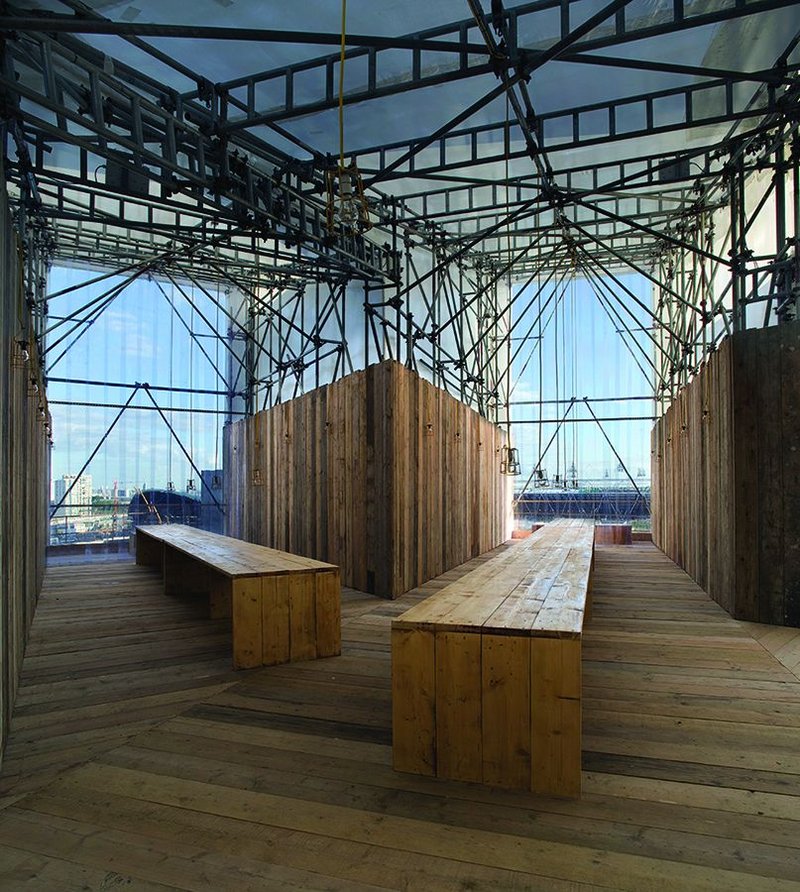 Looking out to Olympic Park and beyond, East Dining just borrowed material and contractors that were already available on the Westfield construction site. A far cry from the original request for a wedding marquee.

Credit: Christian Richters
Both projects also took an entrepreneurial attitude to put together. Studio East Dining – a series of radial dining rooms on top of the Westfield Stratford shopping centre car park in east London, overlooking the Olympic Park site – began as a request to dress the interior of a marquee. The Filling Station was one of Argent's empty sites at King's Cross, perhaps an opportunity to use a marketing budget in a different way, suggested Carmody Groarke. So a restaurant using the foundations of the petrol station's shop emerged, with the canal wall removed so visitors could start to appreciate the site for what it was ­going to be – a live marketing campaign. The last two RIBA summer staff parties have started here.
'We have just emerged from a period when a lot could be built but there were not enough questions why,' says Carmody. 'Architects starting now are being critical, not in a green wash way, but in clear value decisions.' 'If you're building a permanent structure how do you do it as a background in the city? This economic cycle and the client who commissions it are not going to last forever.' This is a theme that emerges again and again: not shouty buildings but ones that work with the objects around them.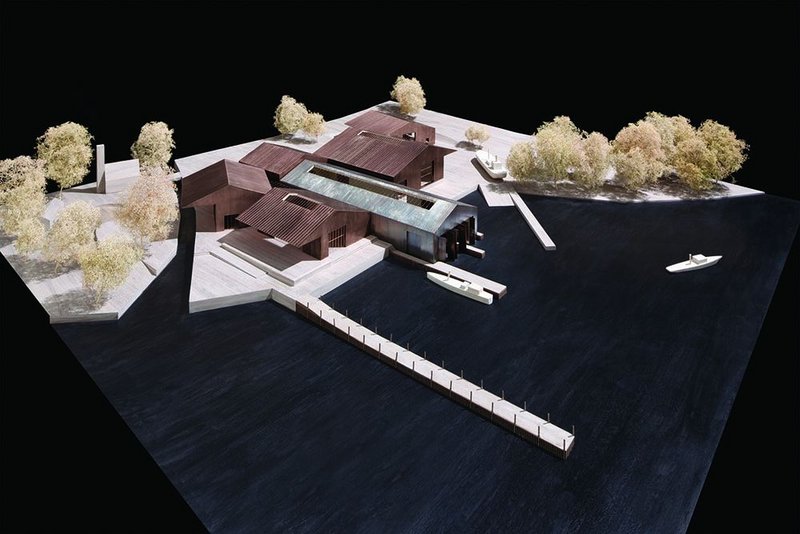 The model shop takes up around a quarter of the practice's Soho office: here, models for Windemere Steamboat Museum.

Credit: Richard Davis
You begin to realise that, without sounding at all commercial, Carmody Groarke does speak the language of value, which must be attractive to clients. At the art fair Frieze, the practice took messy, noisy cafes into the park, clasping them around trees and leaving more space free for the 'premium' gallery spaces. At a British Land development in London's Regents Place, primarily designed by Terry Farrell and Partners, the job was for a coffee bar. Did British Land want the identity of the place to be in the hands of, say, Costa Coffee? asked Carmody Groarke. Surely it would rather it had its own identity? So the project became a pavilion, its square columns echoing the weighty Farrell colonnades alongside, with a telling delicacy. You can slip through or find yourself stopped by a spinney of columns, or sit on a cube under the rigorous grid that allows the desire line – while diverting it.
Over the years most London exhibition goers have no doubt experienced a Carmody Groarke exhibition layout. When they started, explains Carmody, few architectural practices did them. But Carmody Groarke saw the potential, work on quick turnaround projects with great material. An early one was Blind Light with Gormley at the Hayward Gallery, then Surreal House, Bauhaus at the Barbican, Postmodern at the V&A and, most recently, an exhibition in the vaults of Somerset House on the fashion legend Isabella Blow. Here they conjured up the nave of Christ Church Spitalfields where Blow brought together the fabulous milliner Philip Treacy and designer Alexander McQueen in a grand catwalk show, both just out of college. Strips of abattoir curtains, and angled verticals of glass, split and complexify the space while backlit fibreglass alcoves drawn to a vanishing point show the silhouettes of a crazy collection of dresses.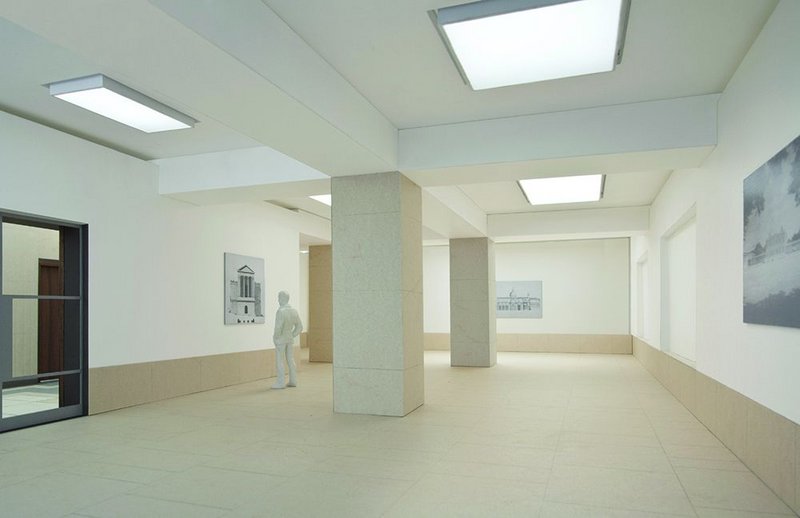 RIBA Gallery with shutters

Credit: Richard Davis
It displays many of the practice's interests in the shapes, angles and verticals they are drawn to: rather like a linear drawing out of the plan. Rhythm and stripped classicism pervades Carmody Groarke's work, a likely legacy of David Chipperfield and the Germanic precision of some of his colonnades. But the pair have no appetite for this discussion, they spy accusations of gestural architecture. Instead, they present projects that do something different. Then comes a change of tack, showing how angles are used to align a main hall with a main view. The discussion is firmly closed by the arrival of the Maggie's Centre model on the table, with a slight bump. Skinned with vertical panels of glass fibre, pulled and kinked around the edges of the prefabricated boxes, the building is due to last just seven years on its site within Liverpool's Clatterbridge Cancer Care Centre.
Despite being temporary, this Maggie's Centre is one of a set of what Carmody ­describes as the more 'grown up' projects in the office. The studios they taught at the Bartlett and RCA have been dropped to concentrate on practice. It has meant the studio growing and a few desk moves. The upper floor of the long office is naturally split in two, the main team banked along the edges: all concentration and large screens. Having a nosey on this floor while their portraits were being taken, it was interesting to see how Carmody and Groarke have colonised an informal meeting table at the quieter end of the office, laptops folded down and a sense of their direct, concentrated, amusing talking partnership in the openness of the desk. 'One might speculate we are reasonably interchangeable,' says Carmody. While he might appear to be the public face with his chiselled looks and easygoing manner it is clear they do a good double act.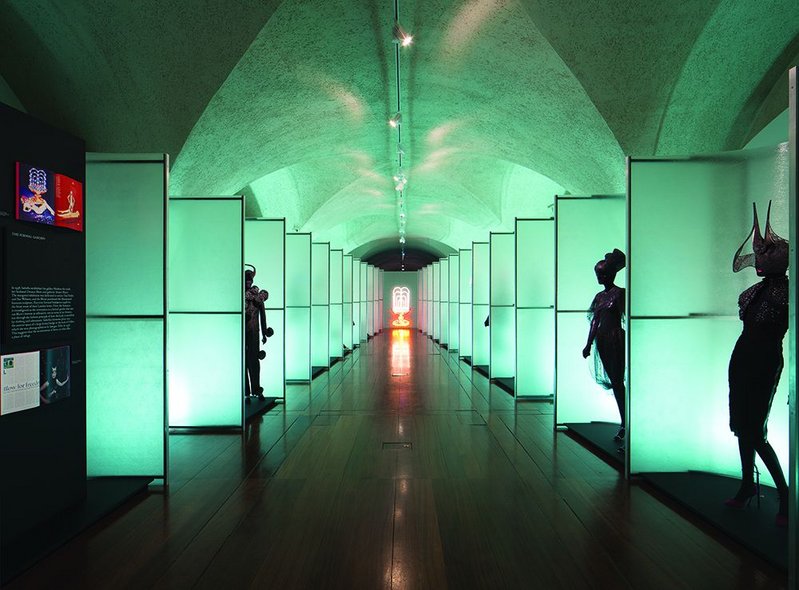 Shrine to Isabella Blow and the clothes she loved at the Carmody Groarke-designed exhibition at Somerset House.

Credit: Luke Hayes
Those grown-up projects have come at the right time. Being placed second on the competition list for Prague Library early in their career might have been a fillip, but to have won it would have been a catastrophe, too much to gear up for. Now they have the RIBA Gallery at Portland Place, London, where they are revelling in honing the detail of the sill handles. Due to open in February, the gallery's proposed site within number 66 was shifted by the practice to take advantage of the space of a light well. The RIBA connection may be what got it a place in the invited competition to remodel the RHS's headquarters in London's Victoria. ­Another particularly significant win was the Windemere Steamboat Museum – on a top quality long list for the RIBA Competition in 2011 including Niall McLaughlin Architects, Witherford Watson Mann and Terry Pawson Architects. 'All the practices were 10 years older than us,' notes Groarke. The gathered, pitched roof forms have grown since the competition and the firm has been looking at a folded, pre-patinated copper.
In January Carmody Groarke's proposal for one of the largest public parks in London goes to committee. In Hounslow, moments away from Heathrow Airport and on a green belt site, the 10m-deep proposed layer of park on the site would hide 15-20 years of gravel extraction. Using top down construction, the plan gives the underground space left by the gravel to storage, warehousing, data centres and so on. Carmody Groarke went for the open competition with Arup as engineer and Vogt Landscape Architects. It was selected as the most commercial.
Andy and Kevin are proud of that.