Black and white Gothic reveals the haunting work driven by a Victorian gothic novel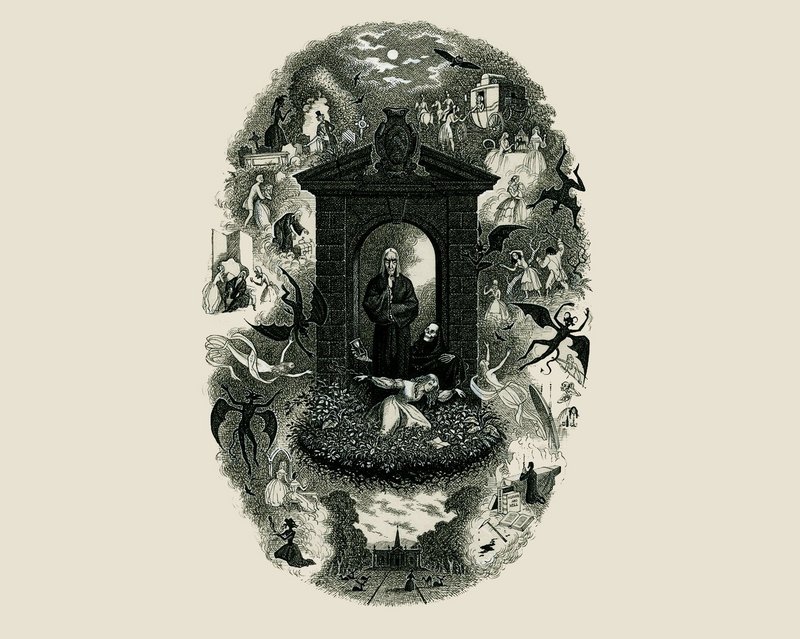 Charles Stewart's pen and ink frontispiece for Uncle Silas, 1947.

Credit: Royal Academy of Arts, London; copyright estate of the artist.
A one-room exhibition of drawings by illustrator Charles Stewart (1915-2001) at the Royal Academy has all the essential gothic ingredients – an imperiled young heiress under threat from a scheming, opium-addicted uncle and sinister governess, inhabiting a crumbling, spooky house full of shadows, gloom and foreboding.
Stewart's evocative black and white illustrations do full justice to the novel they are based on, the Victorian thriller Uncle Silas (1864) by Joseph Sheridan Le Fanu. The frontispiece sets the tone – a wonderfully dramatic tableau of teenage heroine Maud Ruthyn having fallen to the ground with the robed figure of her uncle looming above her holding a candle and with the spectre of death at his side, while all around them float scenes from the novel and winged dark figures suggesting some ghoulish nightmare.
While the 30 drawings are a treat, the exhibition is also an opportunity to learn about Stewart, who was evidently quite a character. Having grown up in Dumfries in a turreted gothic, candlelit house full of unexplained creaks and sounds, he moved to London to study drawing and ballet before concentrating on illustration.
He first came across Uncle Silas during World War Two, when he was a stretcher-bearer, and his enthusiasm was fuelled by repeated visits to the set of a film of the novel in 1946-7. The project was something of an obsession for him – he first produced illustrations and bindings in 1946 for a publication that was abandoned because of difficulties reproducing his images, and it wasn't until 1988 that these, and some additional drawings, were published in an illustrated edition by the Folio Society. His work is characterised by intricate detail of both settings and costumes and Stewart developed a particular interest in collecting mannequins – who were given names and characters of their own – to model historic costumes.
The Folio Society edition will be reprinted this year.
Charles Stewart: Black and White Gothic, until 15 February 2015, Tennant Gallery, Royal Academy, Piccadilly, London
---