There's no doubt that Banister Fletcher's tome is all the better for its heavy revision, but the reduced role of its drawings hurts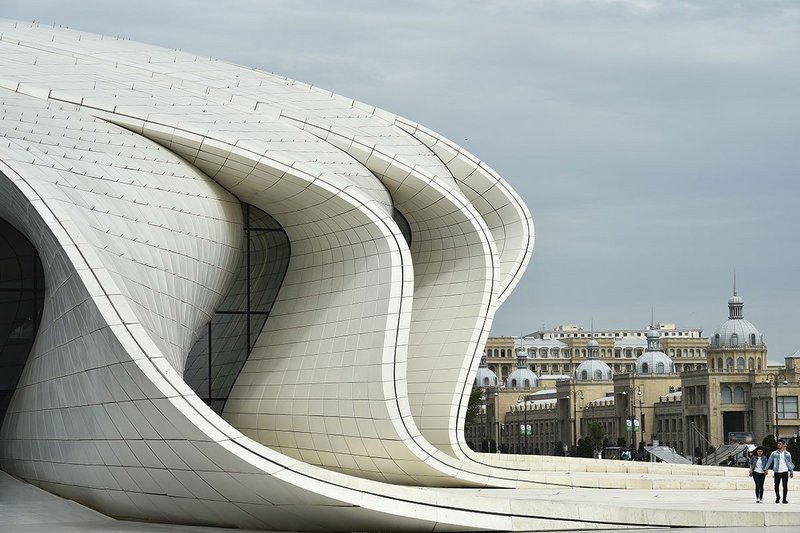 Heydar Aliyev Center, Baku (2013), Zaha Hadid Architects. An illustration of architecture achieved through new technological possibilities unthinkable at the time of Fletchers first edition

Credit: Getty image
Several years ago, when the Sheffield School of Architecture moved back to the top floors of the newly refurbished Arts Tower, the first images to adorn the fresh white walls were the large plate prints of Banister Fletcher's intricate composite drawings – hung with an urgency that implied architecture simply could not be taught without their presence.
That Fletcher's drawings found ­relevance in architectural education a century after their publication is testament to the communicative power and accessibility of these studies, yet simultaneously raises difficult questions regarding their role in the context of Fletcher's broader 'history'.
Now widely criticized for its distorted colonial world view, the 'History of Architecture on the Comparative Method' was first published in 1896 under the authorship of Banister Fletcher and his son Banister 'Flight' Fletcher. Updated throughout the 20th century by Flight, it gradually increased in scope, but maintained its distinct Western bias towards the definition of 'architecture'. In the 65 years since his final update, further editions have gone some way to righting the wrongs of the original's highly-flawed comparative method. But with the 21st edition, editors Murray Fraser and Catherine Gregg have implemented the greatest leap in the palimpsestic growth of this tome, commissioned by the RIBA and University of London.
Now retitled the 'Global History of Architecture', the book has been entirely rewritten by 88 scholars, each engaged in primary research in their respective field. It adopts an objective overview of global architecture, consciously distanced from Fletcher's authoritarian standpoint, where colonial notions of 'otherness' pervaded – from the famous illustrated 'tree' to its discriminatory structure of 'Historical' (ie Western) and 'Non-Historical' (everything else).
In the most significant structural change in the book's history, this new edition takes the form of seven chronological sections from 3500BCE to present, each subtly representing a theme, beginning with 'intentionality' and ending with 'modernity'. Within these sections the globe is subdivided into geographical sectors, which, as Fraser describes, are a practical methodology for containing an area of study – awarding no priority to any significant event or region. This siloing serves to emphasise the artificiality of such divisions when they meet greater global forces, and in the case of this updated edition it is a highly effective strategy. Reflecting a broader shift in scholarship from western-centric viewpoints, it gives more equitable weighting to the various geographical locations, guiding the text not by Fletcher's false narrative towards a supreme style, but by a vast multiplicity of overlapping influences.
Undoubtedly much of the appeal of Fletcher's original book lay in the lavish drawings that provided the framework around which the text was woven. This has traditionally given the feel of a narrated slideshow, and in a move away from these singular viewpoints, it shouldn't come as a shock to see the original drawings here playing a significantly reduced role.
Yet it does. Where once they sat as full-page integral items, here the drawings are used selectively, shrunk on the page and captioned, their function largely assumed by a plethora of other image types. After over a century, some detachment from the original does feel necessary, but in re-evaluating their relevance, the original drawings' relationship to the text is at times abstracted to the point of critique – occasionally confusing the premise of the book between that of a global history of architecture, and a self-conscious assessment of Fletcher's previous work.
Fraser holds that past attempts to standardise through drawing have been futile owing to observer bias, so this book's approach is one of purposeful visual heterogeneity. While this new approach is very welcome, retained original drawings remain extremely effective, allowing one to read relationships between local families of buildings (ie English Early Renaissance plans, or French Gothic details) – or to describe singular buildings through compositions that leap between plan, section, elevation, detail and ornament. Where new inclusions take up the mantle with fresh drawings – for instance Adam Hardy's beautifully illustrated section on the Indian Subcontinent 600-1400 – show the potential of this technique. So it does seem a shame that this isn't continued throughout the updated global scope of the book, where many key examples are limited to a single drawing or photograph, rather than a rich variety of drawn views.
Irrespective of this, the book's greatly increased range is remarkable, providing an encyclopedic global picture in which every reader will almost certainly find something new. Such is the extent of its reach that, following decades of successive growth, the million words of this edition spill over into two monumental volumes, also making this the first edition to be available digitally.
Online the book is formatted as a series of Wikipedia-style long-form articles – perhaps a missed opportunity for greater engagement with a medium that offers so much interactive potential. However, one can imagine this is a first step towards successive editions that may further embrace digital possibilities.
Banister Fletcher was adept at using various means to communicate ideas, collecting lantern slides and selling large plate prints of his drawings as both a commercial and academic enterprise. So it seems fitting that the book now looks to employ contemporary modes of dissemination, welcoming new audiences to a work that, following a thorough reappraisal, will no doubt remain a vital part of the architectural canon.
A contentious classic reinvented for a new generation through previously unheard viewpoints – and not a moment too soon.
---
Edward is founder of Edward Crooks studio and runs the BA Architecture studio Civic Expression at Central St Martins
Sir Banister Fletcher's Global History of Architecture (2019), Bloomsbury Publishing