Selgas Cano's exuberantly coloured, nature-reminiscent Serpentine Pavilion mixes beauty and horror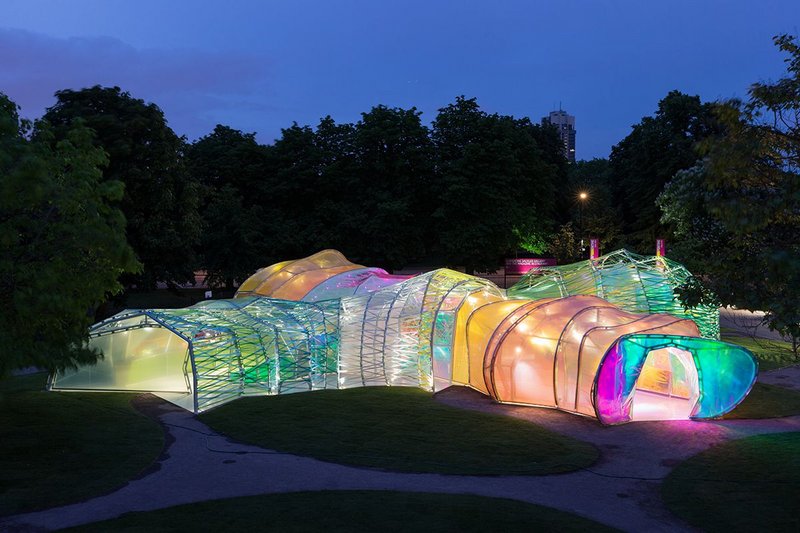 Credit: Iwan baan
In Pedro Almodóvar's 1990 dark romantic comedy Tie Me Up! Tie Me Down! – a Stockholm syndrome romp in which an ex-mental hospital patient Ricky develops an obsession with B-movie actress Marina, deciding to kidnap her to make her fall in love with him – there's a scene where she's filming her horror flick 'Midnight Phantom' and notes that 'it's more a love story than a horror one'; to which the director replies 'sometimes they're indistinguishable.' In a similar reversal, there's something of the night to Spanish practice Selgas Cano's joyful riot of colour on the Serpentine Gallery's front lawn – the 15th Pavilion for the annual commission.
Of course, you'll first be distracted by the explosions generated from its brightly coloured ETFE skin as if you're an unwitting participant in the Indian Holi festival, but beyond these transparent panels are hundreds of metres of opaque coloured weaved plastic that seem to form a wall of sorts, mediating between the delicate, coloured skin and the Kensington Gardens landscape in which the pavilion sits. But it is this binding that calls to mind other, more macabre associations; of spiders' webs and silken cocoons, all exacerbated by dichroic foil referencing the translucent skin of a chrysalis, a pupa pulsating inside.
I'm not quite sure why, but in a strange parasitic fashion, the firm, which formed in 1998, seems to have somehow laid claim to the territory of colour. As if to hammer the point home at the press view, Serpentine director Julia Peyton Jones was orating in a voluminous signal red top, José Selgas was wearing a pair of comedy Converse, and Lucía Cano's yellow/orange clash was avoided by a sharp cream kaftan smock and trouser twinset. Only Hans-Ulrich Obrist remained Teutonically restrained in a light summer coat of dark check, but he was no holds barred with his influences on the firm's oeuvre; Rogers obviously, but a big tip of the hat to Bruno Taut's 1914 Werkbund Pavilion and Scheerbart's Glasarchitektur with his unfeasibly presumptive rallying cry 'Coloured glass destroys hatred'.
But Selgas Cano's pavilion is about more than just colour; and certainly more than materials – if it was one might have expected the firm's obsessions with innovative fabrics to have stretched to more than ETFE. What one draws from it are the chance complexities of layering via the contingency of the construction itself, with maze-like entry routes around the white steel structure defined by that crazed police line of ribbons drawing you into the pavilion's centre. Internally, these are then read relative to the coloured skin, modulating the view: a gauze filter through which you perceive the pavilion and the world outside. And it's constantly changing as you move around it, providing moments of chromatic surprise; when the sun broke through on a grey Monday morning, the transformation was scintillating. And I don't know if sponsor Goldman Sachs is feeling strapped for cash at the moment, but if it is this pavilion has worked in its favour. There's economy about it that feels like a return to the spirit of the first pavilions – temporal and fleeting – like a British summer.
In traditional manner, the interfaces of the pavilion's ETFE facets suggest that punters will, in our worryingly alien downpours, get drenched by more than just colour, but no matter; it lends an air of precariousness to the whole experience. And that exposure to the damp elements as well as heat provides a splash of the sublime, like getting dripped on in the grotto at Stourhead. I don't know what Fortnum and Mason, which is running the pavilion café this year, will make of that, but perhaps it should just enter into the spirit of the thing. Indications are it already has, with the PR citing its 'twist on alfresco dining', the Hamperling. Gestating in the guts of Selgas Cano's coloured plastic cocoon: the mind boggles. It sounds like some kind of gastronomic homunculus.
---
Credits
Client Serpentine Galleries
Architect Selgas Cano
Technical advisor AECOM with David Glover
Construction Stage One Creative Services
Consultant DP9
---