Nimtim Architects' 12 Corner Plots, based on routes to play, rest, meet and grow, will restore green infrastructure on the massive Becontree estate as it celebrates its centenary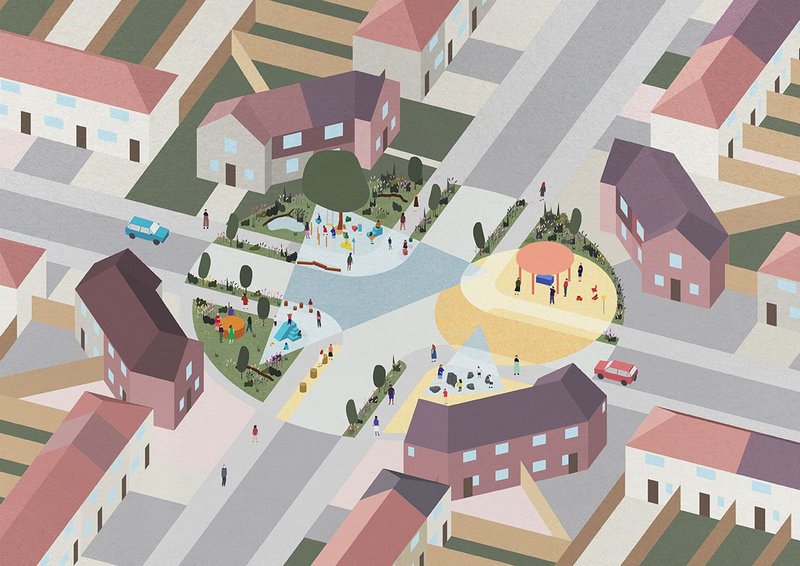 Overview of nimtim architects' proposal for the Becontree Corner Plots commission, which will revitalise underused corner plots at junctions on the century-old housing estate. Image: Gilbert Leung
What's the largest council estate in Britain, and was once the largest social housing estate in the world? Full marks to anyone who guessed Becontree, the huge development that spreads over four square miles in Dagenham.
This year Becontree celebrates its 100th anniversary, a milestone marked by the Becontree Centenary programme, a partnership between London Borough of Barking and Dagenham Council, Create London and the RIBA. This includes a centenary Corner Plots commission won by nimtim architects.
Home to 85,000 residents, Becontree was built between 1921 and 1935 as a low-rise cottage garden development, and primarily attracted those moving out of slums in London's East End. Although the estate provided a massive upgrade in standards of living accommodation, residents had to abide by stringent rules – windows had to be cleaned once a week, doorsteps scrubbed, gardens maintained and children were banned from playing in communal areas. Some also found the comparative dearth of pubs unappealing.
Over recent decades, Becontree has grappled with issues common to many long-established estates such as right to buy, the impact of car parking on front gardens and the maintenance of communal areas, as well as adjusting to significant changes to the overall resident demographic.
Several of these factors are pertinent to the context of nimtim's Becontree Corner Plots commission. The practice won an RIBA/Create London invited competition to look at revitalising 12 corner plots, a project funded by the local Strategic Community Infrastructure Levy. These corners of communal land were originally visual amenities that were part of the green infrastructure along with the houses' generous front gardens. Over time these had been fenced off or surfaced over and were clearly not fulfilling their potential for use by the residents.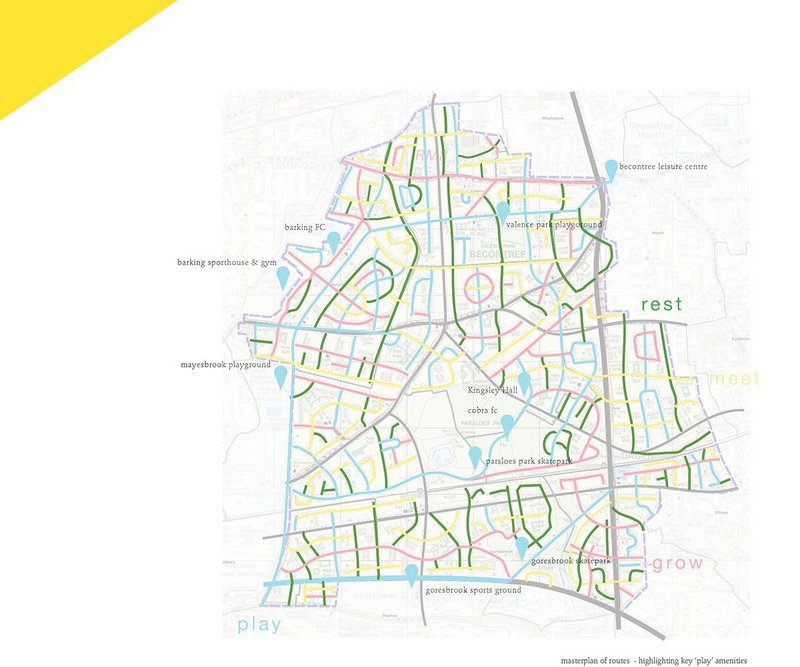 Masterplan by nimtim architects mapping rest, meet, grow and play routes through Becontree.
'Becontree's not a beautiful place. You can sense that it's a place where people like to live, but it doesn't feel celebrated or particularly valued. We felt there weren't enough places for people to come together, and we sensed an opportunity to provide these,' says nimtim's Tim O'Callaghan.
'Becontree needs these places that join the dots and become focal points for the community – there aren't many points of interest,' adds nimtim's Nimi Attanayake.
The practice's proposal sits within a broader masterplan that it created for the whole estate. This additional framework is, says O'Callaghan, intended as a 'gift' to Becontree, with the hope that these wider ideas can be developed at a later point.
In the masterplan, nimtim mapped routes where people could play, rest, meet and grow throughout the estate, identifying where these routes crossed as spaces for interventions. These were narrowed down to three sites of four corners. At each, the aim is to transform perceptions of these areas by removing the fences and no-play signs and creating new public spaces that can act, says O'Callaghan, as 'the front room of the street'.
One key priority is re-wilding with plants and shrubs compatible with the former ecology of the site. Another plan is to encourage informal play and introduce some very lightly landscaped areas that might encourage people to meet, says Tim. The proposal references materials, colours and textures from the surrounding houses such as, for example, a distinctive paving design or cladding. A key hope is to visually join the new corner places together, possibly with the help of changes to the design of the junction or kerbs.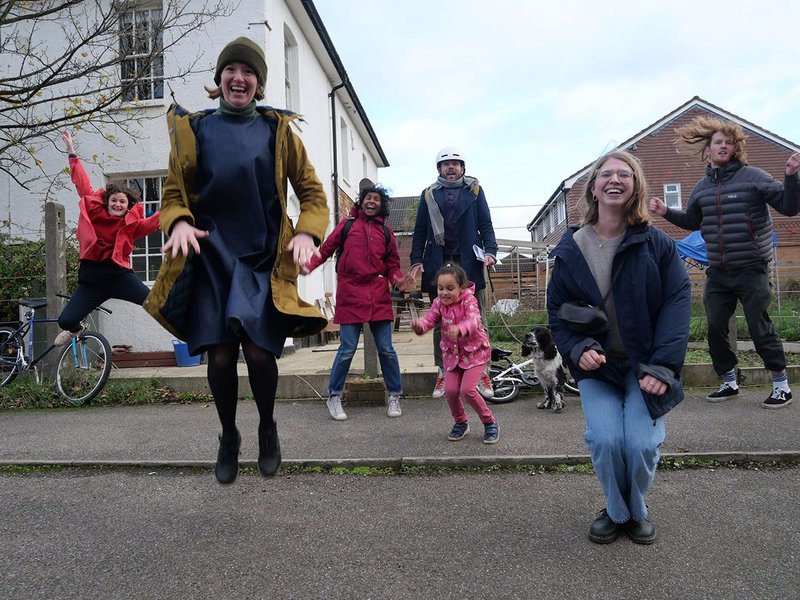 Nimtim architects site visit to Becontree estate, Dagenham.

Credit: Nmtim architects
Nimtim's deliberately initially-loose proposal will coalesce in consultation with schools and community groups during the first half of this year – it is crucial that residents feel ownership of the changes, and the architect will be working with artist Katie Schwab on this engagement process.
'Our work hasn't really started in earnest yet. We're at the start of the engagement so we don't want to be too prescriptive as to what these places could become,' says Attanayake, adding that an important part of the project will be listening. 'People want to be heard, she says.
Covid-restrictions permitting, the plan is to be able to create the initial interventions in the late summer. Nimtim hopes the corner projects will help 'seed' a wider series of changes, with the masterplan providing the framework for greater biodiversity and re-wilding.
'The key issue is that the community takes ownership,' says O'Callaghan.
Further creative proposals to improve the public realm at Becontree have been invited as part of this year's centenary celebrations. This includes Living Together, an art commission and living archive by former RIBAJ columnist Verity-Jane Keefe. The nimtim project is part of a series of RIBA artistic and architectural commissions, exhibition, events and learning programmes.