Stylised pyramids, arches, and window-like forms abound in the Belgian artist's abstract works, the subject of a retrospective at White Cube Mason's Yard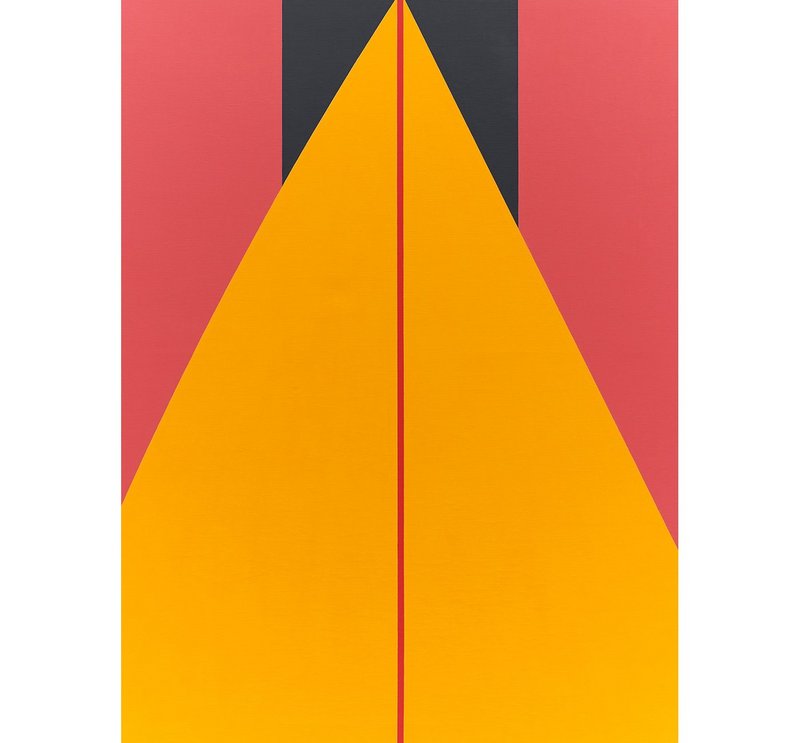 Léon Wuidar, 18 Novembre 82, 1982, © DACS 2022.

Credit: White Cube (Ollie Hammick)
It's not hard to see the architectural resonances in the work of Belgian artist Léon Wuidar, whose paintings from the 1960s-80s are on show at London's White Cube Mason's Yard. Stylised pyramids, arches, and window-like forms abound in these uplifting assortments of geometric abstraction, which invite viewers to make their own interpretations.
Now aged 84 and enjoying a late career flourish of artworld interest, Wuidar has a longstanding interest in architecture. As a child, he was curious about the bomb-damaged buildings around him in post-war Liege. Later, he formed an admiration for the ideas of William Morris and Henry van de Velde.
And when he met the renowned, late Belgian architect Charles Vandenhove in the 1960s, they formed a close friendship. Wuidar still lives in the brutalist house and studio designed by Vandenhove near Liège in 1976, and collaborated with him and other architects on integrated artwork in built projects. He and Vandenhove had, he said, a common vocabulary of geometric shapes. While Vandenhove was clearly an important influence, Wuidar was also inspired by many artists, notably Ben Nicholson, whose work sparked Wuidar's interest in abstract art.
For many years Wuidar combined creating art with work as a drawing teacher. At the start of the timeframe for this exhibition, his work was still quite figurative. This is demonstrated by the opening work, Un Morceau de Musique, 1962, which clearly resembles organ pipes. The muted and delicate Efflorescence, 1964, meanwhile, is one of several paintings that seem to reference flower stalks. With its hollowed-out eyes, the surrealist Masque, 1966, however, is altogether darker, its horror-show head resting oddly on a delicate neck.
As the 1960s progressed, Wuidar shifted towards the abstract and found his direction. This new show bridges that pivotal time of change and beyond into the subsequent two decades. In doing so, the more muted hues of the earlier work give way to bold bursts of flat colour and pleasing juxtapositions of increasingly rectilinear shapes, the assemblages variously suggesting stylised rooms, buildings, landscapes – surely it's no coincidence that this direction coincides with his association with Vandenhove. Curved forms do still creep in, some reminiscent of fruits and vegetation.
Wuidar himself has described his paintings as like intimate interiors, citing modestly themed small 17th century paintings and the work of 20th century Italian artist Giorgio Morandi. Triangles are a particularly recurrent element, sometimes with the tip drawing the eye to a focal point in the canvas. By the 1980s, his compositions have become brighter but more minimalistic, often marshalled with bisecting horizontal or vertical lines emphatically crossing the canvas to impose order. Sometimes what seems at first glance to be symmetry turns out to be deceptively different but balancing elements. The presence of a painted inner border in addition to the actual simple frame seems to underline the sense of control being exerted on what lies within.
While it is enjoyable to play the game of fathoming out what each painting could be representing – perhaps a house from above in one, a figure in big blue boots in another - there are surely no wrong answers. They can simply be whatever you take them to mean. The fun is in the contemplation.
What's even more pleasing is the overall sense of calm and clarity in the composition of these paintings. There's no unsettling messiness or loose ends here, only a rather comforting harmony and poise.
---
Léon Wuidar, until 8 October 2022, White Cube Mason's Yard