Olivetti's famous use of design to promote and sell technical products is celebrated at the ICA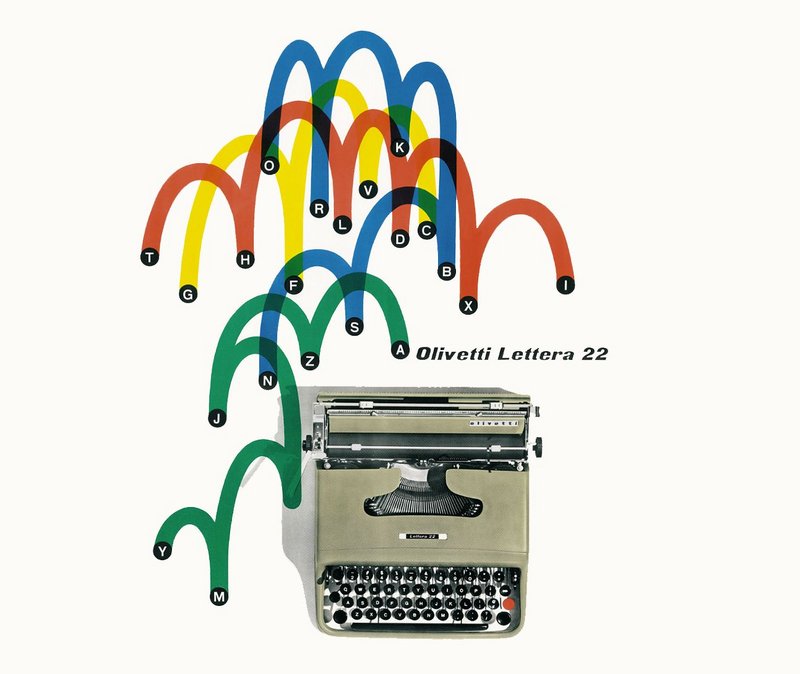 Olivetti Lettera 22, poster by Giovanni Pintori (1954). Courtesy Associazione Archivio Storico Olivetti, Ivrea – Italy
Decades before Apple was lauded for its fusion of technology and design, an Italian family company was pioneering collaborations with top designers from all disciplines to create and promote its high-tech wares.
Olivetti, founded in Ivrea in northern Italy by Camillo Olivetti in 1908, is the subject of a small but engaging new exhibition at the ICA in London. During its postwar to early 70s heyday, the company worked with the likes of Carlo Scarpa Louis Kahn, Le Corbusier, Mario Bellini, Gae Aulenti, and Ettore Sottsass as it developed typewriters, calculating machines and personal computers.
For Adriano Olivetti (1901-1960), the son of the founder, the company was a progressive project that went well beyond just a commercial venture.
According to curator Juliette Desorgues, Olivetti took a holistic approach to design, which became integral to all aspects of the business. Fusing his socialist ideals with design patronage, he also became involved in town planning and housing projects that provided better homes for his workers.
'There was an almost Bauhaus-like philosophy in that the commercial and cultural aspects were seen as of equal importance,' she says.
Under Adriano, Olivetti harnessed design talent not only to create the technically innovative products themselves – which included the first Italian computer (Elea, 1959) and the first commercially produced desktop computer (Programma 101, 1965) – but to market them through the progressive design of showrooms, films and posters, many overseen by art director Giovanni Pintori, a key figure in Olivetti's use of design. Poets were enlisted to come up with names and slogans. Herbert Bayer, once director of the Bauhaus printing and advertising workshop, created iconic posters, with images such as feathers used to symbolise the increasingly portable nature of the products. To illustrate this, Olivetti's dinky Valentine typewriter (1969) is shown perched on a rock on a beach, and, a little alarmingly, in use in an aeroplane cockpit.
Valentine and several other models are included in the exhibition, along with posters and photos of Olivetti showrooms. Don't miss the films, including one directed by Sottsass, which are completely of their time, featuring models who look as if they've just stepped out of Woodstock or the cast of Hair. One gamely struggles to get her top on before sitting down to tap away on an Olivetti keyboard. Another film lingers lovingly over the contours of the products.
Olivetti makes a great design patronage story, and this little show is well worth a visit.
Olvetti: Beyond Form and Function, until 17 July 2016, ICA Fox Reading Room, The Mall, London
The discussion Architecture and Industry: from Olivetti to today is held at July 6, 6.30pm.
---