Marks Barfield does undertake conventional buildings, but could you name one? Dramatic, soaring public attractions – now you're talking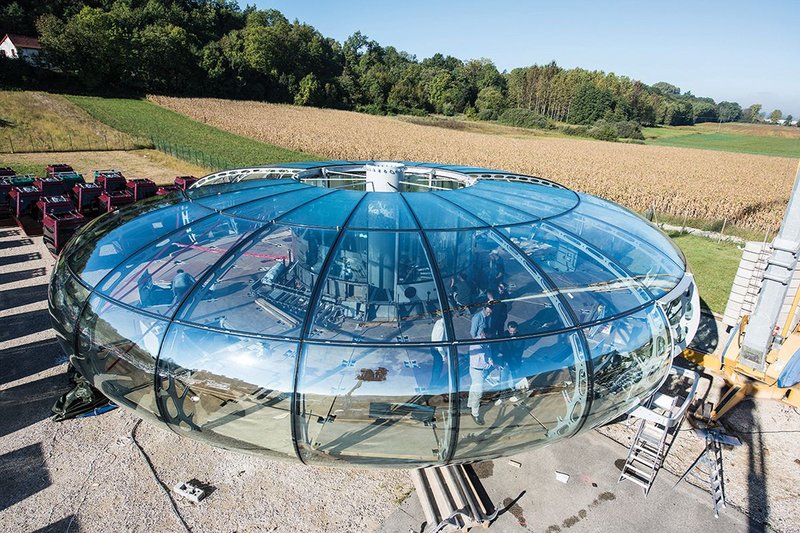 Brighton's i360 tower will be topped by this 90 tonne, 200-person observation car, here being test-assembled in France.
A fish restaurant on the shingle beach of Brighton on a sunny day is a agreeable place to meet David Marks and Julia Barfield, who in the past I've tended to find in the south London locale where they've lived since they were at the AA, and had their own practice since 1989. We're there because their latest thoroughly unconventional venture, the observation tower known as i360, is reaching 450 feet into the sky from that shingle behind us and will open next year; but also because the Labour Party conference is on, a few hundred yards away, and the pair have decided to see for themselves what's going on.
Can you categorise the work of Marks Barfield? I can't. They do tackle some conventional building types – a primary school, a watersports centre, an arts complex – but generally bring something unexpected and new to the party. Their Greenwich Gateway pavilions, canopy slung between them, form one of the stranger pairs of entrance lodges I've ever seen and – think pinball flippers made of mirror glass and swirling tubing – are just very difficult to describe (perhaps they will make more sense visually when the vast Greenwich Peninsula development is built up behind them). They're building a golden-domed mosque in Cambridge which adheres to the principles of Christopher Alexander. They've done a mixed-use commercial project in Lincoln which changes colour as you walk round it. And, with their long-term collaborator, the structural engineer Jane Wernick, the gently swaying treetop walkway at Kew Gardens. Yes, but – the London Eye, eh?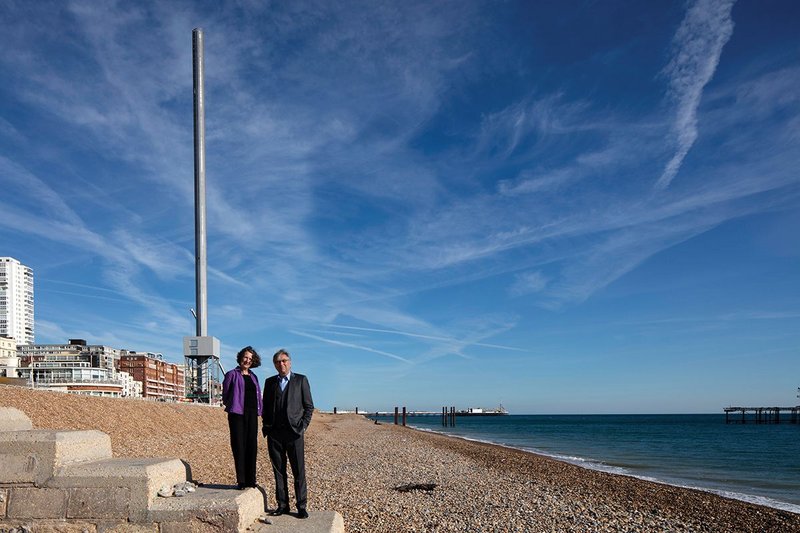 Credit: Morley von Sternberg
That too began life as a Marks Barfield/Wernick collaboration in 1993, responding to media calls for ideas to mark the Millennium. Wernick's always been there, helping them with the project that launched them as a practice 26 years ago, the competition-winning 'bridge of the future' with which they proposed to span the Grand Canyon. The idea was based on the tendon-stiffened spine of a dinosaur and could have been built from one side only. 'Jane was running Arup in California. We had a fax machine,' recalls Marks. It got them a lot of publicity and gave them the confidence to quit working for others – Barfield had worked for Foster on the Royal Academy's Sackler galleries and on Stansted; Marks worked for Rogers, first as a modelmaker, later on Lloyd's of London under Jamie Troughton and Chris Wilkinson. 'I became team leader for the basement,' he relates proudly.
Practice was hard at first. They landed big, imaginative commercial office jobs and invested accordingly, only to see the jobs vanish in the recession of the early 1990s. Collaborating with old mates Bennetts Associates got them through that – Bennetts had work but no computers, Marks Barfield had the latest kit which was standing idle. 'It worked really well,' Barfield recalls of that difficult time. Since that rocky start, Marks Barfield has always looked to devise some of its own work: projects it can be in charge of and derive continuing income from, rather than merely designing at risk for others.
The London Eye was a mad idea, given where it is placed, right on the South Bank, next to County Hall, looking across to the Palace of Westminster. Who would let them build there? And who would allow the architects to be the company running it, just because it was all their idea? But it was built, it has been in operation for more than 15 years and we all know it turned into a huge popular success. Marks Barfield kept control, running it alongside BA and the Tussauds Group. But they had a mountain of expensive debt to service: in a general ownership reshuffle in 2006 they sold their stake in order to recoup their investment.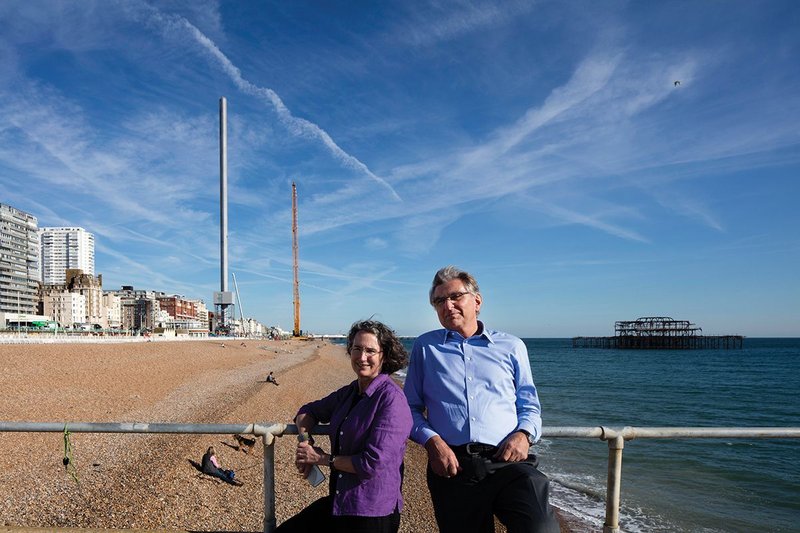 Credit: Morley von Sternberg
The pair don't name actual sums but as Marks says: 'The London Eye really enabled us to do this.' Barfield adds: 'We basically did up our house, and did this, and that's about it.' It all sounds so simple. And in a way it is. For the house, read the account in RIBAJ July 2013. As for the i360, that was designed pretty much straight away in 2006 but had to wait for another, far deeper recession to end before it could get under way.
Once again, they are part of a company running a notably unusual public attraction – one that has learned from the lessons of the Eye and uses many of the same team of companies and consultants that made that. For a start it's cheaper, at £46m, so needs fewer visitors to make it profitable ('There are very few places in the world where a London Eye is practicable,' observes Marks). Loans are from the public sector, which will be repaid handsomely one hopes, plus Marks' and Barfield's own stake. Their design fees take the form of loan notes, also paid back over time.
The London Eye was a mad idea, given where it is placed. Who would let them build there? Who would allow the architects to be the company running it?
Secondly, it offers a different experience: one huge, 90-tonne, 200-person circular observation car, rising vertically up its hollow steel mast, instead of 32 small ones going round and round. So you can get reasonably sized events – especially weddings but also live performances, wine tastings and so on – in there. A counterweight and variety of dampers inside the shaft are designed to keep everything vibration-free and energy-efficient: it will generate power on the descent. A relatively simple winch system drives it, the four inner wheels of the glittering car engaging with four vertical slots in the exterior of the tower. As you'd expect, the construction was itself quite something, the fully-fitted flanged 'cans' of the tower arriving on the beach via barge and then being jacked up and bolted together one by one – from the bottom. They get thinner-gauge, therefore lighter, towards the top. The device is protected by patents, which are very expensive to keep up, costing some £150,000 so far.
Brighton has the population for this. When the i360 project started, the city had 8m visitors a year. Now it's up to 11m. The i360, they say, will work financially in a range of between 500,000 and one and a half million visitors a year. It's not just the tickets to ride: a sizeable if low-slung building is being constructed round the base of the shaft and will have restaurants, shop and event rooms in it.
No doubt about it, Marks Barfield is not your average practice. How do they change gear from doing something like this to the more conventional work of a 25-strong practice? Barfield says: 'It's about keeping an open mind and a natural curiosity – an open analytical approach. There are some parallels.' Marks adds: 'You don't change gear, you swap folders. Some folders are fuller than others.'
---