Amin Taha could so easily have become a doctor. Instead he brings his holistic, structure-first approach to architecture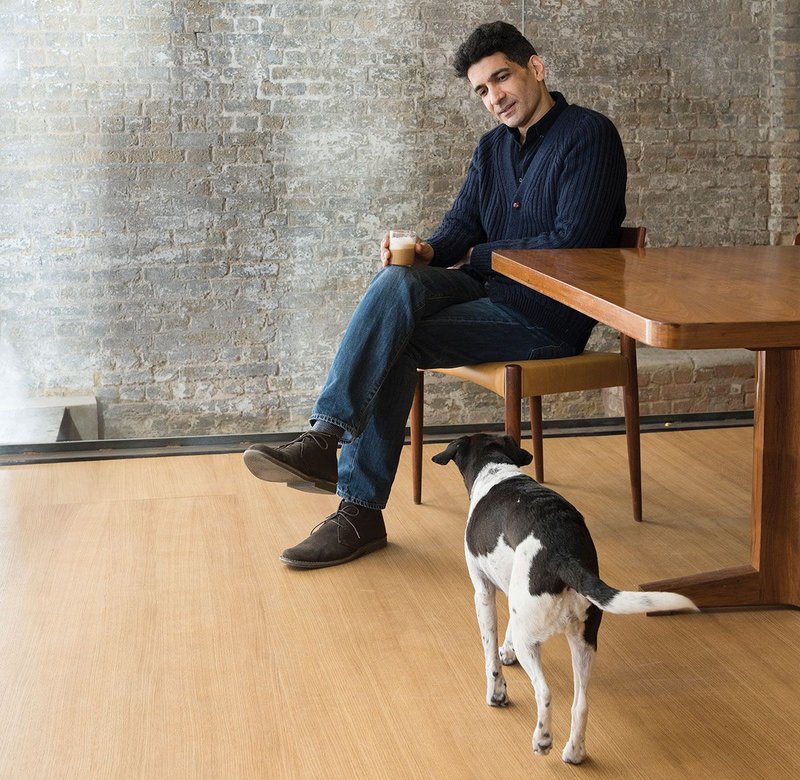 Amin Taha with Moo, the office rescue dog.

Credit: Ivan Jones
In contrast to most other professions in Britain, the average age for doctors in the NHS to draw their pensions is decreasing. Seven years ago it was 60.4 years, last year it was 58.5. It's kind of ironic then that all of Amin Taha's discussion about why he is an architect is framed around how he could have, more easily perhaps, been a doctor. Both of his parents were, the rest of his siblings are, and he looked for a different career because he didn't like the way his parents were completely absorbed in their jobs and he 'wanted to find something where I could do regular working hours, sit at a drawing board and colour in trees'.
He's sort of kidding, but from the outside, teenager perspective, architecture can look like that stable profession. Now, aged 52, if Taha had chosen medicine, he would likely be within six years of retirement. Yet, only in the alternative reality of architecture can someone so near to pension-drawing age be this month described in Icon magazine as 'one of the most promising, interesting young architects working in the UK at the moment'.
Let's not build on architecture's self-pity foundations here though. Taha and I are sitting in a glass and bronze box perched mid-air over a huge newly excavated basement in Clerkenwell, east London that has just become his new office. Walls and steels beams have been smashed through to make way for a bigger, open sunken concrete-lined tank below us. We're sitting on a handsome set of mid-century modern chairs at an opulent long art deco-style table. Through the window, beyond an engraved stone column propped on its side, the magnificent Georgian St James' Church dominates the view.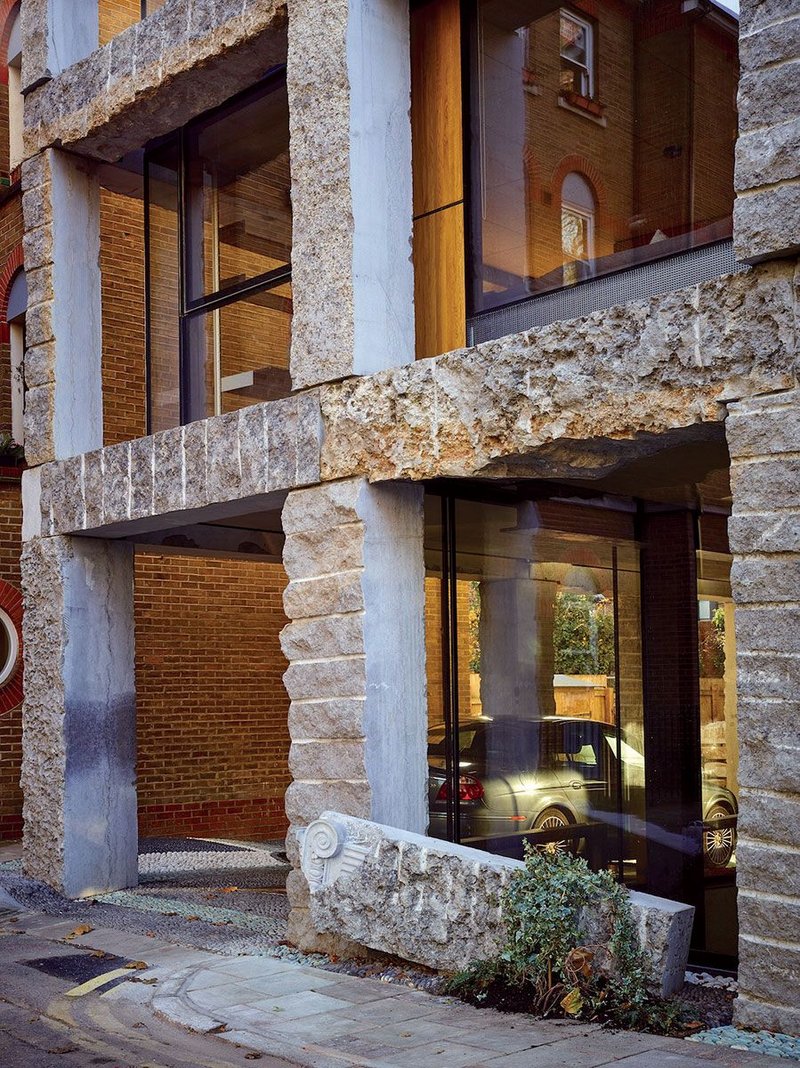 Clerkenwell Green's picturesque quality is a direct consequence of how stone is quarried.
Taha bought the plot outright seven years ago, moving eventually to architect-loving Clerkenwell from, initially, the increasingly quiet and unfashionable Westbourne Grove. He put up with the 1950s building for a while, moving in his practice before getting planning in 2013 to knock it down and redevelop the lot. In its place he's built eight flats, including a penthouse for himself and his family (he's recently become a father), and a two-storey office at the bottom. Basically, you get what I'm saying; Taha could no doubt retire if he wanted.
Yet to some extent Icon is right. Taha's life position doesn't seem that 'young', but his practice, and work, is only just coming of age. Most architects would not recognise a photograph of him straight away and even though his practice is notching up acclaim, with its Barratt's Grove shortlisted for the Stirling Prize last year, it remains a mysterious entity. That's why we are here – and the fact the firm has completed several projects in quick succession: a mixed-use scheme on Upper Street, Islington for the furniture shop Aria; Clerkenwell Green where our interview takes place (and which architecture news followers might remember from the hoo-ha about whether it is bigger than the building it received planning permission for); and Caroline Place, a 1970s private house refurbishment in Bayswater that had £600,000 more in the budget than the whole of Barratt's Grove.
Taha attributes Clerkenwell Green to being 'in the right place at the right time', but he's been on quite a journey to get to this point. Only a complex character can contentedly weave together successive years working at such diverse practices as Andris Bersins & Associates, Rick Mather Architects, Lifschutz Davidson Sandilands and Zaha Hadid Architects (ZHA) before setting out alone. He even worked for four years at Chris Wilkinson Architects (Wilkinson Eyre) on the bridges team.
So who is he?
Coffee in hand and flicking from interview to photoshoot to regular work during the afternoon, Taha is steady-spoken with a cut-glass British accent and a relaxed and affable manner. He was born in Berlin, his parents Iraqi and Sudanese, but came to live in Southend-on-Sea aged seven. 'That was our introduction to England,' he says wryly. When he was a teenager, his parents moved to Abu Dhabi, leaving him to continue his education here, observing the Middle East's transformation from afar and completing both his Part 1 and 2 at the University of Edinburgh. He's keen, unlike other profile subjects I've researched, for me to settle in, speak to others in the office and get to know it well. That includes the office rescue dog, Moo, which potters around with a similarly gentle and inquisitive demeanour.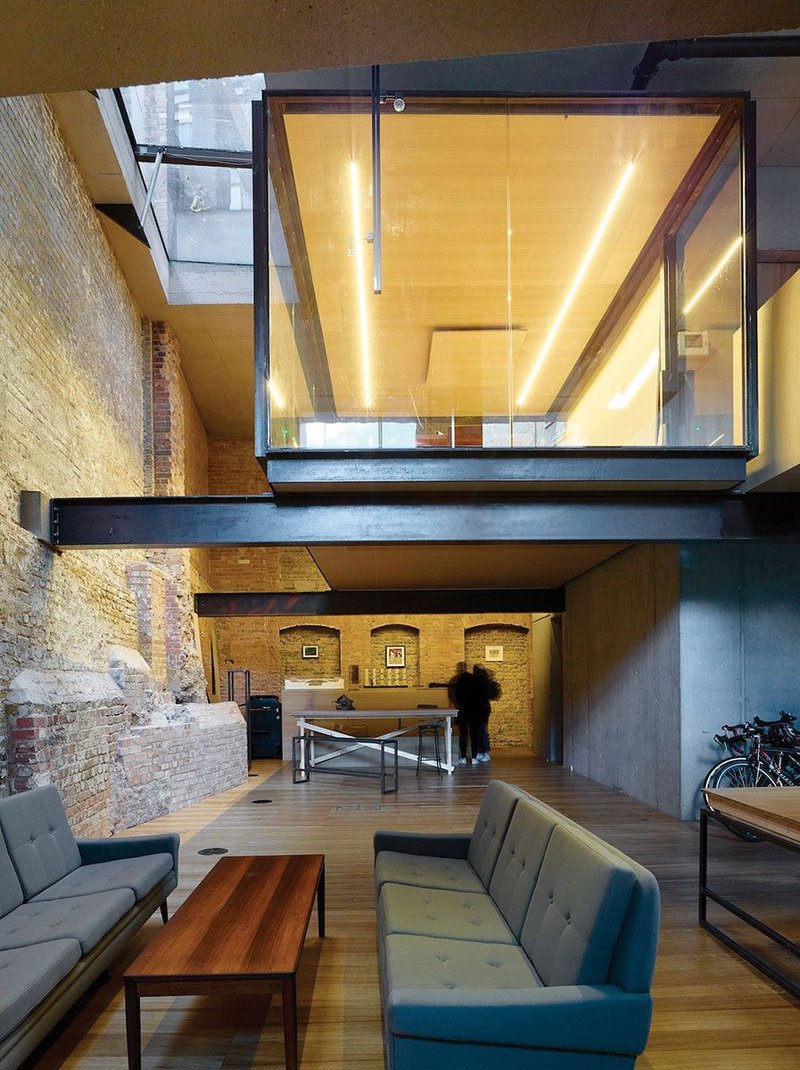 Inside, the wall is scraped back to reveal a previous history.
Taha's enigmatic persona is apparently not deliberate. He appears most concerned by press coverage that applauds big media-friendly personalities whose own work doesn't stand up to the scrutiny. 'It's best the work has its own quality,' he says.
This goes some way to explaining the phenomenon. Taha's own work has been evolving, gathering depth and conviction, since he set up in 2004 and he now has between 12 and 16 employees at any one time. It started off the back of winning three competitions he entered in his free time when working at ZHA – Europan in Manchester, a strategic masterplan in Barking and an arts centre in London Fields. Interestingly, there doesn't seem much direct evidence of this heterogeneous architectural heritage in the output of Groupwork + Amin Taha (the full name of his practice) today. Clerkenwell Green is, for example, a tough-textured but luxurious space full of bare state materials, while Caroline Place is a super refined scheme with a Mies and Scarpaesque palette of materials and level of detailing – the project architect even designed a built-in make-up cabinet.
Nevertheless, for Taha, Andris Bersins was 'a fantastic lesson in detailing', Lifschutz Davidson Sandilands taught him the importance of managing a contract, and ZHA showed him how to develop ideas for competitions by splitting up into teams that work individually on ideas that then get progressively disposed of and distilled. But overall it seems the largest lessons these practices had for Taha was how not to do things, one effect being that once Amin Taha Architects expanded, it became an employee ownership trust with its own name. Indeed, Taha is remarkably scathing about the situation of architecture now, particularly objecting to how buildings are built, and the way he describes the practice's work seems to be in opposition to other architects rather than in parallel:
'You look at most architecture, how it is taught is you draw it in plan, section and elevation and you are always initially sketching those lines that start off with a form and define the space. Very rarely are you beginning with what those forms are made of that give it its atmosphere, tactile nature and its structure. What tends to happen is you draw the stuff and the design team begins to dictate for you whether it's a steel frame, etc. As an architect you are there then to colour the facade and plasterboard the inside, and those things can be dictated by the fashions of the day – today the fashion is for brick vernacular, used like a kind of brick wash. That brick wash will not have lintels, for example, because no one has understood it is a piece of structure. It's just a finish and inevitably manufacturers encourage the thinking of – why bother with real brick when you can stick on something that is paper thin?'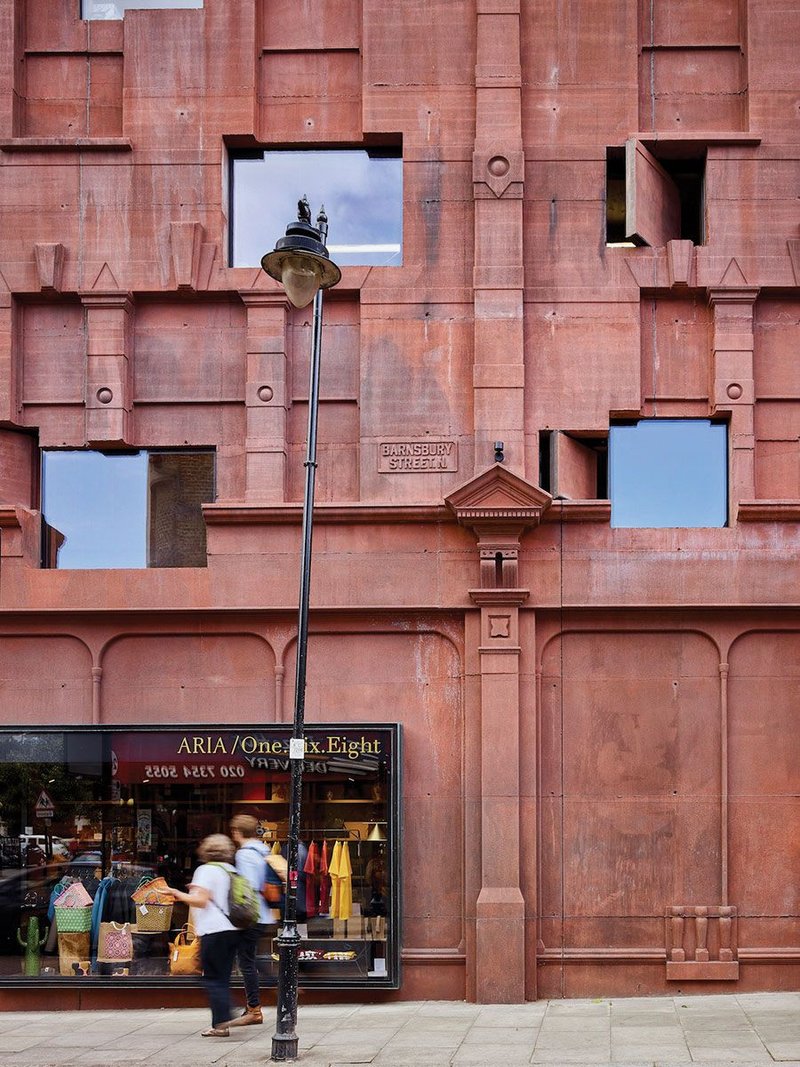 Upper Street, a monument to a bygone building misremembered and inspired by Rachel Whiteread and Fouquet's Barrière by Edouard François Architecte in Paris.
If there's one period that positively influences how Taha designs today, though, it is his time with Wilkinson Eyre, where he worked on the Gateshead Millennium Bridge, the Royal Victoria Dock Bridge and the Hungerford Bridge, among others.
'Working on such a fundamental level of structure to form the architecture is not something you get exposed to normally,' he explains. 'It changes the perspective because occasionally a building comes your way and we would look at it from a structure-first perspective. It makes you realise that architecture is really born of structure and you have to ask yourself why we have forgotten that. Before you know it, the structure is driving the architecture and you question what is all this other stuff we are layering onto buildings?'
As a writer on architecture, it's refreshing to hear architects questioning these things. At Groupwork it's part of an approach that treats buildings as holistic entities; every element, every material contributes to the health of the whole. The suggestion is once you work like that, there's no going back. And when you look closely, many of the practice's buildings, from the brick rainscreen at Barratt's Grove to the stone grid shell at Clerkenwell Green, use loadbearing structures. It's a method that Taha says saves time and money because it doesn't split the budget into components – structure, finishes, etc. They can often be the same thing. On a smaller scale, in Taha's flat, the fitted furniture becomes the partitions; some things are static but many things move. At Caroline Place, a wall is a fold-down bed, cupboard and fire lobby.
As part of that approach Taha uses a building's history like a patient's records. He doesn't believe in face-lifts but rather the surgical removal of a beam here, and a wall there, ignoring aspects that pose no overall threat. For a refurbishment, he scrapes away the layers of architectural toxicity that have accumulated, while for a new-build he designs with that in mind too; cutting the fat of both the process and the architecture not for some aesthetic or moral reason, but because it makes the building cheaper to construct and run, creating architectural wholesomeness and a better place to live.
To this process of splicing, isolating and reassembling, Taha imprints a psychoanalytical dimension too – the what ifs, imagined pasts and scarred memories. This layer of scrutiny materialises as interesting idiosyncrasies and meaning, drawing in references and qualities far and wide, and to achieve it he follows a rigorous method: first 'explore', second 'restore' and third 'ignore'. Explore by drawing long context studies, reading and speaking to local people, anything 'that might add a bit of poetry to fundamental aspects of the design, to small areas that make it physically more relevant and culturally deeper'. Restore is about reinstating the idea of a narrative, while 'ignore' is about decisions to leave things as they are with positive effect. At Upper Street, at the end of a Palladian-mannered parade of shops, on a bombsite from the second world war, this approach meant reinstating the missing block as a 1:1 pigmented concrete monument to the vanished past and misremembered memories – 'as monuments so often are'. It is deliberately contrasting, windows and ventilation panels punctuated in an almost alien fashion, the formwork made to slip and panels in the wrong place.
Taha says he didn't take up medicine because 'creatively all bodies are the same'. However, he simultaneously describes architecture as a language with a vocabulary and alphabet: 'All you have to be is literate in the alphabet and vocabulary to make a literate piece of architecture that says something and is readable.' A mystery remains about how the practice sustains itself in terms of workload – there are apparently hotels and shops as well as some 10-storey housing for Finchley Road – but intellectually at least, it seems to me, for Taha the building is the body, and what it speaks of is its soul. With the hours, of course, maybe Taha is a doctor after all.