HKPA's playful take on modernism shines bright in this Twentieth Century series volume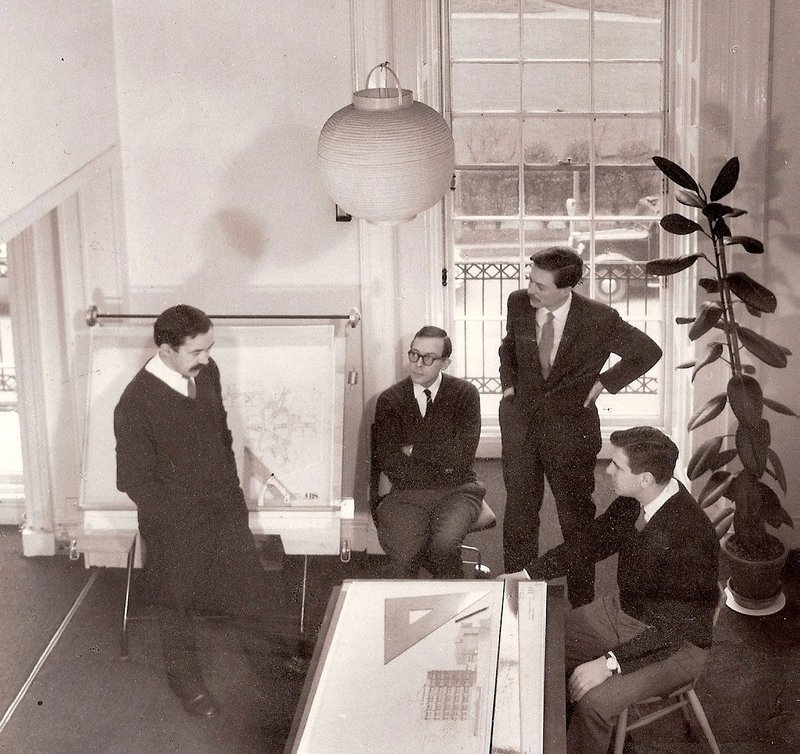 HKPA partners at their Fitzroy Square studio. Left to right Bill Howell (1922-74), John Killick (1924-71), John Partridge (1924-2016) and Stan Amis (b.1924).

Credit: Historic England and John Partridge
Howell Killick Partridge and Amis (HKPA), idiosyncratic concrete connoisseurs of the post-war period, are the latest architects to get the Twentieth Century Architects treatment. This terrific set of books, masterminded by the Twentieth Century Society, is blasting apart lazy assumptions about the architecture of the period as being subsumed into dreariness by modernist dogma. Instead, post-war Britain is seen as a country that blended a rich range of flavours, of which HKPA must surely be one of the more piquant.
The first chapter explains the complex dynamics of the partnership. Like a 1960s four-piece band, each partner oversaw individual compositions, yet the finished product was the result of a shared aesthetic and a collaborative approach to design. The firm's incubation occurred while working at the London County Council Architect's Department, designing a British summation of Le Corbusier's still fresh Unité d'habitation conception at the Alton West estate. What this Anglophone homage to the modernist master misses out in Mediterranean magic, it makes up for in its picturesque deployment of rolling Richmond Parkland. The firm got its initial blast-off coming second in the competition to design Churchill College, Cambridge. The qualities of this mannered, spiky, and frankly grandiloquent scheme are gorgeously evoked in Barbara Jones's renderings.
From this came a series of projects for Oxford and Cambridge colleges. Along with a number of their contemporaries, most notably Powell and Moya, being confronted by the weight of history and the snobbish strictures of these ancient universities helped occasion an expansion of purview in nominal modernists. Their buildings in Oxbridge, while still clearly defined by a robust sixties aesthetic, are nevertheless inventive and playful additions to a recognisably collegiate tradition. In Oxford there were two partially realised master plans, for St Anne's and St Antony's. St Anne's built two sinuous blocks, each wrapped in an elegant skin of faceted concrete panels. The firm also built a clever evocation of a Tudor gatehouse, monstrously demolished by the college in 2014. The Hilda Besse building at St Antony's is a delightful box composed of elaborately interconnecting structural components, creating a series of ingeniously interpenetrating spaces.
The Cambridge University Centre achieves a similar effect on a larger scale, where disparate elements of structure and space are thrillingly woven together. At Darwin College, Cambridge, new forms were plugged into the gaps along an existing streetscape, resulting in a perimeter block shielding and preserving the college's Victorian gardens and river frontage. An equally subtle addition to an important site was the new Senior Combination Room at William Wilkins' Greek Revival Downing College, Cambridge. Its amalgamated virtues of visual robustness, historically literate wit, and deferential sensitivity make it a still inspiring model for fitting new architecture into historic settings. It is the smallest, but also the most perfect, of HKPA's remarkable run of Oxbridge projects.
Non-Oxbridge higher education projects from this period include the University of Birmingham's Ashley Building, which has a plan seemingly hammered into a logarithmic spiral around its central circular atrium. At the University of Warwick a set of globular brick cottages were designed with an imaginative generosity towards the lives and foibles of the research mathematicians they housed. At the University of Reading the firm built a thrillingly trabeated mini-megastructure. Alongside these educational commissions were a string of housing projects, ranging in scale from delightfully simple holiday cottages, up to the titanic hill-side bulk of the Weston Rise Estate. HKPA also developed innovative schemes for low-rise high-density housing.
Towards the end of the 1960s big institutional projects began to dry up. The 1970s were hard for the firm. HKPA had long conducted a critical reformation of modernist practice from within, but this made little difference in the face of the widespread disavowal of modernism. Tragically Bill Howell, the most exuberantly talented of the partnership, died in a car crash in 1974. The later half of HKPA's career is less well known, and harder to celebrate, but this book allows us to explore many intriguing buildings which continued to be designed and built. The firm's dramatic temperament made it the ideal designer of a run of theatres, including the Young Vic, Christ's Hospital, Regent's Park and the Albany. These swapped an aesthetic of permanence for one of lightweight indeterminism. The last chapter, 'Law and order', focuses on the many courtrooms and prisons which became a mainstay of the practice's work. Its manifest genius for intricate circulation, so marvellously appreciable in an astonishing set of 1960s masterpieces, ended up being applied to the complex task of separating the judging and the judged.
The quality that shines out most clearly from this excellent survey is the joyful pleasure the quartet took in the business of architecture. Their buildings result from a happy mixture of a magpie approach to historical influences, a theatrical sense of the potentials of expressed structure, sensitivity to detailing and materials, and a deeply sympatico outlook on users, clients and briefs. The firm might well be categorised as brutalist by dint of its milieu, but the thuggish connotations of the word should not obscure the immense fun that is palpable in each building's design. These qualities are all admirably brought out in Geraint Franklin's succinct, richly illustrated, and elegantly constructed survey.
Otto Saumarez Smith is Shuffrey junior research fellow at Lincoln College, Oxford
---
Howell Killick Partridge & Amis by Geraint Franklin. Historic England, £25, 192pp. Available from RIBA Bookshops