This account of Sydney Cook's work in Camden is a paean to a lost period of social aspiration in housing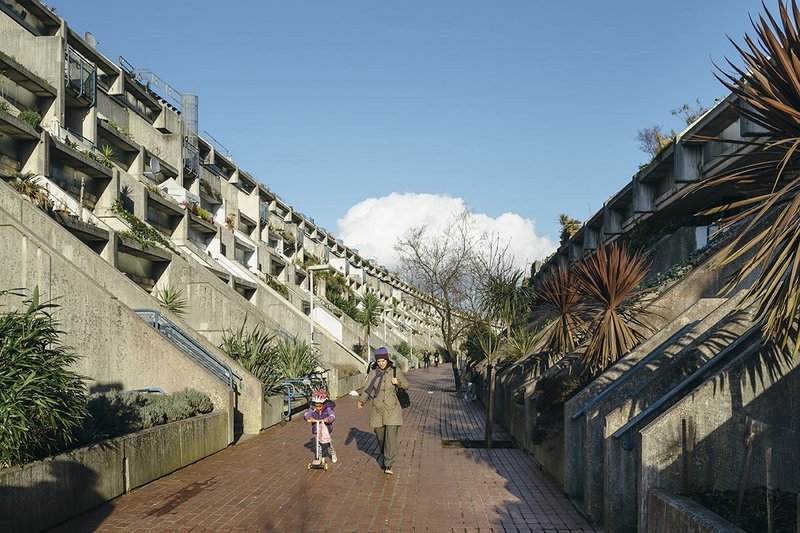 Alexandra Road.

Credit: Tim Crocker
Living on the edge of Gospel Oak estate, perhaps I've become inured to the fact that I'm surrounded by work from the glory years of Sydney Cook's directorship of London Borough of Camden architects. And it seems it's still resisting gentrification. Queen's Crescent has a Costcutter, but Franks, opened in 1946 and still cash only, is the only supermarket on the locals' register – though rumours persist of it selling up to Tesco. But this will come as no surprise to academic Mark Swenarton, who admits in Cook's Camden that his book will end up further fetishising the UK's great modern estates, losing the ordinary in the process. Oscar Wilde was right: every man kills the thing he loves.
But at least they're going down (or is that 'up'?) in a blaze of glory. Swenarton's 300-page paean to Camden architects Neave Brown, Peter Tábori, John Green, Gordon Benson, Alan Forsyth and Bill Forrest is a highly researched, well photographed and illustrated document of their housing work before Margaret Thatcher dismantled the UK's social housing programmes in the 1980s.
The main body of the book's 12 chapters is devoted to the detailed breakdown of the history, context and designs for the major Camden estates; Gospel Oak, Neave Brown's Fleet and Alexandra Roads, the beautiful yet notorious trackside Maiden Lane estate (now being regenerated through a private developer buy-in as part of the rebranded 'Camden Collection'). Notable primarily for the fact that their highly bucolic siting would make them anathema in the current political and planning context are Benson + Forsyth's Hampstead Branch Hill and Peter Tábori's Highgate New Town social housing, which remain stunning examples of housing by any measure, let alone social housing.
Bookending this writing on the estates themselves, supported by Martin Charles' images of the newly completed estates and Tim Crocker's beautiful, current and more humanistic shots of the lived-in flats, are sections that establish the context of both Cook's tenure and that of his successor Alfred Rigby. The timeline in the introduction establishing the individuals, schemes and politics at play over the period is useful and informative and it's augmented with some surprising specifics that help layer the story; Peter Tábori, it turns out, was a student of Richard Rogers' at Regent Street Polytechnic, which puts the age and association of both into relief; not least New Town's budget referencing of Creak Vean, designed by Rogers et al, in Cornwall.
And in the bold, orange-paged appendix there are touching recollections of Sydney Cook by key figures of the time, a reprint of RIBA Gold Medallist Neave Brown's seminal 1967 treatise The Form of Housing, and a glossary of the Camden projects entirely attributable to Cook and Rigby. With copious footnotes and index, Swenarton's book serves as the definitive account of a brief period in London's architectural history when mass housing was driven not by economic agendas but by social, spatial and aspirational ones.
---
Cook's Camden: The Making of Modern Housing by Mark Swenarton. Lund Humphries HB 327pp £45