Fred Sigman's book celebrates the neon signs, convenience and low budget glamour of a once flourishing hotel type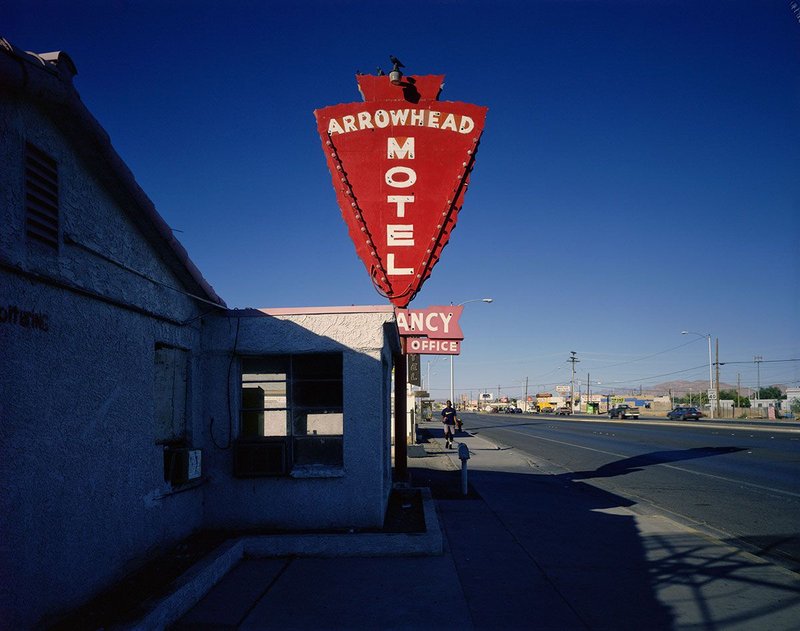 The Arrowhead Motel by Fred Sigman (1995), from the new book Motel Vegas
When I visited Las Vegas 20 years ago, I remember being fascinated by the motels, not only the neon signs that competed for the attention of those driving by but in particular the no-nonsense positioning of their swimming pools slap bang in the middle of the motel car parks. This mixture of pragmatism and low-budget glamour is celebrated in Motel Vegas, a photographic homage to the city's once-thriving but now fast-disappearing motel culture.
This is captured in analogue large-format photography by photographer and art historian Fred Sigman, who recalls the thrill of moving to the city as a teenager. Decades later he returned to shoot surviving motels – some still functioning, others closed or long gone except for their signs.
We learn how the word motel was actually first coined nearly a century ago by architect Arthur Heineman, who copyrighted it in 1925. The hotel type flourished in Vegas from the 1940s until the mid 1960s, serving tourists drawn to the city by the Hoover Dam, desert nuclear-testing sightseeing, and above all, its casinos. We learn that at their peak, there were nearly 40 motels on the Strip and another 180 in the Las Vegas Valley.
In his foreword, Alan Hess describes the motel as 'one of modernism's least honoured architectural manifestations' despite being born from the modern technologies of car and neon, until they famously caught the attention of critics such as Reyner Banham, Denise Scott Brown and Robert Venturi.
These were primarily modest single or dual storey low-key buildings with parking in front of the rooms, a centrally-positioned pool and a separate office. Usually it was the neon sign, rather than the building, that was the most expressive element as it gave a distinguishing identity to the motel, whether reaching up to the sky in forms such as rockets and arrows or referencing the city's gambling activities with giant poker dice, playing cards or a roulette wheel and table. There's plenty of space imagery, including the rocket of the White Sands Motel and stars a-plenty. I like the Desert Moon motel sign, a homespun looking planetary sphere atop an orange motel totem. All serve the same function – to grab attention with engaging imagery.
'Freed from the Bauhaus insistence that only mechanistic imagery could express the new age, these modern designs borrowed freely from a wide range of cultural options, from exultant cosmic starbursts, fanciful modern graphics, history in cowboys, arrowheads, and Barbary Coast Victoriana – as well as the fantastic future in rocket ships,' says Hess.
Most of the book is given over to Sigman's photos (actually taken in 1995), which have been nicely juxtaposed with archive shots and memorabilia that poignantly evoke the heyday of the motel in the city.
Yet it's clear that whatever their charms, these motels have long been a declining breed, outgunned by the larger-scale resort hotels and by changing modes of transport – many visitors these days arrive by air rather than car. In his afterword, Robert Stoldal suggests the creation of a historic motel district to help preserve this part of the city's cultural heritage. Some neon signs from closed motels survive, albeit without their context, in the city's Neon Museum.
'Now is the time to take action, to preserve what is left of our motel history – before it's all gone,' he says.
And Sigman's photos, at least, ensure that these remaining survivors have been documented with dignity.
Motel Vegas, Fred Sigman with foreword by Alan Hess, Smallworks Press, £23.65