Aline Saarinen was the first architectural publicist and made Eero's work a household name. Stephen Parnell enjoys a new book examining their partnership and the power of the press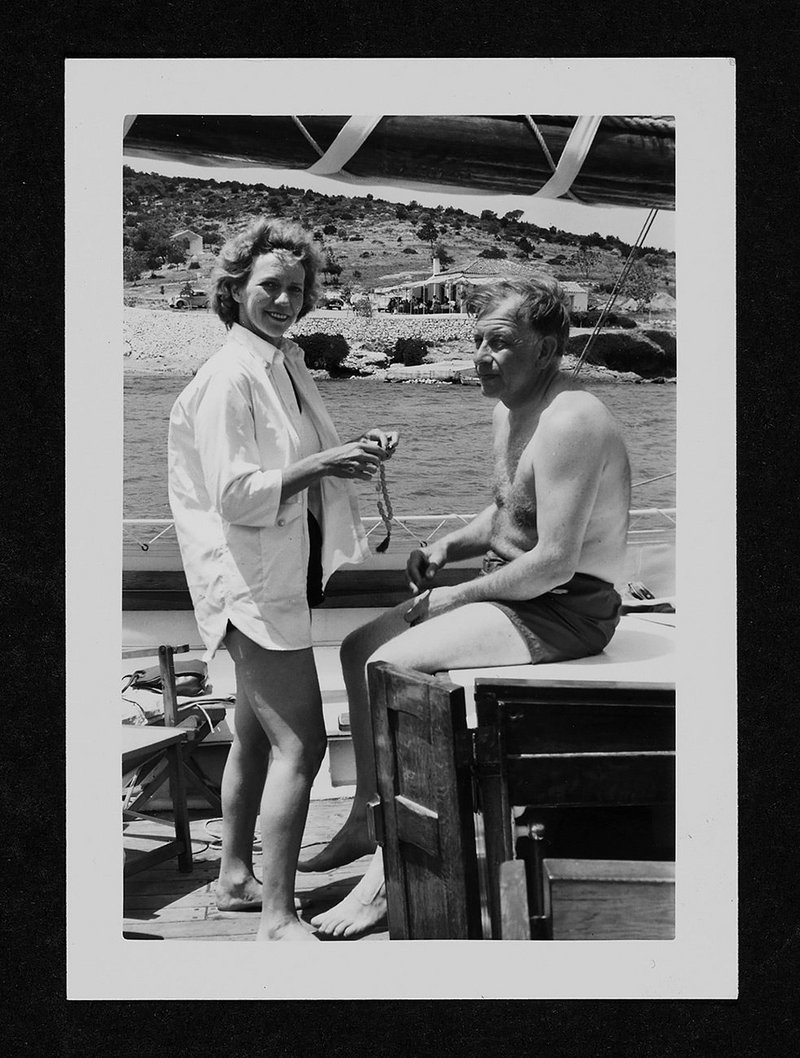 Photograph of Eero and Aline Saarinen on holiday, from the papers in the Archives of American Art, Smithsonian Institution.
I started writing about architecture 15 years ago to help fund my PhD research into architectural magazines. When I saw my name in print above my first article, I was embarrassed that I was working out what I thought in public, but excited to think I was contributing to 'the discourse'. I've since learned about how this discourse is constructed and how it constructs architecture – things that aren't taught in school and are misunderstood in practice. The press has a significant role to play in this construction, a role that remains undiscussed and unstudied.
On 13 April 1928, 14-year-old Aline Bernstein wrote in her diary, 'Before you begin something – think of its beginning, its middle, its end, and its consequences, then if you are willing, do it'. Like many teenage girls over the years, Aline was privately documenting her crushes and the letters she wrote to and received from her beaux du jour. This unremarkable document shows how she seemed to find her self-worth through what boys thought of her, but also how she was working out her thoughts and feelings through practising prose and poetry. So far, so normal.
Fast forward to 1953 and Aline (then) Louchheim, a well-respected art critic for the New York Times, wrote The Case History of a Romance to architect Eero Saarinen, a racy birthday card in which she explicitly documented their brief romantic liaisons. Louchheim was divorced with two children and engaged to Edgar Kaufmann Jr. Saarinen also had two children with the sculptor Lily Swann but was trying to end this marriage as it no longer suited his ambitions. Aline and Eero were married the following year and Aline became head of information services at Saarinen & Associates, 'the first architectural publicist'.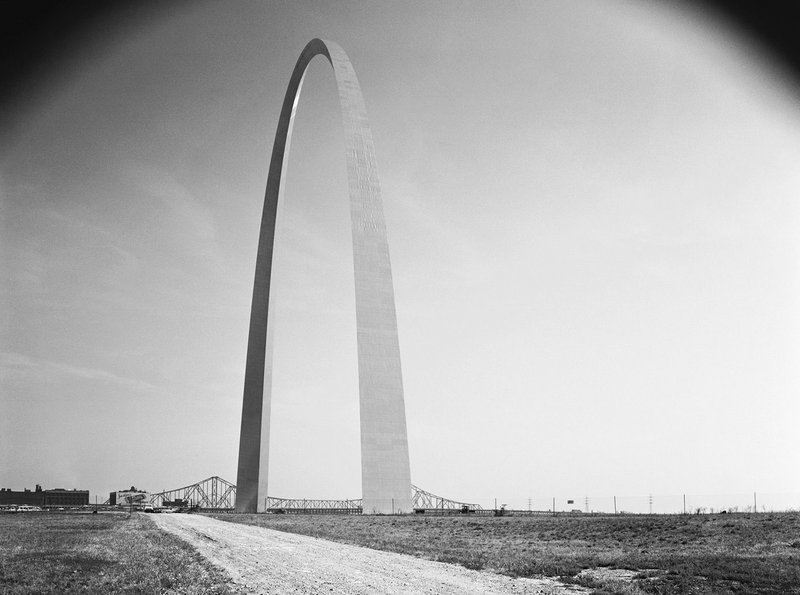 Gateway Arch, Jefferson National Expansion Memorial at St Louis, Missouri, designed by Eero Saarinen and photographed under construction in the late 1960s.

Credit: Wayne Andrews/ESTO; Eero and Aline Saaarinen Papers, Archives of American Art, Smithsonian Institution.
When Eero Met His Match is the story of Aline and Eero's personal and professional relationship and the rise of architectural publicity. It is a fascinating behind-the-scenes exposé of the relationship between architectural practice and the media which exploded after the war and continues to form the basis of how architecture works today. It's also about fame, ambition, insecurity, love and lust (it would make a terrific movie). The author, Eva Hagberg, claims she wanted to 'pull back the curtain' for 'everyone to see that sometimes people became famous because someone handled them really well, that there was no real relationship between merit and fame'. After all, Eero was not as good an architect as he thought he was or thought he needed to be to enter the architectural pantheon. Critics tended to agree that he was more a building stylist.
Architectural histories usually focus on how architecture represents the grand narratives of social, cultural, political and economic forces, overlooking the specific everyday forces that contribute to a building's realisation. But architecture, like history, is made by everyday people living everyday lives who have everyday feelings and desires – including ambition, falling in and out of love, and finding one's self-worth. These micro-forces of the inner self can motivate people to move mountains, as Hagberg notes: 'So much of what happens in the world happens because of love'.
My own research into Architectural Design magazine looked at the editors' lives to ask how architects were selected to be 'given ink'. I have written about the personal and professional entanglements of Monica Pidgeon, AD's editor in the post-war years (and a love junkie like Aline), and about the life of her technical editor Theo Crosby and the brutalist house he built for love.
Eero committed his life to architecture to prove himself worthy of the love of his famous architect father, Eliel Saarinen. While his wife and children inconveniently obstructed this commitment to work, Aline promised that 'as long as it is architecture who is your best girl, I'm quite content to be second-best'. She was beautiful and besotted, glamorous and connected, independent and intelligent, gave his buildings meaning through stories, and could get him on the cover of Time magazine. Eero established his own identity on winning the St Louis arch competition in 1948 but his most famous building is the TWA Terminal, now a hotel at JFK airport. Hagberg shows how Aline invented the bird metaphor with which this building has become synonymous. It's the beginning of the icon.
Hagberg was a publicist herself while doing her own PhD – on which this book is based. Her emotional sensitivity and insight into how architecture works add depth and credibility to her interpretations of Aline and Eero's professional relationship. Her anger at the sexism in the world underwrites the analysis, which can sometimes become a little laboured. But it is refreshing how the chapters alternate between her autobiographical experiences representing architects in the USA and this historical narrative, exposing both Aline and Eero's relationship and the invention and mechanics of architectural publicity. It's compelling reading.
My own motivation to write architectural history resonates with Hagberg's. 'It's crucial for historians to understand how the media and publication eco-system works', she explains, 'We've been taught to ignore personal lives.' Ultimately, it's our inner life that motivates us to do what we do: to discover our self-worth, our identity, our meaning, whether for fame, reputation, security, the greater good, or for love.
Eight years after they married, 51-year-old Eero died from a brain tumour. Many of the buildings we know him for remained unfinished: Aline saw to the legacy. But his son Eric's personal trauma persisted. He produced a film in 2016 in which he describes how he spent his entire life resenting his father for abandoning him 63 years earlier and only achieved closure through visiting the buildings for the film. I wonder if he read Aline's teenage diaries.
When Eero Met His Match: Aline Louchheim Saarinen and the Making of an Architect by Eva Hagberg. Princeton University Press, £25.00, 232pp, HB
Stephen Parnell is an architectural writer and teacher at Newcastle University. His biography of Architectural Design magazine will be published by Harvard Design Press in 2024