Incoming President Ben Derbyshire is planning for Brexit and wants to showcase the UK's housing design skills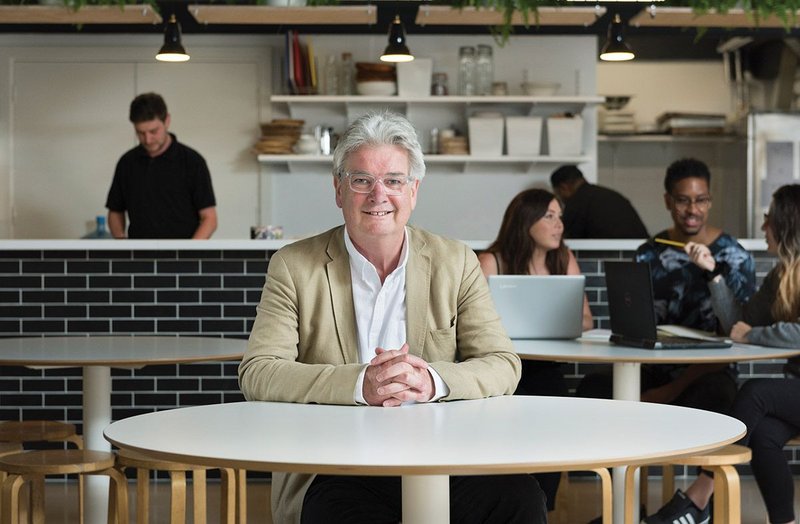 Ben Derbyshire plans a Housing Expo for 2019, Brexit year.

Credit: Ivan Jones
Ben Derbyshire has just moved office. After years in Camden Town, with his housing specialist practice HTA growing, he has moved east to Aldgate, to the top floor of one of the fine 1930s Co-operative Wholesale Society buildings there. They considered taking a larger floor but caution prevailed: 'Post-Brexit, what do you do?' he says.
So it's a busy scene – HTA Design LLP, evolved from the original community-minded practice Hunt Thompson, has up to 180 people in its London office, another 20 in Edinburgh, half a dozen in Manchester and a fledgling Bristol office. Its 300% growth since a management buyout in 2013 has been steered by Derbyshire: this is someone who knows how to make a success of a business and who grew up steeped in ambitious architecture. His father, the late Sir Andrew Derby­shire, led RMJM in its glory days and was also very active in the RIBA.
'I can't be downhearted about Brexit,' he says. He's clear that he represents all members, those in favour of leave and remain. Besides, he'd rather talk about the opportunities presented by Britain's leaving the EU. Given that parts of the UK have a housing crisis, but that we are known internationally for our skill in housing design, he thinks it's time to make a big show.
So he's in the early stages of planning a 'Housing Expo' to take place in Brexit year, 2019, 'which will show what we as a country can do. We can have global leadership in housing provision'. What form will this expo take Derbyshire can't yet say – though previously he has spoken of opening up to the public hundreds of new housing sites to show what good design looks like – but he's gathering influential support. 'We've got a really promising reaction from the Greater London Authority. I don't want to say too much but it's an ambitious idea and for the RIBA it's particularly relevant to participate because it's very outward-facing and can and will engage the membership a lot.'
Architects are a passionate lot. We need to channel that enthusiasm to enrich the output of the institute
Isn't that very London-centric, though, involving other capital-based organisations such as New London Architecture? 'It's Londonish at the moment but once we've worked through the template in London we see no reason not to roll it out further afield. It's a collaboration and it does require political support. That's the number one hurdle.'
If we're talking a lot about housing it's not just because of Derbyshire's expertise in this area. It's because of the way housing affects everything else. Inevitably we come to the aftermath of the Grenfell Tower fire tragedy.
'Who in their worst nightmare would have imagined waking up on that Wednesday morning to such terrible scenes of devastation, suffering and grief?' says Derbyshire. 'It has, I think, an impact which will be completely pivotal in the way in which we see and understand the application of standards and the provision of housing. So it's an incredibly significant moment.
'It's completely out of order to speculate ahead of the outcome of the public inquiry, and it's not a moment to be using misery to get vested interests across. Things are definitely going to change. I think the responses made by the RIBA were timely: the need for a public inquiry, questions about supervision, procurement, complexity of standards. We should collaborate across the industry. I think government needs one voice.'
Given the time and energy it requires, why did Derbyshire want to be President of the RIBA? 'The profession in my view has been subject to a fairly continuous slide in its influence and its fortunes over the last 30 years and as I come towards the end of my active career I thought, what to do in order to give something back? I cast around for how and where to do that, lighting upon the RIBA with its tremendous brand, its very considerable resources and its huge membership of 43,000. I thought, that's the place to go to make my contribution to some of the changes I think are necessary in order to start to reverse that long-term trend.'
He's only 64, and with his shock of swept-back hair and designer specs looks younger. He has no intention of relinquishing practice 'until I retire completely sometime in my early 70s'. He believes it's important for the President to be an active practitioner. Some of the institutional changes he wants should flow from others in practice, he says. 'Architects are a passionate lot. The challenge is to engage with that passion, and to create channels by means of which that enthusiasm can enrich the output of the institute.'
This is not just a Portland Place shift. 'I'm very keen on the role of the societies of architecture wherever their markets operate throughout the country and internationally. I see a network of thriving societies of architects – a rich mix of diversity that should find its way into our cultural output much more than at the moment.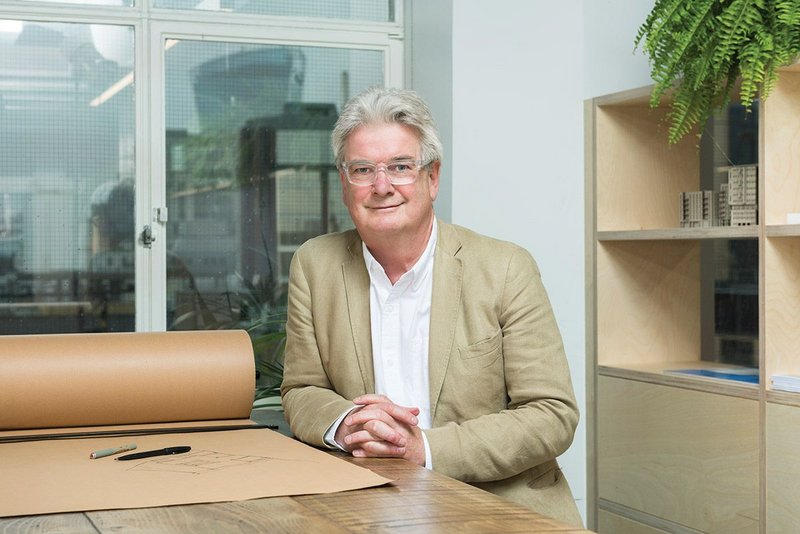 Derbyshire takes over a drafting table in his Aldgate office.

Credit: Ivan Jones
'I don't see architects as passive or reluctant to contribute at all, and championing what they do is an important part of our purpose.' The rebuild of the institute's website to be much more navigable and useful, a task now in progress, is a vital part of that.
He has been travelling the country giving 'FutuRIBA' seminars, reported online. 'Overwhelmingly I've found encouragement and support for my change-is-necessary theme. In London people are calling for a richer, more diverse, more attractive output from the institute, and freer access to the 'house' in Portland Place. They want a place, they want a club. Somewhere to be with their clients and collaborators which is much more available. Elsewhere, it's 'what's the value of our sub, how come it all goes to London?' There's a very palpable sense that people enjoy the support of our regional structure – it's hugely effective and supportive, and they want more of that, and they want more local autonomy in order to make those thriving local societies work well.'
One concern unites everyone: 'The big lesson for me is about training, access to qualification. That should really be a central preoccupation for me and the institute. The time and cost involved is a deterrent to our making a more diverse profession. Economically disadvantaged people find that a real obstacle. And people are saying that the training should be more relevant to their needs as practitioners.'
Diversity is central to his task, a lot of which will be about 'rejuvenating, diversifying and enlarging the membership', internationally as well as at home. He notes that membership is rising already. He sees the future as a global network of architectural excellence focused on the RIBA. But no complacency. 'As Norman Foster would say, change is the only constant.'
---