Stanton Williams director combines his love of the Hayward and Riley's work in his latest design for the artist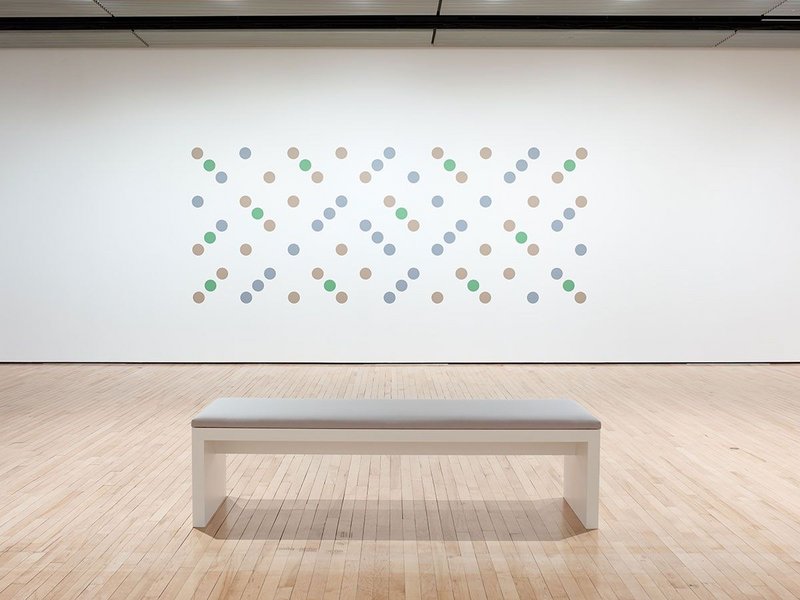 Installation view of Bridget Riley, Untitled (Measure for Measure Wall Painting), 2017 at Hayward Gallery 2019 © Bridget Riley 2019. Photo: Stephen White & Co.
Bridget Riley's dazzling new retrospective at the Hayward Gallery is the fifth exhibition designed for her by Stanton Williams director Paul Williams.
The two have a long and fruitful working relationship stretching back to 1992. For Williams, the show was not only a welcome chance to continue the collaboration with Riley, but another opportunity to add to the 20 or so exhibitions he's designed at the Hayward over the last 35 years. He certainly has a soft spot for the venue.
'I adore the Hayward. I've spent so many days and nights there installing shows over the years that I know it inside out. It can be a tough and challenging building, but it offers so many contrasting spaces that continue to intrigue me,' he says.
He is also a great admirer of Riley's work.
'I love the beauty and tranquility of her work, which is mesmerizing and vast in range. Bridget is remarkable – amazingly observant. She has a phenomenal eye.'
Williams clearly retains his long-held passion for designing temporary shows.
'I find the process completely intoxicating. The build is so quick, you can often actually feel the space being captured and created around you, enveloping you as it were. You don't get that feeling of immediacy with architecture.'
He particularly enjoys the intense engagement with the artwork that staging such exhibitions involves.
'If you look at them for long enough, they will tell you what they need,' he says. 'You just know when a work of art isn't happy where it is, if it needs isolation or other works to engage with, more space or different intensity of lighting.'
Although much of this finely nuanced process is, he says, intuitive, it is clearly grounded in a thorough understanding of – and balancing of – the lighting, the scale and nature of the gallery, the way viewers will move through the space, and where they may best pause or sit to best contemplate the work. All this is derived from experience. Williams fondly remembers scampering up ladders and personally adjusting the lighting in his early days of exhibition design and you get the impression he rather misses that level of hands-on involvement today.
Nonetheless, he clearly relished this latest collaboration with Riley. The process involved analysing the spatial requirements of more than 200 works including 50 key paintings, and then working with Riley in her studio with the aid of a large 3D model of the Hayward to develop the optimum arrangement for the different gallery spaces. These range in scale and type from huge wall paintings to small graph paper preparatory studies.
'As with any show, early dialogue is crucial. Talking and listening to Bridget is essential. The cue has to come from her,' he says. 'When you're working with an artist, you're sometimes engaging on an unspoken level because words aren't enough. It's a special time, decisions are taken that are not always tangible.'
For the latest show, the artworks are shown thematically rather than chronologically, and as a result there is no single prescribed route around the exhibition. A collection of Riley's earliest work dating back some 70 years, for example, is found in the upper galleries that might conventionally be thought of as the end of the show. And some of her latest work is found in the gallery off the entrance foyer.
'We're allowing the public to just go whichever way they want, which in my view is rather liberating,' says Williams.
Visiting the show, it's a compliment to the collaboration between Williams and Riley that the viewer is able to simply enjoy the art without thinking about the nuances of the staging. Large-scale wall works, such as Composition in Circles, draw attention to the generous scale of Gallery 1, which also contains Riley's only three-dimensional work, Continuum. This is her largest ever show, and it includes her familiar explorations of discs and lines in black and white from the 1960s as well as the vibrant colours of her works in the sections on curves, and stripes and diagonals. Ra, a 1981 work inspired by the colours of Ancient Egyptian culture, is particularly striking. Her latest work from the last few years introduces a new muted colourful palette.
It's all mesmerising stuff that can play enjoyable tricks on the eyes. Sometimes a rippling effect, for example, is so convincing that even though you know the canvas is flat, it's hard to believe – surely I can't be the only one double-checking. It's fascinating to see the graph paper workings of how she developed the compositions for various artworks, which were then executed by her assistants.
'I feel with this show we have created a design that displays Bridget's work beautifully, while at the same time celebrating the strength of the Hayward Gallery,' says Williams. 'You are being seduced by the Hayward in all its glory with Bridget's remarkable work inhabiting it.'
---
Bridget Riley, until 26 January 2020, Hayward Gallery, Southbank Centre, London