Architectural perspectives and trompe l'oeil are a feast for the eyes in British Baroque: Power and Illusion at Tate Britain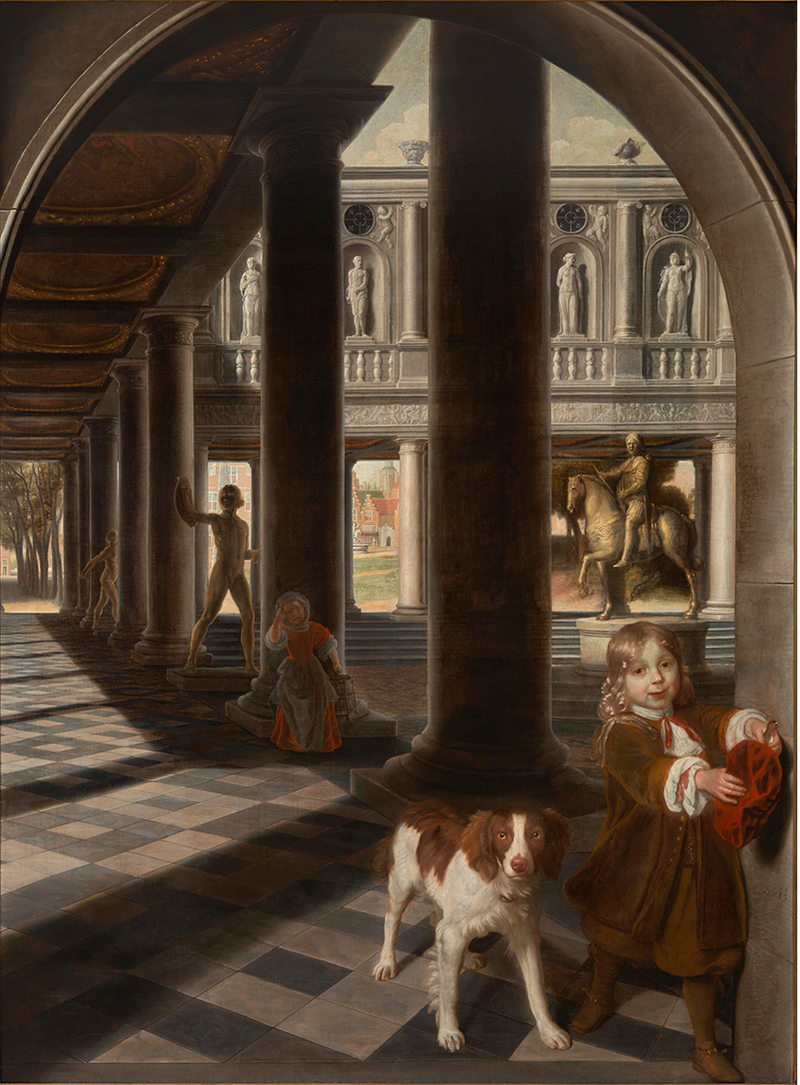 Perspective with a Boy Catching a Bird by Samuel Van Hoogstraten, 1662-6, private collection. Trompe l'oeil paintings were fashionable in the late Stuart period and prized for their trickery.
Among all the ridiculous pomposity, there were bits I really enjoyed in this. With its virtuoso trompe l'oeil, spectacular bird's eye architectural perspectives and celebration of immersive painted interiors, Tate Britain's new show British Baroque: Power and Illusion, offers unexpected treats for anyone less keen on the over-the-top opulence of the paintings.
These too, it should be noted, were magnificent in their way, all luxurious drapery, big wigs and chubby cherubs with a none-too-subtle sprinkling of allegory. But certainly they're not for everyone.
Spanning the half century from the restoration of Charles II in 1660 to the death of Queen Anne in 1714, the exhibition sets out to explore connections between art and power in this transition period from the absolute power of the monarchy towards a new era of party politics.
Throughout, art was commandeered to express wealth, status and, according to curator Tabitha Barber, shifting power, with the court very much the epicentre of baroque cultural production.
That message comes across loud and clear in the opening gallery in the painting Sea Triumph of Charles II (Antonio Verrio, 1674), where the monarch is presented emerging from the sea as a modern day Neptune to usher in a new era of peace and prosperity.
In a further room showing portraits of bewigged nobles and ladies in their finery, it is fascinating to learn about the role of portraiture as a powerful expression of female identity. At court, for example, Charles II's mistresses commissioned portraits of themselves as a way of cementing their status and carefully curating their image. Hats off to the audacious Barbara Villiers, Duchess of Cleveland and apparently one of the most favoured, who commissioned Sir Peter Lely to paint her holding her baby son by Charles II as the Virgin and Child, when she was clearly pregnant again.
It was also a time of scientific enquiry and interest in optics and visual trickery. After all the lavish drapery and pomposity of the figurative paintings, a gallery of works relating to illusion and deception are a breath of fresh air. We learn that there was a fashion for playful trompe l'oeil mainly created by a group of Flemish painters working in London including Samuel van Hoogstraten, who arrived in 1662. With masterful use of perspective and clever composition, these depicted colonnades and vistas with figures in the foreground that entice the viewer into almost believing they could step inside the scene. Collected by the royal courts, they were also popular with members of the Royal Society, newly founded to promote scientific enquiry and exploration of the natural world.
It is a delight to see the famous trompe l'oeil of a violin hanging on a door at Chatsworth House by Jan van der Vaart. The whole door is displayed in its own niched setting at the Tate Britain, and it is entirely convincing. The artist created the violin on a canvas that was then pasted onto a functioning door so that it appears to be hanging from a peg. The masterstroke is that the peg itself is real.
Other manifestations of this interest in the hyper-real are the sumptuous flower paintings by Simon Verelst and depictions of letter racks and noticeboards with seemingly half-scrolled paper. There was also a fashion for creating chantourné – painted cut-outs of figures and objects such as fruit. These were then arranged around the house; sometimes the figures would be visible near a window to fool anyone looking from afar.
The accomplishment of the bird's eye perspectives in the architecture room is breathtaking, such as Jan Siberecht's 1699-1700 view of Chatsworth. These and other promotional images typically depicted grand country houses and their gardens that were clearly designed as a sign of wealth, status and taste. Another example is Blenheim Palace, ambitiously designed by Vanbrugh with Hawksmoor from 1705-35, complete with obelisks and extensive statuary, to reflect the Duke of Marlborough's status as a national hero. This room also includes drawings of projects by Sir Christopher Wren, the court architect, which demonstrated the great vision and classical grandeur of the great architectural enterprises of the day, whether St Paul's Cathedral or the vast proposals for Whitehall Palace, which if fulfilled would have rivalled Versailles.
Another engaging aspect of the exhibition is the emphasis on how baroque art was presented for maximum impact on the viewers by creating immersive environments such as the Painted Hall at Wren's Old Royal Naval College in Greenwich, a 26-year endeavour by James Thornhill completed in 1726. These were immense investments by the patrons, requiring months, sometimes years of scaffolding as artists worked in-situ. Gazing up at works painted high on ceilings and at the top of grand staircases, viewers were encouraged to have an emotional response as if being drawn up to the heavens.
A gallery themed on Beauty evokes the staging of the works. The series of paintings of aristocratic women known as the Petworth Beauties would have been presented at Petworth with long vertical mirrors in between, giving the viewers glimpses of themselves as they contemplated these exemplars of the aesthetic ideals of the day.
For all the lavish finery and outrageous fantasy scenes, such as aristocratic toddlers dressed up as mini-shepherds and hunters surrounded by lambs, there is a more serious message underpinning this period. By the final room of this 150-work show, the emphasis is on the generally more soberly dressed politicians and military commanders of the day – the power shift away from the monarchy is well on its way.
British Baroque: Power and Illusion, until 19 April, Tate Britain