Tradition, modernity, pastiche and cultural fusion: what is the architectural style of the British mosque?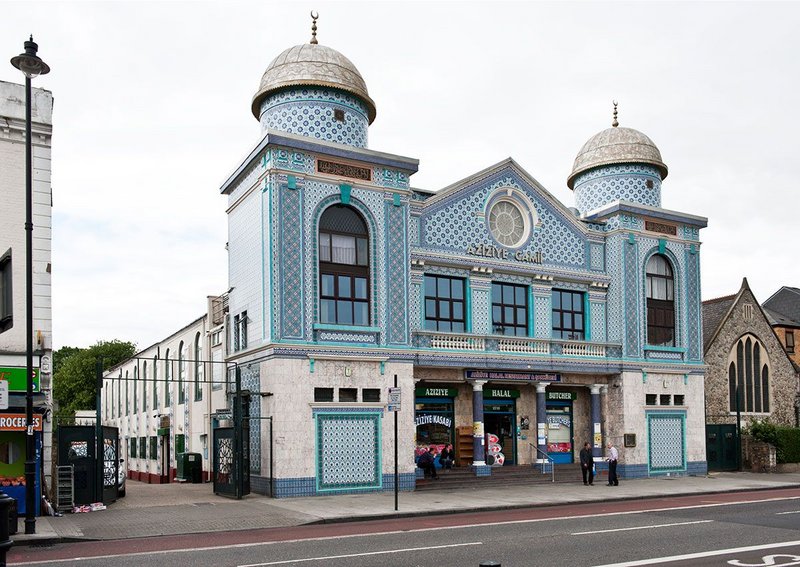 The Aziziye Mosque, London
I grew up in Woking, home of the UK's oldest purpose-built mosque. With its distinctive green domes and exotic decoration, the Shah Jahan always cut something of a dash in the mundane commuter town environment. Along with Frederick Gibberd's splendid Regent's Park Mosque, it is one of a British group that have recently been listed, or in the case of Shah Jahan, given a listings upgrade.
Shahed Saleem's new book The British Mosque – An architectural and social history is therefore particularly well-timed. Published by Historic England, this first ever survey of the typology is a fascinating story, taking in 130 years of mosques from the early Victorian pioneers through phases of adaptation, pastiche and historicism and right up to the emergence of a new, more contemporary narrative for the 21st century.
There are now 1,300 mosques in Britain of which approximately 200 have been purpose built. Yet, as Jonathan Glancey asserts in his foreword, there are few architecturally outstanding mosques. Nor are there many overtly modern mosques. Even the Regent's Park mosque's rare fusion of Islamic and modern architecture received a lukewarm response from critics for its treatment of decoration when it opened in 1977.
'From a conventional architectural viewpoint, most mosque buildings don't qualify as being noteworthy, largely because they are self built and self designed on very limited resources,' says Saleem, a lecturer at the University of Westminster who is also the architect – with his practice Makespace – of a couple of the latest mosques to be built in the UK.
'A lot of contemporary criticism of Muslim architecture is that it's nostalgic, pastiche and of little merit. But I think there's a more complex story to the history,' he says adding that they are one of many strands of built heritages that were previously unrepresented in mainstream architectural discourse and are now being recognised, along with other non-Christian religious and LGBT buildings.
The history of the British mosque interweaves with the development of the Muslim communities they serve. It is a story of negotiation and identity, not only in relation to the surrounding urban and cultural context but with the evolving outlook and values of their various communities. Rather than make value judgments, the new book demonstrates the evolving ways in which architects have responded to local vernacular and addressed different built expressions of Islamic identity.
With a few notable exceptions, early British mosques were generally grassroots, ad-hoc projects adapting and extending homes and other buildings with limited scope for architectural expression. Purpose-built mosques didn't take off until the 1980s and 1990s, when they presented new opportunities to reflect Muslim culture and identity. Recognisably Islamic signifiers such as domes, minarets and arches were often sampled in a quite literal way while at the same time adopting aspects of local vernacular.
'That gets translated in our design culture as pastiche, which has a negative connotation as being without merit,' says Saleem.
From around the start of the 21st century, he detects the emergence of a more historicist approach as mosque designers such as Atba Al-Samarraie sought an authentic Islamic architectural identity that takes direct inspiration from historical precedents in Muslim countries. In some cases, as at the Sheffield mosque, this involved a move towards a Middle East/North African visual language rather than a South Asian aesthetic as mosque procurement moved from the first to the second generation of Muslim immigrants. In doing so, mosques become more of a complete Islamic object rather than an amalgamation of Islamic and vernacular styles, notes Saleem. However there were always exceptions, such as the Scottish Baronial-influenced Edinburgh Central Mosque of 1998.
Over the last decade, more contemporary alternatives to the historicist aesthetic have also been emerging as a handful of architects explore new ways of expressing Islamic identity within architecture. Often, this involved questioning the need for traditional signifiers such as domes and minarets without losing connection with what people have traditionally known as mosques. These include Saleem's own mosque projects in Hackney and Aberdeen (see below), and Marks Barfield's larger-scale Cambridge mosque, with its extraordinary tree-like structure, currently under construction.
Mangera Yvars Architects' dynamic North Harrow Community Centre project (see below) is unusual in that it includes space for worship within a wider community building. Recent initiatives such as Open My Mosque, which campaigns for more mosques to improve their accommodation for women, suggest that some traditional approaches to mosques are now being challenged. But why have mosques generally been slow to move away from conservative approaches to architecture?
'The act of reinterpretation requires a community to have achieved a certain amount of confidence and security, and this is a negotiated process that happens over time,' says Saleem. But that doesn't mean mosques should become a completely Western building type, he adds.
'They should always retain an element of otherness. Their distinction and their strength is that they also relate to another culture and another place.'
The British Mosque: An architectural and social history by Shahed Saleem, published by Historic England, HB £60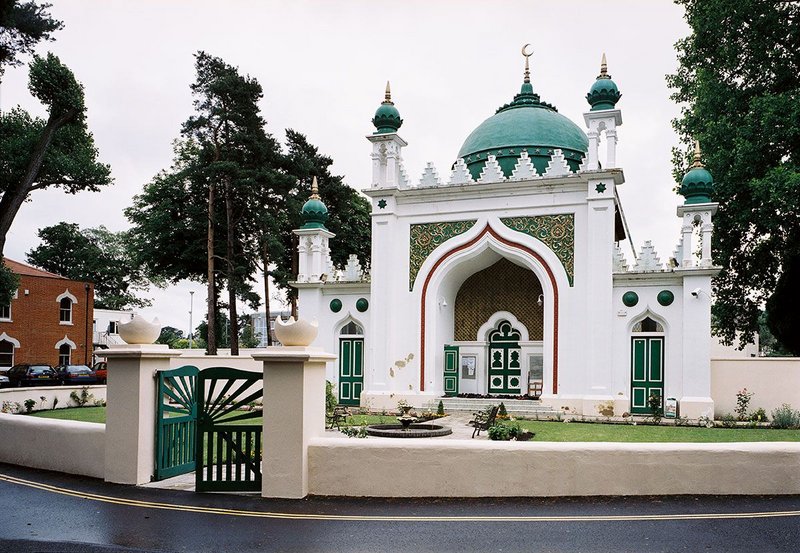 The Shah Jahan Mosque, Woking, was commissioned by Dr Gottlieb Leitner, designed by William Isaac Chambers and completed in 1889
Notable built projects
Designed by English architect William Isaac Chambers, the Shah Jahan Mosque at Woking in Surrey (1889), was commissioned as the exotic centrepiece of an Oriental Institute founded by Hungarian Jewish linguist Dr Gottlieb Wilhelm Leitner. With its distinctive spherical green dome, Chambers' interpretation of Mughal architecture almost perfectly captures the spirit of 19th century Orientalism, says Saleem. It won the approval of Nikolaus Pevsner, who described at as 'an extraordinarily dignified little building' with a decorative frontpiece 'as pretty as the Brighton Pavilion'. It was grade II* listed in 1984 and has just been upgraded to grade I.
Frederick Gibberd's Regent's Park Mosque (1977) was one of a small number of prominent Muslim landmark buildings designed in the late 1970s and 80s that made, says Saleem, a bold new statement on the emerging public face of Islam in Britain. The male and female prayer halls are housed beneath a golden dome with three storey wings housing the library, reading room, entrance hall, and minaret. Although poorly received by critics on its completion, the mosque has recently been awarded grade II * listed status.
Suffa-Tul-Islam Grand Mosque in Little Horton, Bradford (2014) was designed by Iraqi engineer Atba Al–Samarraie, who has built dozens of mosques in the UK. Saleem places his work in the historicist mosque tradition, with the Bradford mosque reflecting North African and Middle Eastern traditional forms but with red Agra sandstone giving a north Indian flavour. It includes 14 minarets – probably more than any other mosque in Britain.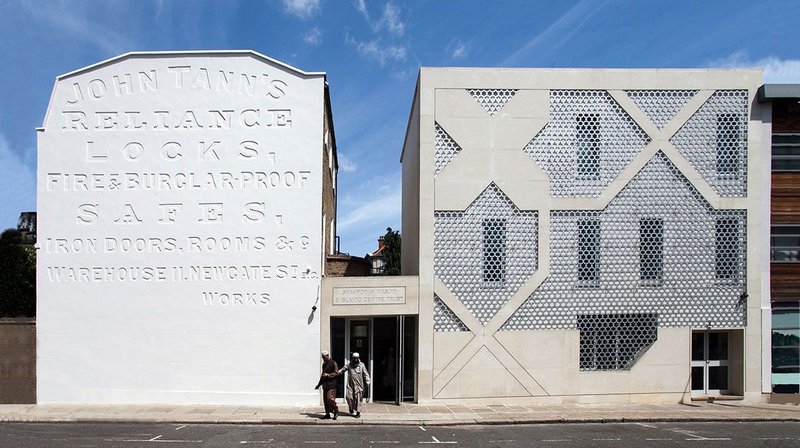 Hackney Road mosque in East London (2017)
Makespace wanted to convey a sense of permanence and solidity in the design of the Hackney Road mosque in East London (2017), situated alongside to a grade II listed terraced house whose flank wall is covered in Victorian lettering. The concept was that the new facade be treated as a part of a large pattern inspired by Anatolian tilework, and should appear as if carved out of stone. This is combined with a perforated metal screen created from the fretwork pattern on the windows at the Shah Jahan mosque in Woking, a motif chosen as a conscious reference to British mosque history.
---
Mosques on site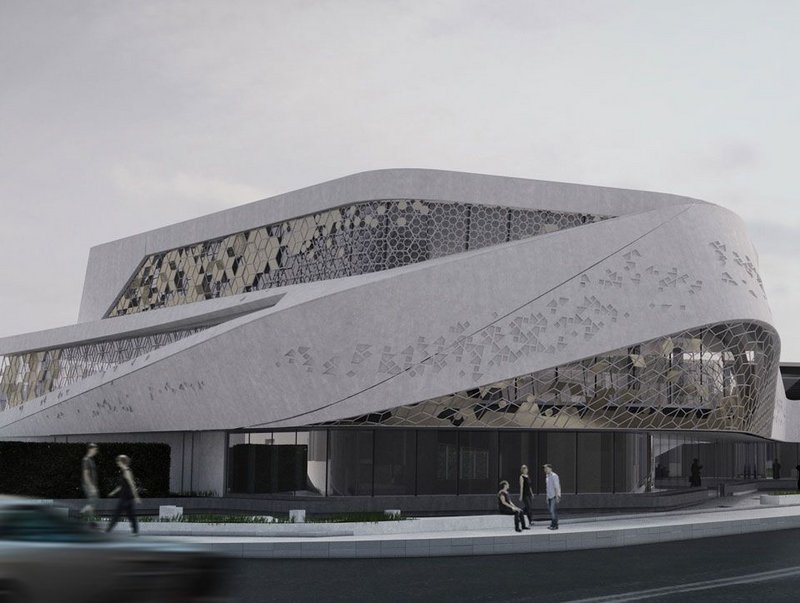 North Harrow Community Centre (Saalam Centre)
Mangera Yvars Architects won a competition to design the North Harrow Community Centre (Saalam Centre) in 2005. The 5,000m2 project, which includes space for 700 worshippers as well as sports, leisure, library and other community facilities, is on site with the basement sports hall complete. The design has a dynamic, curving form with a decorative facade. This depicts the client group's epic journey from East Africa to the UK through geometric patterns relating to Tanzania, India and Persia. Patterns from William Morris and the Arts and Craft movement relate to the Harrow context. The practice hopes the rest of the construction will complete in the next 18 months.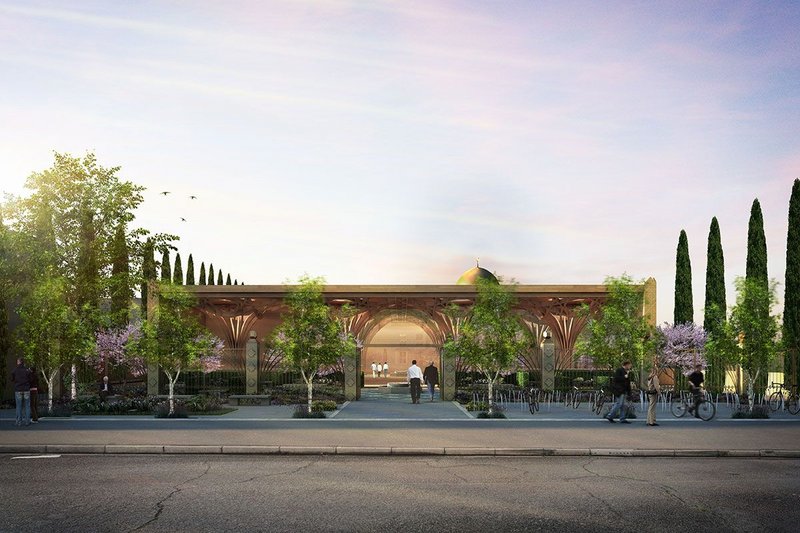 Cambridge Mosque
Marks Barfield is on site with the Cambridge Mosque, designed in conjunction with Keith Critchlow, an expert in Islamic art and architecture. In the main prayer hall, tree-like columns rise to form the roof structure. Externally, the building will be enclosed in light buff masonry in reference to the local context. Saleem describes the design as conceived as 'an expression of English Muslim architecture' that, like Regent's Park Mosque, carefully negotiates tradition and modernity. The mosque is expected to complete early next year and will hold up to 1,000 worshippers.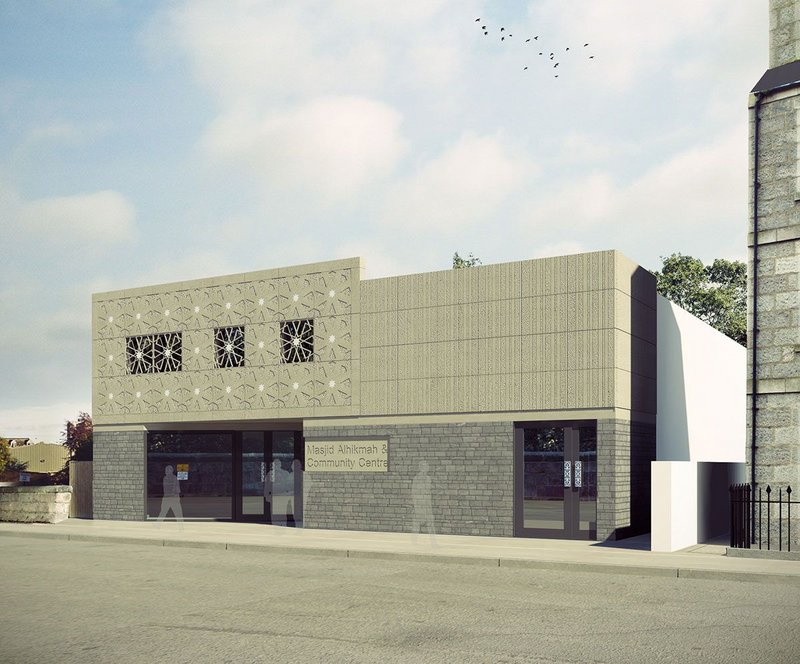 Alhikmah Mosque in Aberdeen
Makespace's Alhikmah Mosque in Aberdeen is nearing completion. This incorporates a retained warehouse with the addition of a new building at the front of the site. Responding to the client's request for a contemporary design, the architect combined a plinth of granite blocks in reference to the local vernacular with an identifiably Islamic tile patterned facade. Fabricated from GRC, these tiles each contain a central star made by ceramic artist Lubna Chowdhary.