Even the National Trust is celebrating the controversial style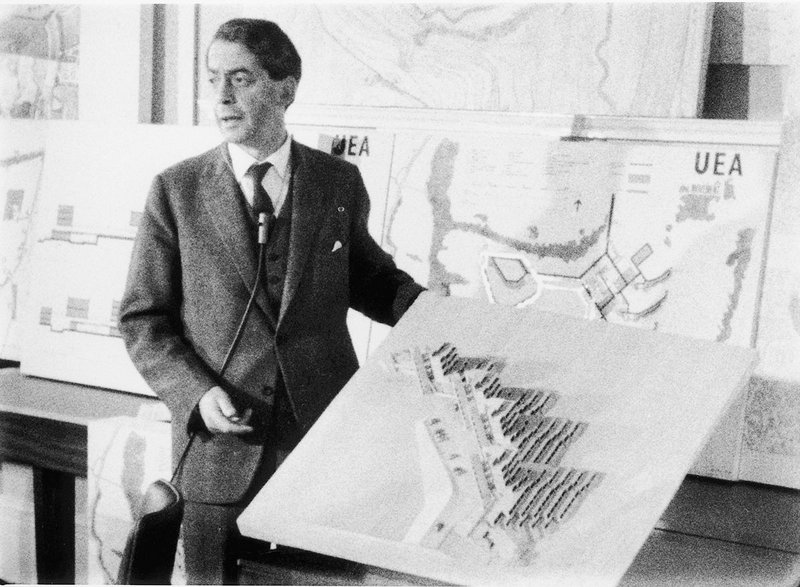 Denys Lasdun explaining his plans for the University of East Anglia.

Credit: UEA
Is brutalism having a moment? Hot on the heels of the saving of Preston Bus Station and the Brutalist Playground exhibition at the RIBA, comes Brutal Utopias, a celebration of brutalist architecture led, somewhat surprisingly, by the National Trust.
While it's a good 20 years since the Trust acquired its first modernist property, Erno Goldfinger's 2 Willow Road in Hampstead, its initiative to celebrate brutalist buildings may well raise eyebrows higher.
Does this mean that brutalism, for so long the Marmite movement of architecture, is being more widely embraced by popular opinion?
The signs that this is the case have been there for a while. Brutalist housing that had fallen into deep decline is increasingly being rehabilitated in tandem with rising property values and changes in tenure. Goldfinger's Trellick Tower in North Kensington led the way, having long changed from no-go to go-to as part of a wider gentrification of the area. In Poplar, Goldfinger's Balfron Tower has been refurbished, though it no longer contains any social tenants. Apartments at Denys Lasdun's Keeling House in Bethnal Green – once threatened with demolition – are now on the market for more than half a million – just one example of the inner-city gentrification that is making large parts of London unaffordable.
It's all a far cry from the original Utopian ideals behind much brutalist architecture. Outside London, changing attitudes to brutalism were epitomised by Urban Splash's intervention to renovate Park Hill, the 1960 estate in Sheffield that had been in the doldrums for years.
'It feels like there's something in the air,' says National Trust's London creative director Joseph Watson, who says the organisation has noticed a sea-change in attitudes, particularly among urban audiences, as it begins to think more seriously about post-war architecture itself. Perhaps one factor for the change in attitudes, he says, is that with the passage of time brutalist architecture can now be viewed more objectively by those who didn't live through its failures.
It's now important, he says, that the best of brutalist architecture is saved for the future, and that there is a greater understanding of the vision behind it and the reasons – design or otherwise – for its difficulties. It won't be too long, reckons Watson, before the Trust ends up with post-war social housing from somewhere in the UK in its portfolio.
But until then, it's content to test the water by helping to celebrate those buildings it doesn't own and promote a better understanding of modern architecture. In London, a Routemaster bus will tour landmarks such as Trellick Tower, the Lansbury Estate in Poplar, the Barbican, Alexandra Road Estate in Camden and the South Bank Centre, which also has its own dedicated tour. In Norwich, there are tours of Denys Lasdun's University of East Anglia. A discussion of brutalism has already sold out.
After Brutal Utopias, a new book by Historic England senior architectural investigator Elain Harwood should ensure that brutalism remains on the cultural agenda. Space, Hope and Brutalism: English Architecture, 1945-1975 is published by Yale University Press in October.
Brutal Utopias: a National Trust celebration of Brutalist architecture, 25 September to 4 October
---