Soane Museum exhibition shows that the challenges of architecture haven't changed much in 200 years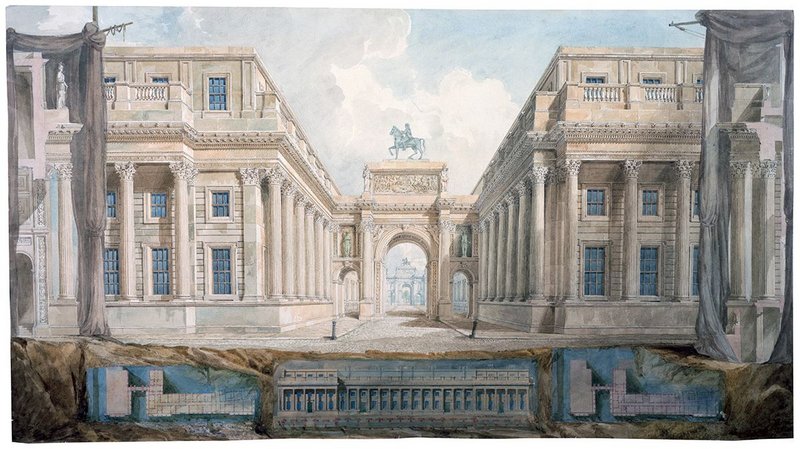 Gandy draws Soane's designs for a triumphal arch on Downing Street.
Appeasing difficult clients, supplanting rivals, managing self-promotion – some things, it seems, never change in architecture. The Soane Museum's new exhibition, Building a Dialogue: The Architect and the Client, suggests that many of the concerns facing today's architects aren't so different from those back in Soane's day.
'Clients can still be difficult, architects can still be uncompromising, personal networks can be vital to gaining commissions... many of the themes that we explore in the exhibition still resonate today,' says Soane Museum drawings cataloguer Tom Drysdale.
The show explores the main avenues of commission available to architects in the early 19th century – competition, personal connections, and taking over from other architects – as well as the different types of clients of the day.
In his 300-odd commissions, John Soane had his share of trouble. Imagine the humiliation of having to draw up a scheme to 'undecorate' his richly appointed Privy Council Chamber, or being forced to partially demolish his new law courts at Westminster and re-face them in a Gothic style. Fortunately, however, his good experiences outweighed the bad. The Bank of England was probably his best client, staying faithful to him for 45 years and commending his 'honourable and assiduous manner' and 'unremitting zeal'.
The marketing angle is fascinating. Soane sent his top draughtsman Joseph Gandy to spend nine days drawing his recently completed house at Tyringham, intending to use the images to promote his work. Adam's great tomes of engravings, also on show, served the same purpose. We learn how those exhibiting at the Royal Academy employed all the tricks of their trade, from eye-catching bright blue borders to tromp l'oeil and dramatic atmospheres, and how perspective drawings enabled a more fruitful dialogue with the client.
Soane was also of course his own client, at both the Lincoln's Inn Fields house and at Pitzhanger Manor, the Ealing mansion soon to be restored to its full glory. The exhibition is a chance to display a recently discovered drawing from 1812 for the facade of the former – long-concealed in the back of a picture frame.
As ever with all the Soane's shows, the modest exhibition is a bonus extra to the main attraction, which remains the sumptuous and eccentric house museum itself, created for the architect's most understanding client of all.
Building a Dialogue: The Architect and the Client, until 9 May 2015, Sir John Soane's Museum, 13 Lincoln's Inn Fields, London