Negative attitudes to modern design could be shaped from a very early age on the evidence of an exhibition at RIBA North
Are attitudes to architecture shaped by the images of buildings that young children see in picture books?
That was what Dr Torsten Schmiedeknecht of the University of Liverpool set out to investigate after noticing from a cursory look at children's picture books that there was very little modern architecture represented, despite the post-war transformation of many major cities. Furthermore, where it did figure, it was generally fairly negatively portrayed.
'The Victorian terrace and semi is seen to be the ideal that everyone should aspire to. I wondered if this is being influenced by what children at a very early age are presented with in picture books,' he says.
Armed with funding from the RIBA and the University of Liverpool, Schmiedeknecht and research assistant Dr Emma Hayward explored how architecture is presented in children's books, surveying around 500 including all the award-winning titles of recent years. This research led to the new exhibition Building Children's Worlds, a look at the depiction of architecture in post-war picture books at the RIBA North in Liverpool.
The researchers were looking for familiar modern architecture elements such as flat roofs, open plan living, ribbon windows and expanses of concrete, glass and steel. Instead, they found that the stereotypical pitched roof house still prevails, with schools and libraries likely to be shown in a classical or neoclassical manner.
'Its surprising how little there is of the contemporary city let alone great modern architecture in these books. On the other hand, when it is present, it can sometimes also have a negative connotation – and then it's almost replaced the dark forest as a scary, dangerous place,' he says. 'Modern architecture is then cast as a supporting villain.'
He found this was especially the case with domestic architecture.
'One of the things I found was how incredibly difficult it was to find images of the home in any kind of modern expression. The overwhelming majority is Victorian, or Georgian, or fantasy.'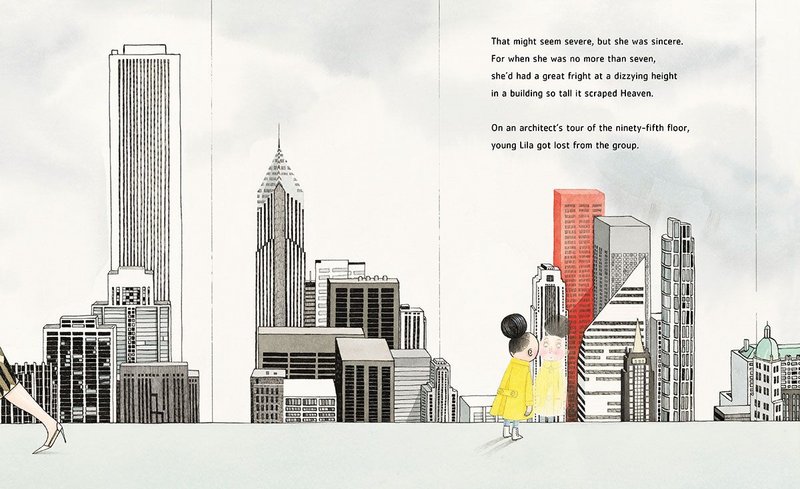 Iggy Peck, Architect by Andrea Beaty, illustrated by David Roberts (Abrams Books for Young Readers).

Credit: David Roberts 2007.
The exhibition sets the scene by starting with a look at 'The Old World', a section on nostalgic, pre-modern settings in children's books as exemplified by the work of Raymond Briggs, before considering interwar and postwar examples and sections on the home and public buildings.
It wasn't until the 1960s that story books started to use modern and contemporary architecture as settings. In the 60s and 70s information books such as the Ladybird series embraced modernity as a positive in titles that dealt explicitly with architecture and as a backdrop to other subjects.
The final section of the exhibition looks at the treatment of high rises in children's books. One of their earliest appearances is in Charles Keeping's Charley, Charlotte and the Golden Canary from 1967, which considers how a child's move from a low rise to a high rise affected a close friendship.
'It's quite ambiguous. Keeping wasn't a great fan of modern architecture. But he didn't deny that there was something positive about it,' says Schmiedeknecht.
David Roberts' Iggy Peck Architect, 2007 and Bob Graham's This is Our House, 1996 take a more positive view in how they portray high rises. But more often than not they are portrayed negatively, such as in John Burningham's Whadayamean and Lydia Monks' Madeleine The City Pig, both published in 1999.
Schmiedeknecht likes the work of author/illustrator Anthony Browne, who sets books like What if? and Voices in the Park in everyday contemporary cityscapes.
'This mainly seems to be without any value judgement on modern architecture, except perhaps in the book Zoo. He seems to draw the world as it is but there is also frequently a kind of surreal element, sometimes added through the plot and the depicted protagonists, and sometimes through the setting, like for example in his book Through the Magic Mirror,' he says.