Homs-based architect Marwa al-Sabouni has found the same 'sense of deprivation and alienation' in Western cities as in her own. She spoke to Pamela Buxton about her book Building for Home, which looks at how to rebuild after crises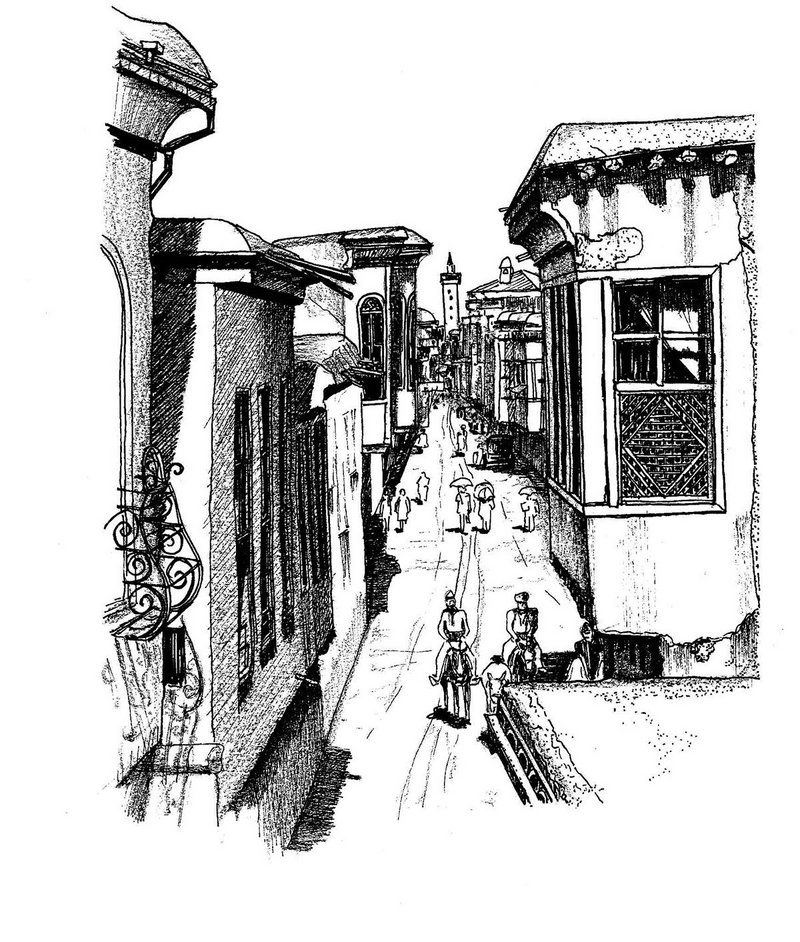 The Straight Street in Damascus, 1895.

Credit: Marwa al-Sabouni
'We're in a frozen state, as if in a coma.' So says Syrian architect Marwa al-Sabouni of the aftermath of years of civil war on her home city of Homs.
And while opportunities for rebuilding remain scarce – 'there's a complete lack of certainty and trust' – she has nonetheless found a fertile outlet for her ideas in her writing, first in her 2016 memoir The Battle for Home, and now with her new book Building for Hope – Towards an Architecture of Belonging, which considers how cities can be best rebuilt after crisis and war.
Al-Sabouni is an impressive figure. Rather than fleeing, she remained in Homs throughout the conflict with her architect husband and young family, an experience which informed The Battle for Home. The book attracted media attention worldwide and gave her the opportunity to travel extensively. Her TED talk, which discussed the role of architecture in creating and amplifying conflict, has been watched more than one million times. She has a PHD in Islamic Architecture and co-owns the only media site for architectural news in Arabic.
The new book is informed by both her travels abroad and her insights into her own city, and draws on broad references ranging from 14th century Islamic historian Ibn Khaldoun through to American urbanist Jane Jacobs and the UK's Roger Scruton and Alain de Botton, among many more. And although Homs, Damascus and Syria remain the book's focus, along the way she casts her net wide, taking in the Garden City Movement; the Westgate shopping centre in Oxford; and urbanisation in Finland, Melbourne and Beirut – 'an extreme example of everything that can go wrong in the cities of our colonized, modernized and globalized world' – to name but a few.
Although recuperating from Covid, in conversation over Skype she is as impassioned as you'd expect from her books and TED talk. Her travel experiences to cities including Detroit, Oxford and Amsterdam were, she says, 'eye-opening' in that she realised how the 'sense of deprivation and alienation' that she'd seen in her own city were commonplace in many modern cities around the world, along with manifestations of inequality and injustice. This, and what she perceives as a disconnect between people and their sense of home, concerns her.
'It's widespread. It's worrying that we're [only] one step ahead of you in terms of destruction…we are not that far apart in terms of how we're conducting our cities.'
The starting point for her ambitious new book was what she describes as the 'five fears' or vulnerabilities that humans share – fear of death, need, treachery, loneliness and boredom. She then explores how these can be counteracted through the built environment, by finding meaning through the buildings that surround us and by creating a shared sense of, and attachment to, home.
It's a far-ranging ride that digs deep into the factors that influenced the recent development of Syrian cities such as the now-eroded waqf system of land endowment, which safeguarded land for charitable purposes, followed by the impact of colonisation on city planning, the negative effect of large-scale factories on the social fabric of the city and more recently, property speculation. Al-Sabouni also identifies the 'destruction of the social, vocational and moral values' that led to many modern Syrians dismissing their own heritage and coveting the West.
Al-Sabouni worries about the 'black cloud' of looming reconstruction, and what the outcome will be for her city. Already, she notes how generous approaches to public space in traditional parts of the city – such as free access to water taps, shade, seating – are less likely to be found in the areas that that have been redeveloped and gentrified.
Throughout, there is an emphasis on the importance of a generous built environment that encourages human interaction and social bonds, in contrast to the comparatively impersonal nature of large-scale factories and shopping malls. Instead, she advocates mixed-use neighbourhoods and a return to tried and tested land ownership systems such as waqf. She'd – ideally – also like to see the incorporation of recreational spaces where people can connect to nature and water as well as the creation of cultural centres and libraries, and the regeneration of the orchards that were once plentiful around the city.
She is vociferous about the impact of profit-driven industrialised building production and strongly advocates another way.
'We have to bring architecture back to being a craft rather than an industry. When you involve more craftspeople and small industries in your design, you'll have fewer problems than those created by the building industry,' she says, adding that the beneficial tradition of youngsters learning practical skills in their spare time has been lost in the war.
Despite the many challenges to architectural practice in Homs, Al-Sabouni remains resilient. Her husband has completed a pilot reconstruction project for the roof of a souk. And as well as local work, she has also worked, remotely, on a project in Detroit. She remains dedicated to the idea that recovery is possible for her city, but does not underestimate the challenges of achieving the right kind of reconstruction, and finding a way through the built environment to address the Five Fears.
'I'm frustrated by how long the country has been in a state of limbo…It's difficult to be optimistic but I am hopeful,' she says.
'We've been destroyed before and rebuilt. But we have to be very careful about how we do this.'
Building for Hope – Towards an Architecture of Belonging, Marwa al-Sabouni, Thames & Hudson, RRP £20, currently £17 from RIBA Books.
Read more of Marwa al-Sabouni's early writing on ribaj.com on the world's largest everything 2016, the power of architecture and rebuilding (2013), and the importance of columns (2013).